December 30, 2021
Start Fresh with National Clean Your Desk Day
Prepare yourself for a productive new year by celebrating National Clean Your Desk Day. When working a busy job, it's easy to forget about cleaning your desk. Before you know it, your desk is cluttered with paperwork, and cleaning your desk sounds like a massive task.
Having a messy desk not only has a potentially negative affect on productivity, but it can also lead to information security concerns. Luckily, mobile shredding company PROSHRED® Orlando is here with some organization tips so you never need to worry about a cluttered desk or the negative impact it could have on your sensitive personal or business information.
What Are the Benefits of a Clean Desk?
While you may think that cleaning your desk is simply a cosmetic choice, it can actually lead to benefits that will improve your mood and productivity at work. Along with the great feeling of having a clean desk, proper organization can improve your efficiency, lessen your stress, and enhance your data security.
Improved Efficiency: When your desk is cluttered, it's easy to waste time finding a file that wasn't properly stored. Cleaning your desk is a great way to avoid this problem, so you can spend time on more important tasks. Better organization means that your time can be utilized more efficiently.
Less Stress: There's a famous saying that "a cluttered desk is a sign of a cluttered mind." Our brains work better with a clear workspace, while a cluttered desk can drain your energy and ability to focus. A clean desk reduces your stress levels and improves your productivity at work.
Enhanced Data Security: When your desk is cluttered, it's easy to lose track of your documents. Not only could this lead to problems completing your work on time, it can also lead to your data being lost or stolen.
Keeping a clean desk is an easy way to keep track of your information and make sure it doesn't end up in the wrong hands. While you're cleaning your desk, you should also clean your computer's home screen, so you also know where to find your digital information.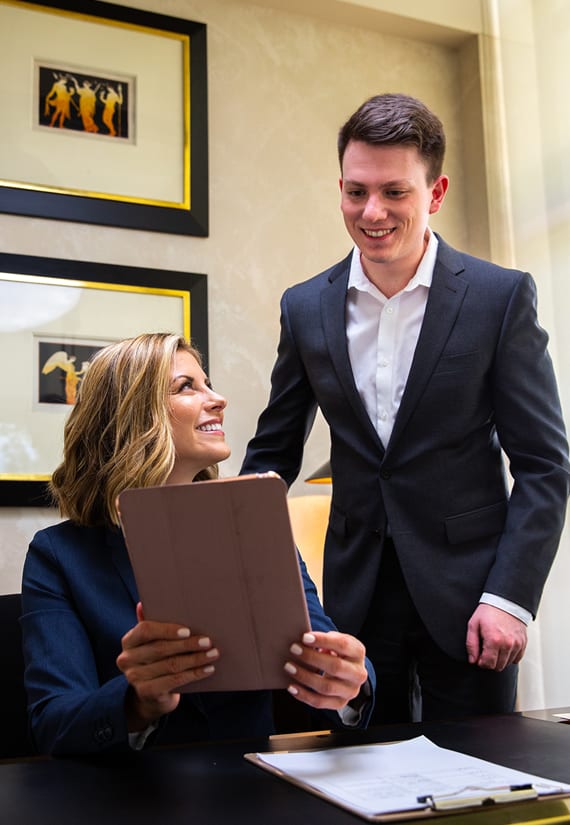 How to Organize Your Desk and Keep Information Safe
Trying to organize a cluttered desk can seem overwhelming, especially with all of the other tasks you need to complete at the office. To lessen your stress, PROSHRED® is here with a few easy tips on how to organize your desk and keep it clean.
Organize Documents Into Keep, File, and Destroy Piles:
One of the most important steps to cleaning your desk is organizing your paperwork. An easy way to organize your files is to separate them into different piles. Keep a pile for the documents that you still need, a pile for confidential documents that can be filed, and a pile for old documents that can be destroyed. For the old documents, make sure to hire a shredding company that can properly dispose of any confidential documents. The benefits of shredding documents are numerous, and PROSHRED® Orlando makes it easy to dispose of papers with ongoing shredding services.
Consider Digitizing Documents:
When cleaning your desk, it's also important to think about your digital desktop. Many of the documents on your desk could be digitized, which will help you keep paperwork off your desk. Make sure that your desktop is also organized, so you can easily find your information when you need it.
Have Hard Drives? Secure or Destroy Those, Too:
While many people simply delete documents on their desktop, those digital files are still being stored on their hard drive. If you have old hard drives on your desk, you should use the services of a professional hard drive shredding company to properly destroy your hard drive, so your company's information doesn't end up in the wrong hands.
Set Up an Ongoing Organizational Structure:
After cleaning your desk, you should consider making an ongoing organizational structure, so you don't need to worry about your desk becoming cluttered again. Many companies already have plans in place for these situations since it's a great way to properly store information. If you need to make a new organizational structure, make a plan on which documents to keep, store, or shred in the future.
Keep Your Desk Clean with Shredding Services from PROSHRED®
Now that you know how to clean your cluttered desk, it's time to find a shredding company that can handle your old documents and hard drives. At PROSHRED®, we're committed to the proper handling of physical and digital information. Our services are designed to be secure and convenient, so your old documents won't end up cluttering your desk. For more information on our services, call PROSHRED® Orlando.