October 12, 2021
Ultimate Guide to the Benefits of Hiring a Paper Shredding Company
Can your business benefit from hiring a paper shredding company? The answer is a definite yes! Many companies use Orlando paper shredding services to stay compliant and secure.
There are many industries that can take advantage of a shredding company like PROSHRED® Orlando. As a certified service provider in the area with specially trained and vetted staff, we know what it takes to keep businesses in operation while practicing proper document disposal methods.
If you have been on the fence about hiring a paper shredding company because you're worried about price or effectiveness, then this Ultimate Guide is for you! The PROSHRED® Orlando team is here to ease your worries and give you all the information you need to make a knowledgeable decision when signing on for a paper shredding service. If you're interested in learning more, keep reading!
Professional Paper Shredding is Secure
For secure mobile document shredding in Orlando that businesses can count on, PROSHRED® is just a phone call away. All shredding materials that you submit to our team go through a chain of custody that is highly monitored. Our specially trained and background-checked staff handle your items with care, and ensure that every single document gets shredded. Our top-of-the-line shredders are able to destroy materials until all that's left is small, unrecoverable granules. This means that when you shred with PROSHRED® Orlando, you never have to worry about anyone getting a hold of your sensitive information.
At your request, we will provide you with a Certificate of Destruction after the shred job is complete. You can use this for your records to show compliance with privacy laws. No matter what your needs are, PROSHRED® Orlando has got you covered!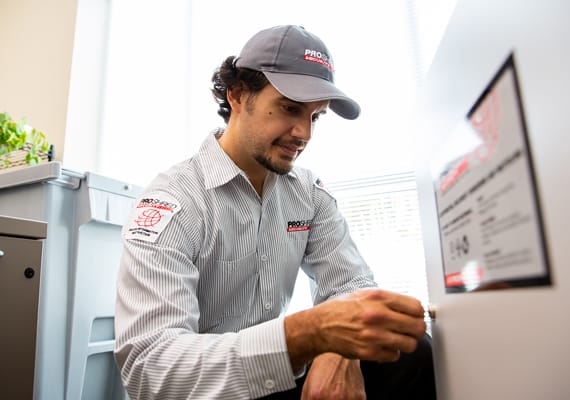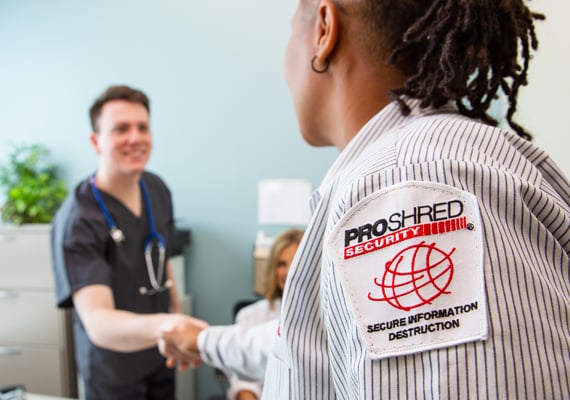 Professional Shredding is Cost Effective
PROSHRED® Orlando offers free consultative estimates to all of our new clients. If you are a small business owner with a tight budget, you can still have access to secure shredding services. All PROSHRED® clients pay by service frequency, not weight. So no matter how many items you need to shred, the only charge you'll need to worry about is the set fee that was discussed at your initial consultation. You don't have to sign a contract, but we can set one up if needed. PROSHRED® Orlando is here with flexible solutions to suit your needs and budget.
Shredding Services from PROSHRED® Orlando are Convenient
Even the best office shredders can't hold a candle to the convenience of a professional paper shredding service. These store-bought shredders are often not secure, as the shredded paper remains can be pieced back together by anyone who has determination and glue. Plus, many people waste so many man hours shredding documents by hand. PROSHRED® Orlando removes the hassle of an office shredder with our convenient shredding services.
We have on-site shredding available as part of our various service plans. Our mobile shred trucks will come to your location and destroy your documents on-site. You can watch this process happen from your door. Between each service, you will be able to use free shred bins and consoles at your location to store your unwanted documents until your next shredding service. The PROSHRED® Orlando team will transport these bins and consoles to our shred trucks at your service date, dispose of the materials inside, and replace these containers for you to use again.
There's no special prep work on your part when it comes to having your documents ready for our shred trucks. You don't even have to remove paper clips or staples from your files. PROSHRED® Orlando's shredding equipment can handle these items without breaking down.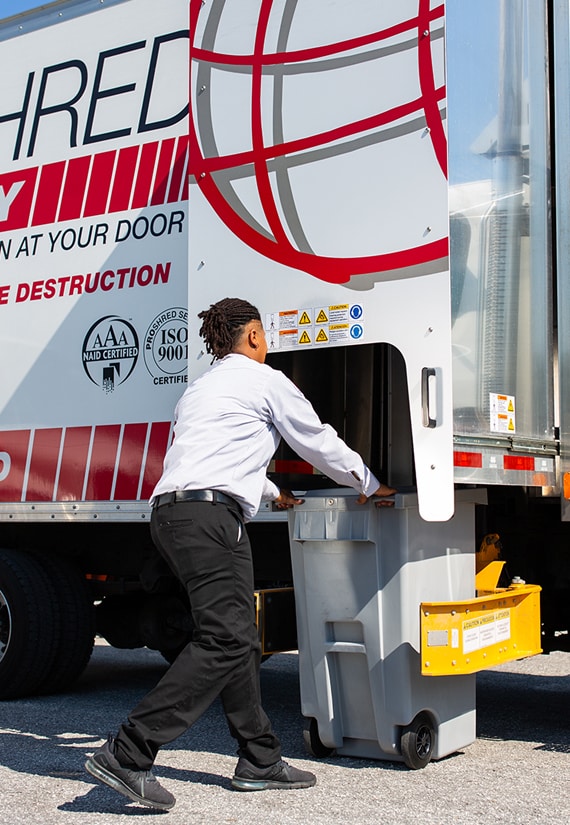 Multiple Orlando Paper Shredding Service Options are Available
PROSHRED® Orlando understands that every business is different, which is why we offer multiple shredding service options to meet your unique shred needs. Depending on how much paper you go through on a daily basis, you may be better suited for either an on-going shredding service or a purge shred.
On-Going Shredding
In this program, the PROSHRED® team will visit your location for a shredding service on a weekly or monthly basis, depending on your needs. We'll schedule a time to come out that works with your schedule, and will then arrive promptly and complete the shred job in a timely manner. We'll provide you with free shred bins to store your materials, and our team will pick up these bins and replace them at each service.
Purge Shredding
If you have a warehouse or storage room that is dedicated to old files, then a purge shredding service is just what you need. PROSHRED® can free you from all of these documents with just one service. Our shred trucks are up to the task, but we can also perform the purge shred at a secondary, secure location depending on the situation. With a purge shred, you can clear out space and safely get rid of old documents in no time at all!
Orlando Document Shredding Helps Companies Stay Compliant
Many privacy laws require businesses to keep client and employee information safe via secure storage and disposal practices. If this data is at risk because of poor filing or disposal methods, then you could in turn be at risk of losing your business. Not only will you be in trouble with the law, but you could also fall prey to a data breach or identity theft in your company. You can avoid these unfortunate situations when you work with PROSHRED® Orlando.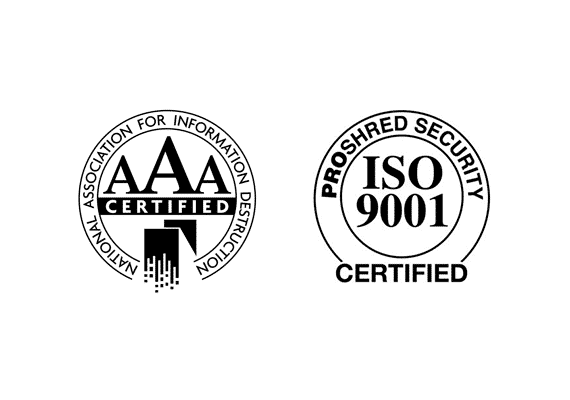 PROSHRED® Orlando is Environmentally Conscious
We understand just how important it is to reduce your business's environmental impact. This is why we guarantee that 100% of the paper we shred is recycled at a secure facility. Our team will send you a TreeSaver Environmental Certificate at the end of each year that you work with us. This certificate highlights how many trees you've saved as a result of working with us.
Shredding Companies Can Provide Other Services, Too
There are many shredding service providers, like PROSHRED®, who offer a wide range of solutions for businesses that need more than just paper shredding. Below are just a few additional services you will be able to take advantage of with a company like PROSHRED® Orlando:
Document Storage
If you are searching for "secure document storage near me" online, you will see an intimidating amount of results. There are plenty of storage space services that aren't secure, or that trap you in a contract for a small space that isn't climate-controlled. Through PROSHRED® Orlando, you have the opportunity to choose between 30 different unit sizes for your document storage needs. PROSHRED® works with Budget Self Storage to provide our clients with a secure way to store their documents and other items. These storage facilities are highly monitored with video cameras and high-tech security systems. The units are climate-controlled, require computerized gate access to enter, and are available every single day for you to use.
Hard Drive Shredding
When it is time to get a new computer, what do you do with your old device? If you think you can wipe your computer and then safely throw it away, think again. Your hard drive still contains sensitive information, even after you've cleared all of the files off of your computer. There are many people out there who are experienced in extracting this data and using it to ruin companies like yours. If you want to know the best way to destroy a hard drive, PROSHRED® Orlando is here to help. Our secure hard drive shredding can be performed on-site, thanks to our state-of-the-art shred trucks.
Product Destruction
If you have old uniforms, packaging, security badges, or promotional materials, it's important to properly dispose of these items so that you're not at risk of having your business copied or defamed. The product destruction services at PROSHRED® Orlando ensure that none of your old items fall into the wrong hands. This secure process can be carried out on-site, and is handled by specially trained professionals who know how to effectively destroy your products.
Industries that Benefit from Professional Paper Shredding
Can your business benefit from professional paper shredding? The answer is probably yes. PROSHRED® Orlando has been servicing a wide range of industries for years. Our variety of programs and flexibility allows us to meet the needs of all businesses, no matter the industry.
Small Businesses
Even if you are just starting out, you still need to comply with privacy legislations that affect businesses of all sizes. When you need business shredding for your small company, you can count on PROSHRED® Orlando for flexible rates and customizable programs.
Home Offices
Working from home? Our team can come to you with home office shredding services. This program includes free storage bins for you to use for your shredding materials. At your service date, PROSHRED® Orlando will come to your door and pick up your storage bins via a hands-free process. We'll shred all of your materials right outside your door, and will replace your shred bins after the process is complete.
Finance
If you work in the finance industry, then you know just how important it is to keep your data safe. Whether the information is on your own business or your clients, you can't afford to have these records fall into the wrong hands. If you want to avoid financial ruin, you should sign up for the finance document shredding services provided by PROSHRED® Orlando.
Legal
As a law firm, it is your sole duty to protect your client. While the information you store for each case is necessary for a win, it's important to properly dispose of these documents after these matters are settled. For secure legal record destruction, choose PROSHRED® Orlando. Our team is highly experienced in handling legal documents with the utmost care. We will make sure that these items are safely shredded.
Medical
Hospitals and medical facilities are one of the most high-risk industries for identity theft. It can be easy to access the patient records stored here if you know where to look. While many doctors take care to put patient files away in a safe place, it's important to not hold onto these documents any longer than necessary. In order to maintain patient privacy and comply with HIPAA laws, you need a reliable medical record destruction service provider on your side. PROSHRED® Orlando is here with flexible solutions.
No matter your industry, your business can stand to benefit from a secure shredding provider like PROSHRED® Orlando. Our team has worked with numerous businesses in numerous industries, so we have the experience needed to cater to your company's needs.
Contact the Best Shredding Company for Secure Document Disposal
Now that you know all of the benefits to hiring a paper shredding company, there's no reason for you to put off scheduling a service. Your business is missing out on secure shredding services that are both convenient and affordable. Don't wait until you are experiencing a data breach in your company; get your document disposal processes secured with a certified shredding provider as soon as possible. The PROSHRED® Orlando team is here to help make sure your business stays compliant and that your data remains safe from the wrong people.
If you are ready to get started with secure document disposal processes, PROSHRED® Orlando is just a phone call away. We can answer your questions about our shredding services, and get you set up with a plan that works with your needs and budget. Contact us today to get started!