Aberdeen Paper Shredding
If you are in need of secure one-time cleanouts, ongoing shredding services, hard drive shredding, or product destruction services in Aberdeen, look no further than PROSHRED® Baltimore. These services are available to all businesses and residents in Aberdeen and the surrounding Edgewood area. All industries including the legal, financial, medical, and government sectors can benefit from professional shredding services. Contact us today to get started.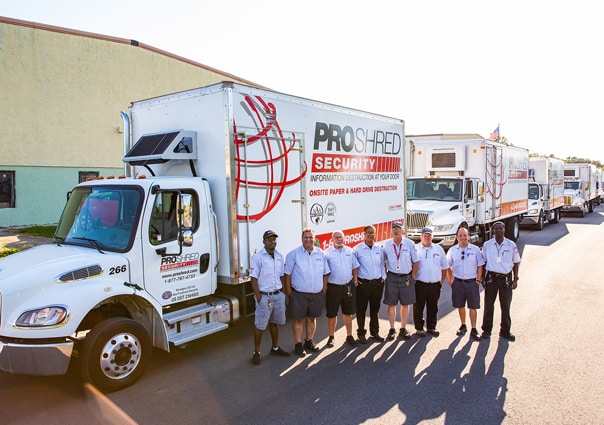 Secure Paper Shredding in Aberdeen
We pride ourselves on our attention to detail when it comes to the security of your data. Our best-in-class shredding process ensures that all of your files are permanently destroyed before they have the chance to fall into the wrong hands.
With PROSHRED®, you never have to worry about whether or not your data has been securely destroyed. We feel that transparency surrounding who is handling your materials and what is happening to them is a key part of the document disposal process. This is why we welcome each of our customers to witness their materials being shredded from start to finish via a mounted screen on our mobile shredding trucks. In addition, all clients are provided a Certificate of Destruction upon completion of the process which serves as documentation of what items were shredded, when they were shredded, and who performed the shredding.
As a leader in data destruction, we have the knowledge and methodology required to guarantee confidentiality to each of our customers, no matter their industry. That is why we have become the first choice in data security for businesses, institutions, government and military organizations, as well as private individuals in Aberdeen and the surrounding Edgewood area. All of our service options are timely and efficient so you can rest easy knowing that your data has been securely destroyed.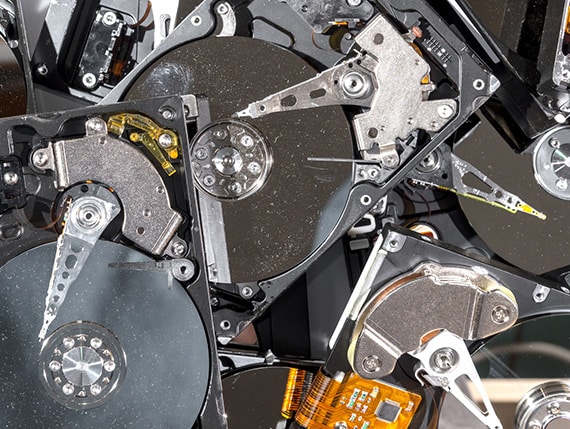 Hard Drive Destruction in Aberdeen, Maryland
It will come as no surprise that the hard drives on your devices are essential for storing information about your business and its clients. However, the same technology that makes them so convenient for storing and working with information makes it incredibly difficult to properly dispose of. That is why it is vital that you invest in hard drive destruction before throwing out your old devices. Our mobile shredding trucks are equipped with industrial shredding technology capable of taking your hard drives and breaking them down into unrecoverable pieces while you watch, so that you never have to worry about your private information being leaked. For the most secure Aberdeen hard drive destruction services, trust PROSHRED®.
Product Destruction Services
Paper documents and hard drives are not the only items in your home or office that should be properly destroyed. If your organization produces or handles products that contain private information, they should be destroyed before they can be used to expose your data, misrepresent your brand, or allow unauthorized individuals to gain access to restricted areas.
If you have non-paper items that need to be securely disposed of, PROSHRED® provides confidential Aberdeen product destruction services. Products that should be destroyed include branded packaging, trademarked apparel, outdated or otherwise usable labels, and any other type of item that contains confidential or sensitive information. We partner with secure incineration plants to provide the most streamlined product destruction service in the area, helping you to keep your identity, brand, and information safe and secure. Just remember, caustic or explosive materials cannot be incinerated or shredded.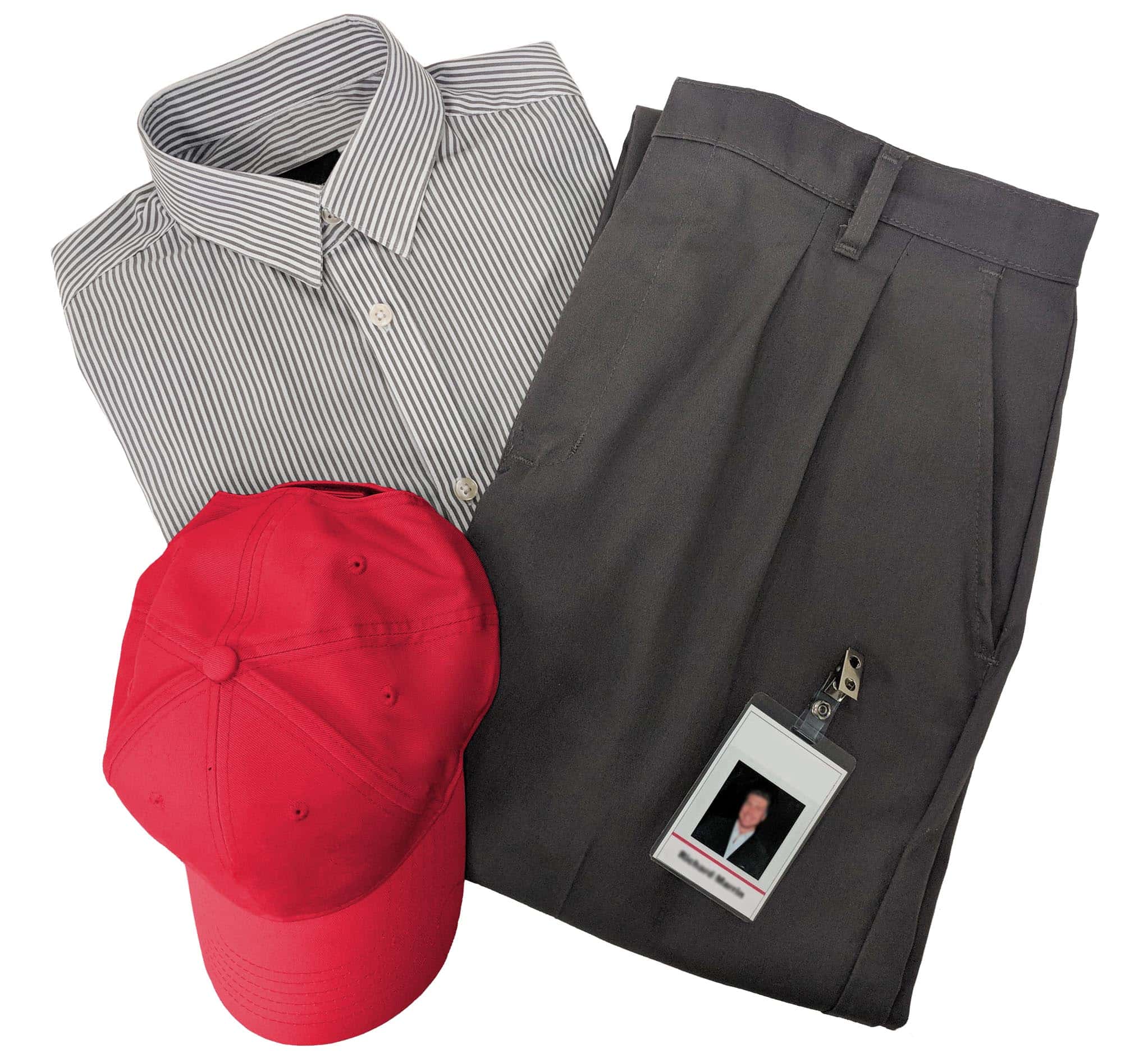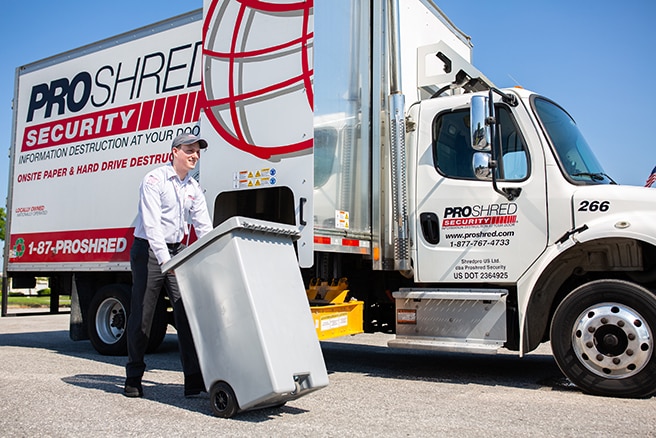 Aberdeen Scheduled Shredding Services
Everyone is aware of how essential it is to safeguard their personal data from fraud and theft. However, you may not be aware that one of the best ways to accomplish this is to make sure that all of your files are shredded once they are no longer needed. PROSHRED®'s Aberdeen shredding services make it simple for you to rid your home or office of unnecessary sensitive papers without the need to transport them to a drop-off location. With our regularly scheduled on-site shredding service, our state-of-the-art mobile shredding trucks will come to your location and efficiently destroy all of your materials. Our team will work with you to create a specialized shredding schedule that works for you, whether it's on a weekly, bi-weekly, or monthly basis.
Shredding Services are Available from PROSHRED® Baltimore
PROSHRED® Baltimore is the only NAID AAA and ISO 9001 certified shredding company offering services to the Aberdeen and Edgewood areas. Because of this, we understand the level of trust our customers put into us and the type of care they rightly expect when it comes to their private data. That is why we have set meticulous standards for our services that surpass those set by the industry. To find out more information or to schedule Aberdeen mobile shredding, give us a call today! 410-242-9224
Aberdeen Shredding Services
On-Site Shredding Aberdeen, MD
Scheduled Shredding Service Aberdeen, MD
One-Time Shredding Aberdeen, MD
Product Destruction Aberdeen, MD
Hard Drive Destruction Aberdeen, MD
Legislative Compliance
HIPAA Compliant
HITECH Compliant
GLBA Compliant
FACTA Compliant