Towson Shredding Services
If you run a business or own a home in the Towson area, and you need to dispose of papers, hard drives, or electronic devices in a fast, affordable, and secure manner, trust PROSHRED® to handle your shredding needs. We offer mobile shredding services, which include scheduled shredding, hard drive destruction, and one-time cleanouts for residential and commercial customers.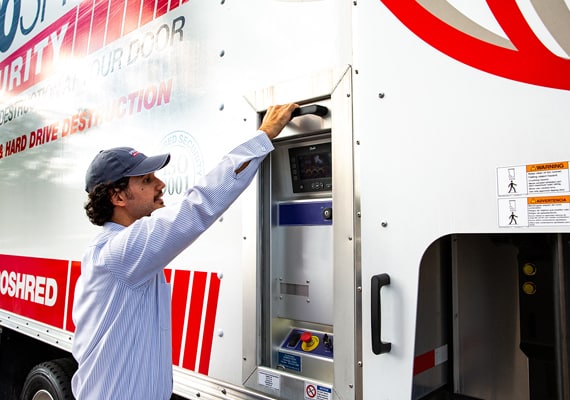 On-Site Shredding in Towson
We provide mobile shredding services on-site at your home or business in Towson, Maryland. Towson is the home of many of Maryland's most respected legal institutions, government agencies, and hospitals. From small family law firms to renowned medical centers, PROSHRED® provides shredding services to the entire community. To schedule legal record shredding, medical document destruction, or other Towson on-site shredding services, contact us today!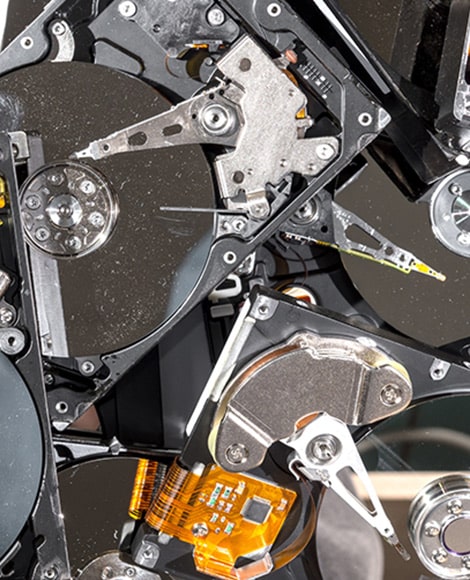 Towson Hard Drive Destruction
With more and more sensitive data being stored on computers and other electronic devices, it is becoming increasingly important to ensure that the hard drives for these devices are completely destroyed to prevent private information from falling into the wrong hands. Simply clicking "delete" or moving these documents to the trash is not sufficient to wipe a hard drive: Hackers can still recover data from hard drives unless they are completely physically destroyed.
When you need to protect the privacy of you, your family, your company, or your clients, you can rely on PROSHRED® for secure hard drive destruction near Towson. Our mobile shredding trucks will arrive at your location and render your hard drives unrecoverable. We will also provide you with a Certificate of Destruction so that you can rest assured that all of the sensitive information in your care has been securely destroyed.
PROSHRED® Recycles Your Documents
No one wants to think about their old papers, phones, or computer hard drives contributing to waste inside a landfill. That's why our shredding company partners with local recycling facilities near Towson. In addition to protecting your information, we make sure our document destruction processes comply with local, state, and national recycling guidelines. We are both NAID AAA and ISO 9001 certified, and compliant with federal privacy legislation, including HIPAA, HITECH, GLBA, and FACTA.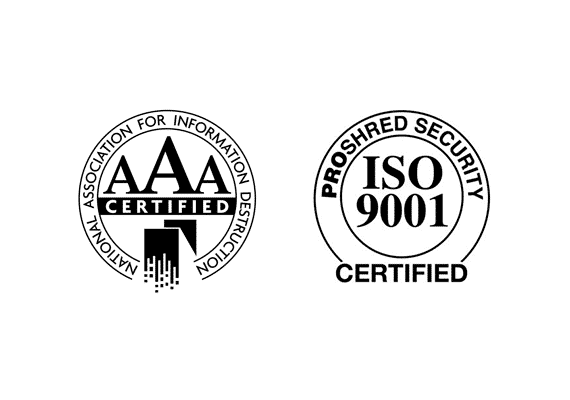 Schedule a Towson Shredding Appointment
PROSHRED® operates mobile shredding services five days per week in Towson, MD. Our hours of operation are:
Monday through Friday: 8 AM-5 PM
Weekends: Closed
Holidays: Please call to verify
We encourage you to schedule shredding services in advance by calling us at 410-242-9224.  When you schedule an appointment, we will take down your address and arrive at a convenient time of day. We can provide last-minute pick-ups in some instances. We also offer a wide range of shredding bins and consoles for customers who want ongoing shredding services. Give us a call for a free quote!
Towson Shredding Services
On-Site Shredding Towson, MD
Scheduled Shredding Service Towson, MD
One-Time Shredding Towson, MD
Product Destruction Towson, MD
Hard Drive Destruction Towson, MD
Legislative Compliance

HIPAA Compliant
HITECH Compliant
GLBA Compliant
FACTA Compliant