Catonsville Shredding Services
As a leading provider of on site shredding services in Catonsville, PROSHRED® helps both businesses and individuals to securely dispose of documents, hard drives, and products that contain sensitive information and confidential data. While it's tempting to throw these items in the trash as a quick way to clean out an office or warehouse, this practice can put information at risk of being stolen and used against you or your company. For the best way to protect private information, maintain legislative compliance, and protect your public information, you need Catonsville paper shredding services from a professional shredding company like PROSHRED®.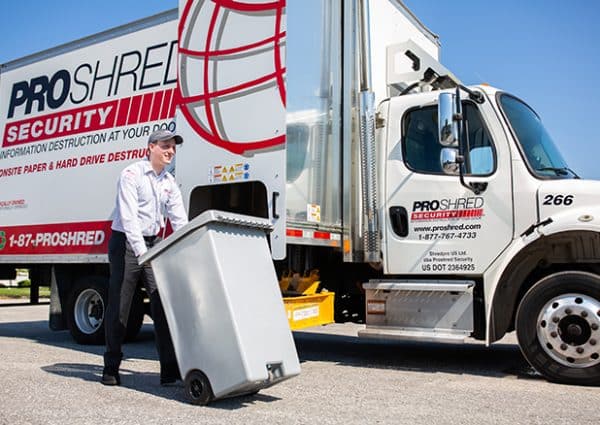 Catonsville Paper Shredding Services
Paper documents are one of the most vulnerable sources of important company, client, and employee information that most companies possess. While for many years emphasis has been placed on keeping digital information protected from hackers and data thieves, physical document security has been overlooked. If you're still having your employees destroy old records with outdated office shredding machines, it's time to rethink your strategy. These shredding machines are cumbersome and slow to shred, as well as create straight-cut pieces of paper that can easily be recovered by a dedicated information thief. For secure shredding that won't leave your information vulnerable, you need the best in Catonsville paper shredding.
Scheduled Shredding
Ongoing shredding, also called regularly scheduled shredding, is one of the most popular shredding services that PROSHRED® provides. With this service, we'll take the time to meet with you and assess your needs. We'll set you up with security consoles or bins for you and your employees to collect your old documents in, and schedule a recurring time and date for us to come pick them up for shredding on site. One of our Customer Service Professionals will arrive at your location, collect your bins, and shred your papers using a mobile shredding truck that is equipped with an industrial shredding machine. This machine will turn your information into tiny pieces that will be transported to a secure partner recycling facility and turned into new paper products. This Catonsville onsite shredding process is completely secure, and you can watch the entire thing happen at your location.
Purge Shredding
Purge shredding follows a similar process, but is done at a much lower frequency. Some companies only need a bulk shredding done every few months or even once a year, and this service is perfect for them. There are many reasons why a Catonsville purge shredding service could be beneficial to you, and one of the biggest is legal compliance. There are numerous state and federal laws that dictate information privacy as well as when and how certain types of documents should be destroyed. In order to stay compliant with these regulations, companies may conduct periodic purges of old documents and need a certified shredding service to help them achieve this. Other reasons for purge shredding include:
You have digitized documents and need to get rid of the hard copies
Your business is closing or moving
You need to purge old client files or personnel files
You have a large amount of old patient files to shred
You are cleaning out a warehouse or storage unit
You are conducting a spring cleaning at your home office
You need to dispose of a large quantity of personal financial documents
Get Secure Shredding Services from PROSHRED® Baltimore
In addition to paper shredding services, PROSHRED® also offers Catonsville hard drive disposal services. When information is saved on a hard drive, simply deleting old files does not guarantee that the data will be erased; you need a hard drive destruction service that will render your old hard drives completely irrecoverable. For more information about hard drive shredding and the various other shredding services we provide, give us a call today.
Catonsville Shredding Services
Scheduled Shredding Service Catonsville, MD
One-Time Shredding Catonsville, MD
Product Destruction Catonsville, MD
Hard Drive Destruction Catonsville, MD
Legislative Compliance
HIPAA Compliant
HITECH Compliant
GLBA Compliant
FACTA Compliant