Timonium Paper Shredding
PROSHRED® was founded on the principle that our customers' security should come first. We understand that you want to make sure that your personal and commercial information is safe and secure, and we provide a variety of solutions to assist you in achieving this goal. PROSHRED® will destroy your documents in the most secure way possible through the use of our cutting-edge mobile shredding trucks.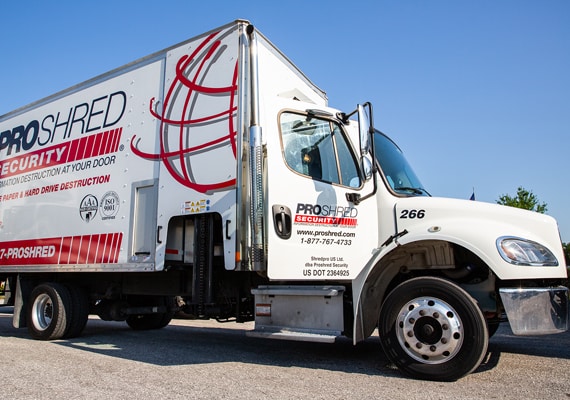 Timonium Product Destruction Services
When it comes to product disposal services, time is of the utmost significance. You should get rid of what you don't need before someone else gets a chance to use it. Our product destruction service can assist with any situation where you want to get rid of anything because it's confidential, outdated, or simply no longer necessary.
For businesses with excess inventory, we provide a variety of options. The PROSHRED® team provides discrete product destruction services, including the secure disposal of uniforms, identification cards, and other non-paper materials. If these objects fall into the wrong hands, they might be used to access sensitive data. Similarly, corporate espionage is a real concern, and you need to make sure that your company's confidential information is not being passed on to competitors.
PROSHRED® is the best solution for product destruction in Timonium. We will come to your location and destroy your products safely and securely. We also offer a free quote so that you can get an idea of how much our services will cost.
Document Destruction in Timonium
At PROSHRED®, we want to help Timonium residents and business owners properly get rid of their sensitive documents. We have a few options for secure shredding, such as our mobile document shredding trucks. With this service, one of our trucks will come to your location and safely destroy any documents or media storage devices while you watch from a viewing screen mounted to the truck. This way, you can be confident that all information is being handled with complete confidentiality.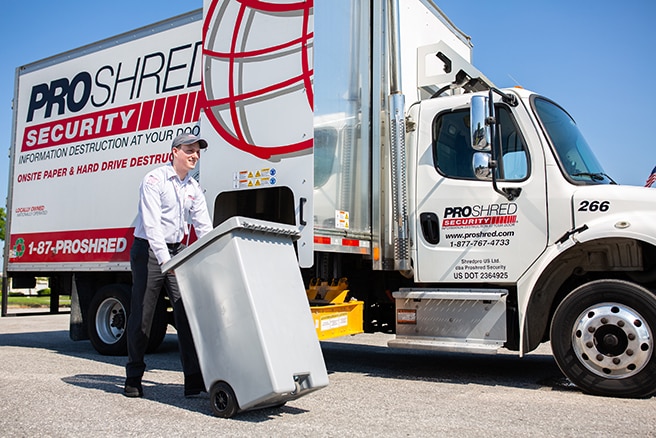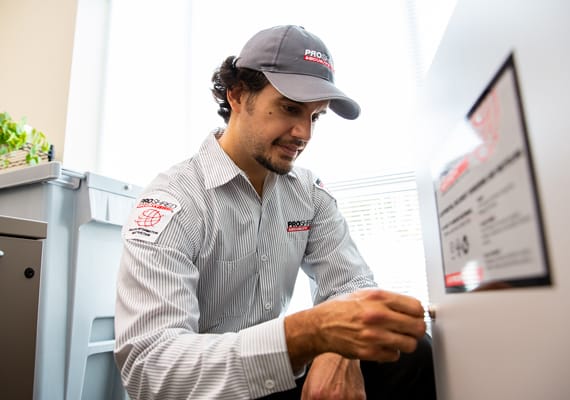 Scheduled Shredding Services in Timonium
You're no doubt aware of the importance of keeping your personal and business information secure. One method to guarantee this is to securely shred your papers after they have served their purpose. Timonium shredding services from PROSHRED® make it simple for you to destroy your sensitive documents by offering on-site shredding services. With this service, our state-of-the-art trucks equipped with industrial paper shredders come to your location and shred your paper materials on the spot. If you need a regularly scheduled shredding service, no problem! You can set up routine Timonium paper shredding appointments on a weekly, bi-weekly, or monthly basis.
Rely on PROSHRED® for Secure Document Disposal
PROSHRED® is proud to provide our Timonium customers with the convenience of secure document disposal. We are your one-stop shop for all things related to disposing of sensitive documents, including hard drive shredding and e-waste recycling. You don't have to risk identity theft by taking care of this job yourself when you can count on professionals like us for all your secure document disposal needs.
Timonium, MD Shredding Services
On-Site Shredding Timonium, MD
Scheduled Shredding Service Timonium, MD
One-Time Shredding Timonium, MD
Product Destruction Timonium, MD
Hard Drive Destruction Timonium, MD
Legislative Compliance
HIPAA Compliant
HITECH Compliant
GLBA Compliant
FACTA Compliant