June 29, 2023
The Do's and Don'ts of Document Shredding: What to Know When Destroying Information
Scammers will do anything to try and obtain your personal information. So when it comes time to purge your home or office of accumulated paperwork, you'll want to be sure you do it correctly. You don't think identity theft can happen to you, but they won't hesitate to steal your credit card info when you hand it over for payment or even go through your garage when you take it to the curb. But there are ways to deter the bad guys, and the easiest way to do that is properly disposing of any document with sensitive information.
In this blog, we'll look at the do's and don'ts of paper shredding and why it's essential to do it correctly so criminals can't gain access to your data. Read on to learn more about document shredding, and if you're looking for shredding services Baltimore, call the professionals at PROSHREDⓇ Baltimore for a free consultation.
The Do's of Document Shredding
Whether you work from a home office or in a large corporate office, you need to set procedures to prevent paperwork from piling up and creating a stressful environment for all involved. While it may be tempting to throw documents into the trash bin, doing so could put your data at risk, and in some instances, be against the law, mainly if it contains personal information of clients and customers.
The most important aspect before shredding unwanted documents is to review what documents will be sent for destruction. Although it varies by organization, here's a list of what documents should be shredded.
Bank statements
Payroll ledgers
Financial statements
Customer orders
Photo ids
Shipping labels
This is by no means a comprehensive list, but a good rule of thumb to follow is to shred any document with personal or identifying information on it.
Another item to consider when thinking of document destruction is governmental compliance. As a business owner, you are required by both state and federal laws to safeguard the privacy of clients, customers, and employees' personal information. Any paperwork with identifying personal data must be destroyed so it can't be stolen by someone looking to benefit from ill-gotten gains. Working with an established company specializing in document shredding is the best way to keep your office organized and sensitive data safe.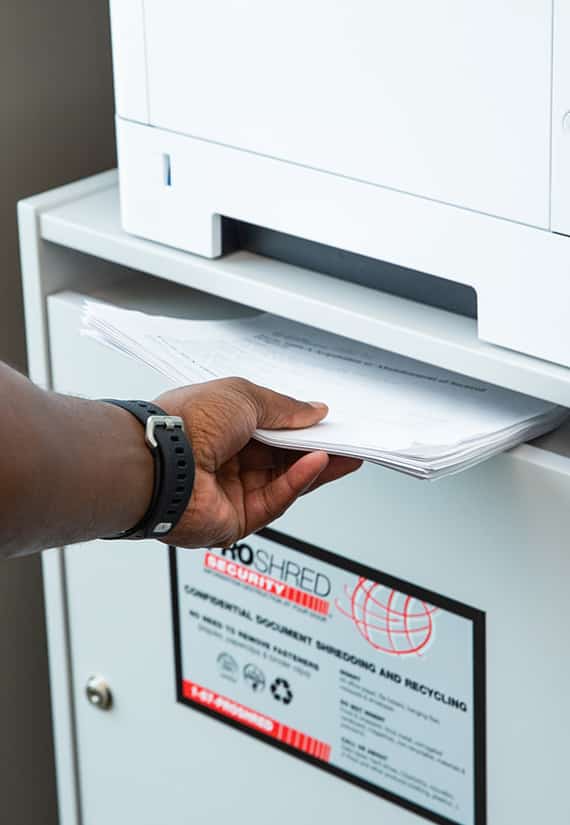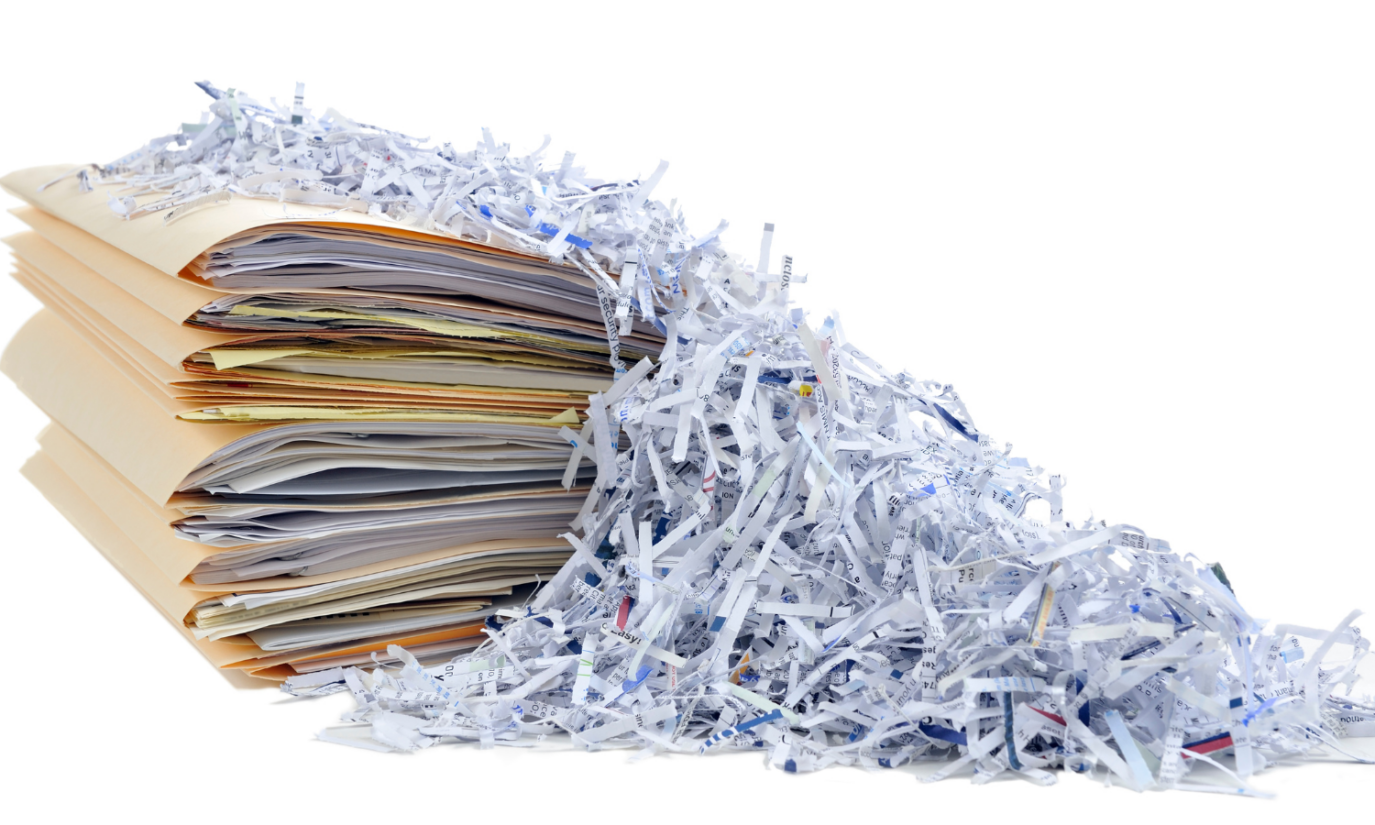 The Don'ts of Document Shredding
Document shredding may not be at the top of your list of things to do but putting it off could lead to trouble. Before too long, a small amount of paperwork has blossomed into a growing mound threatening to overrun your space, and the simplest thing to do is to pitch everything out. An impulsive act can lead to long-term complications.
When you're ready to shred your documents, you'll want to review each document before it hits the shred pile. While this may be time-consuming, once a document is shredded, especially when done by the professionals, it's completely destroyed and unretrievable. Having a system in place to handle excess paperwork before it piles up is the easiest way to prevent the loss of important documents during the shredding process.
Document shredding and hard drive destruction should be left to the professionals. While it's easy to buy a paper shredder from a big box retailer, it can take forever to get the job done if you have large amounts of documents to destroy. Plus, many shredders don't destroy the documents as professionals do, and resourceful identity thieves could steal your personal information. Above all else, a reliable shredding company like PROSHREDⓇ Baltimore offers security benefits that a home shredder doesn't.
Ready To Shred? Contact PROSHREDⓇ Baltimore Today!
Document shredding doesn't have to be a hassle. When you're ready to shred unwanted documents and clear the clutter, working with a professional can make the whole process quick and easy. PROSHREDⓇ Baltimore provides quality on-site document shredding and hard drive destruction services at affordable prices.
We can provide you with regularly scheduled shredding services or a one-time purge at your location in one of our secure state-of-the-art mobile shredding trucks, where you can watch the whole process. Our friendly staff can remove the stress and hassle of too much paperwork and leave you more time for other responsibilities. From paper shredding to hard drive and product destruction, we have your business covered. Contact us in the greater Baltimore area today or call us to schedule an appointment.