May 12, 2019
Secure Hard Drive Information with Hard Drive Shredding
Many people are under the impression that wiping a computer of its data is all that is needed before an old device can be safely thrown out. However, this is not the case. Even if you delete every file on your computer by hand, there will still be plenty of data on the hard drive that can be retrieved by industrious information thieves. There is no easy way to wipe a hard drive either, so it's important to take special care when preparing to dispose of a computer, or any electronic device. If the wrong person gets a hold of your hard drive, this could mean disaster for you or your business.
The best way to ensure that no one uses the information stored on your hard drive to carry out a data breach or identity theft is to find a secure hard drive destruction service in your area. At PROSHRED® Baltimore, our team is well-equipped to handle any hard drive destruction service, at any location.
Benefits of Baltimore Hard Drive Shredding
There are many reasons why you should consider a Baltimore hard drive shredding service for your old computer. PROSHRED® Baltimore makes the process convenient and easy with our mobile shredding trucks. These trucks can come to you and pick up hard drives for disposal. These vehicles are equipped with state-of-the-art shredding equipment, so you can watch the PROSHRED® team effectively destroy your hard drives on site.
You also have the option of having hard drives disposed of at one of our secure, off-site facilities. In this building, hard drives are heavily monitored by cameras throughout the location and are handled by certified shredding technicians who will make sure all hard drives are secure throughout the shredding process. This secondary facility can also take care of product destruction services, so if your company has old uniforms or branded materials to get rid of, should consider signing up for this service if you're already getting rid of hard drives.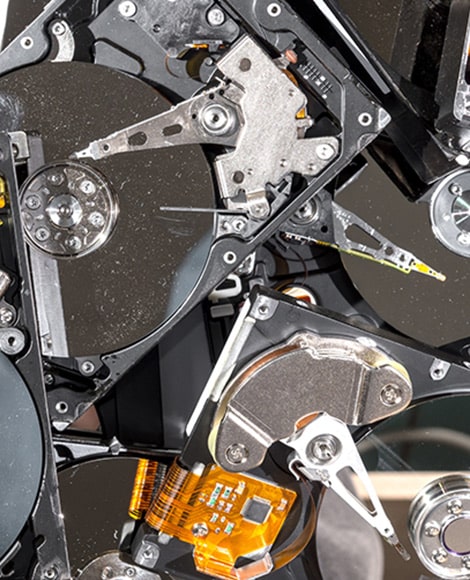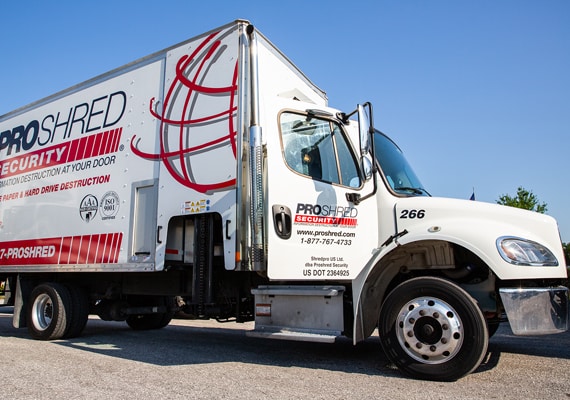 How does a hard drive disposal service work?
The first step to take in order to receive a hard drive disposal service is to schedule a time for our team to come and pick up your hard drives. When you speak with a representative at PROSHRED® Baltimore, you can let them know whether you want on-site or off-site hard drive shredding.
If you choose a mobile shredding service, then our shred trucks will arrive promptly at your location at a predetermined time and perform the hard drive shred right outside your door. If you choose to have your hard drives destroyed at our facility, then our team will come pick up this device and transport it to our secure facility, where it will be monitored and shredded using secure, industrial shredding equipment. At the end of the service, we can provide you with a certificate of destruction as proof that your hard drive has been effectively destroyed, and that your data is safe.
Get secure Hard Drive Destruction with PROSHRED® Baltimore
Hard drive destruction is easy, secure, and convenient when you work with PROSHRED® Baltimore. If you are a business owner who needs to dispose of multiple company computers, we can help. Our state-of-the-art shred trucks are equipped to handle shred jobs of any size, and can complete bulk projects in a matter of minutes. You can rest easy knowing that your data isn't at risk of a data breach or identity theft when you effectively destroy your hard drive with PROSHRED® Baltimore's services.
Our team is here for all of your hard drive destruction needs. Contact us today to schedule a mobile shredding service with us: 1-410-242-9224