July 7, 2016
Common Myths About Paper Shredding in Pearland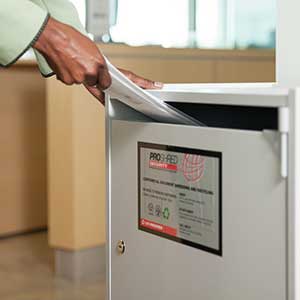 We have heard common questions and concerns regarding document shredding in Pearland Texas, and whether or not it's a necessity for companies now. We've summarized our answers to all those common questions below.
Four common paper shredding myths:
You may be amazed to discover that combing through trash or dumpster diving is a routine activity for many thieves, and it's known to be so lucrative, it is been an approach for many organized crime rings across the country.
My records are stored securely, so I don't need to shred.
While securely storing your records is a sound security practice. The United States and Canada have laws that mandate records should be retained by businesses for a certain amount of time before destroying them. However, you may not just throw them away when you need to get rid of them. To meet the legislative requirements of state and federal laws you must securely destroy them through either shredding, recycling or incineration. If you shred you obsolete information the shredded paper will be securely recycled and used to produce a number of recycled consumer products. If it is incinerated, it will just end up in the waste stream.
My business is not big enough for a shredding service.
Considering a 2010 EPA report found the typical office worker uses 10,000 sheets of paper per year; your office is creating more than you'd imagine in paperwork and waste. Half of all paper used goes out the door through the waste stream due to overprints, extra prints. or additional reprints of revised information.
Armed using a better comprehension of these myths, it is possible to separate fact from fiction to better handle your information destruction needs.