Introducing Our New ShredVANTAGE Containers
The Only Shredding Console You Need
At PROSHRED® Houston, we're always looking for new ways to innovate our products and processes to provide more secure shredding services to customers. Our new ShredVANTAGE consoles are the latest improvement to our scheduled shredding program, providing customers with a secure, lightweight, ergonomic, sanitary, and space-saving design.
What makes these shredding bins so much better? For one, the ShredVANTAGE consoles can hold the exact same amount of paper as our 36" Security Consoles, but take up much less floor space. The new consoles are also more sanitary because they are easy to clean, are not affected by liquids, and are not prone to chipping due to cleaning equipment. Due to their design, the ShredVANTAGE bins are quicker to service, meaning less office disruption for our clients. And, most importantly, these consoles offer an enhanced information security due to a more secure 3-point locking system.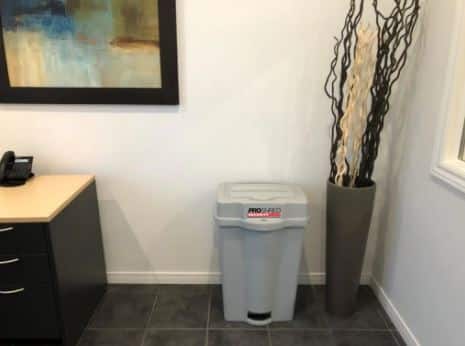 Why is the NEW ShredVANTAGE the right solution?
These lightweight and maneuverable shred containers mean our Customer Service Professional servicing your location can get in and out of your business faster on shred day with little to no interruption of your staff. These ShredVANTAGE containers have numerous benefits:
Made of 100% recycled plastic
Durable
Easy to clean / sanitize
Not affected by liquids
Ergonomically designed
JCAHO compliant
Enhanced security with a 3-point locking system
Same capacity as a standard 36" console with a modern look
Environmentally friendly (production/transportation)
Can be shipped quicker than cabinet style wood units
What are the advantages of shredding with PROSHRED® Houston?
With PROSHRED® Houston's hassle-free process, there is no need to remove paper clips, staples, or other bound materials. Simply place the materials in the console and leave the rest to us. Our secure 100% plastic ShredVANTAGE consoles hold the same amount of materials as the executive consoles just with more advantages. See how we can help keep your business sanitary, save your business time/money, and provide a secure shredding solution.