Shredding Bins and Consoles
PROSHRED® of Houston supplies clients with several options of secure shredding bins and consoles for the secure disposal of confidential documents. Once at capacity, these bins are smoothly and efficiently transferred to our on-site mobile shred truck, where the secure file destruction takes place.
Our Sales Professionals and Customer Service Specialists are happy to work with you to discuss different shredding options, building a customized assistance plan that meets your needs. We ensure the document destruction system is completed safely and efficiently at all times.
Security Consoles
Together with a pre-determined regularly scheduled service, our team will supply you with our high-quality security containers to place within your facility,  at no extra charge. Our consoles are placed throughout your business location according to plan to aid with the document disposal among your staff.
You never have to worry about removing any materials holding the documents together, such as paper clips or staples or separating any files bound together. Simply place the documents that require disposal in your PROSHRED® security bin and our team will handle the rest. Our shredding process is the most convenient and cost-effective in all of Houston.
Our security consoles have a higher volume capacity than a majority of other business. This extra space ultimately saves you money, as more materials can be shredded in one single service.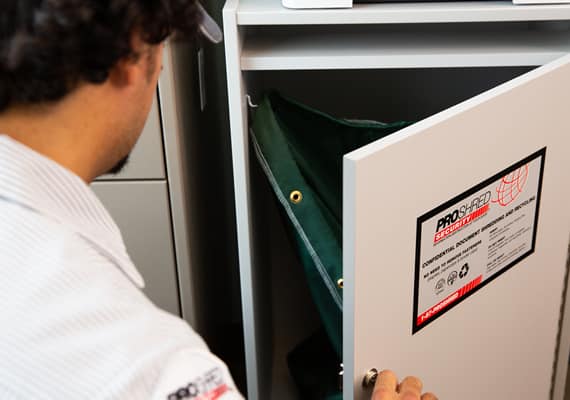 Security Console Features:
Dimensions: 36" x 22 3/4" x 15 3/4
Our security consoles come in a common everyday color that blends effortlessly with your office.The one-way feed slot guarantees documents are safe from getting into the wrong hands and makes sure no documents are left behind or lost. You can even fit 400 pieces of paper at a time with the wide feed slot. Included in our console is an easily removable insert to ensure a safe and effective removal prior to destruction.
PROSHRED® Houston is now offering the New ShredVANTAGE container.  These containers have the same capacity as the Executive consoles but take up less floor space and are easier to clean/sanitize which is ideal for schools, hospitals and medical offices.  These containers are made of 100% recycled plastic and are JCAHO compliant with their 3-point secure locking system.  Feel free to contact our office to find out which container may best meet your needs.
High-Volume Security Bins
For larger businesses with heavy amounts of paper activity like mailrooms, copy rooms or warehouses, we offer larger bins with wheels for easy extraction that can easily be moved out of your warehouse or building. Our extra-large security bins available in 64-gallon or 96-gallon sizes are equipped with a padlock system to guarantee that no matter the location of the bins, your sensitive material is securely protected. We work with your business to determine what size console is best for you depending on your particular space and requirements.
Security Bin Features:
Dimensions:
64-gallon: 42" x 26" x 26"
96-gallon: 46" x 28" x 31"
Loads through the top, and is a reliable plastic container for large amounts of documents. Security slot guarantees documents cannot be obtained from inside. Security bin has wheels for easy maneuvering and removal of documents.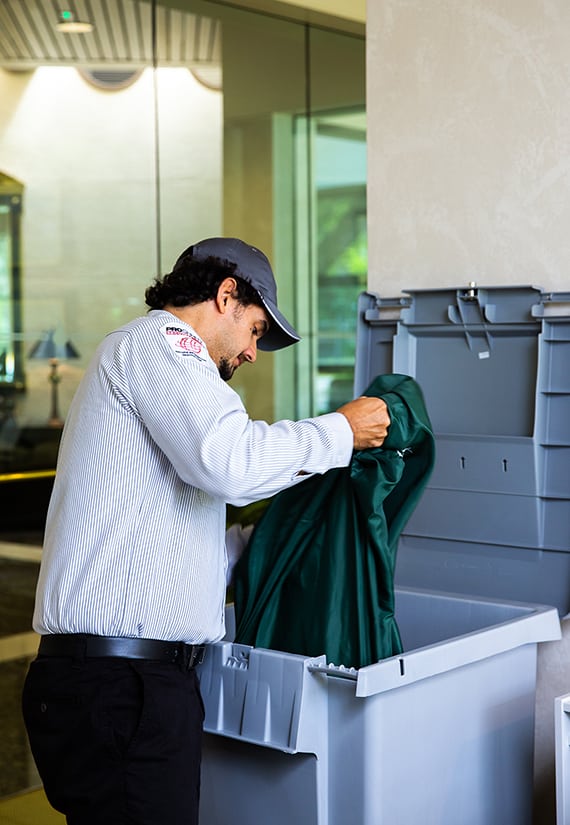 Personal Desk-Side Containers (PDCs)
Made for the entire office, our Personal Desk-Side Containers are a necessity in proper document destruction. Small and portable, our PDCs fit comfortably under any desk or small space and make document disposal easier while still ensuring ultimate security. With locking features enabled, employees do not have to ponder on decisions about what should be shred and what should be kept and recycled. PDCs provide a convenient and easy way for all team members to shred any unnecessary documents that may contain confidential information, protecting your business from identity theft or a security breach.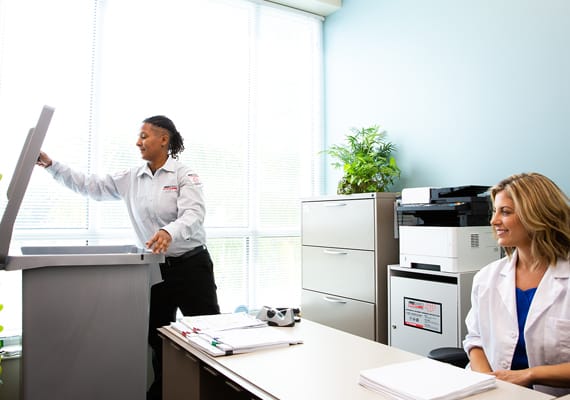 Personal Desk-Side Container Features:
Dimensions: 13 1/4" x 16 3/4" x 12" (other sizes available if required) Insertion slot on top, durable plastic container holding around 2,000 pieces of paper, safe and secure lock, with the same locking design as your larger security bins and consoles for added convenience, and a one-way feed slot design, preventing paper retrieval.