Shredding Trucks
When everything comes down to maintaining the safety of important information, there is not time to play around with a single solution. Here at PROSHRED®, we take pride in developing a customized destruction plan tailored to your individual or corporate needs. Using our advanced mobile document shredding trucks, our services are guaranteed to be completed efficiently and quickly with no mess. Our trucks will arrive at your location and perform all shredding right outside of your doors.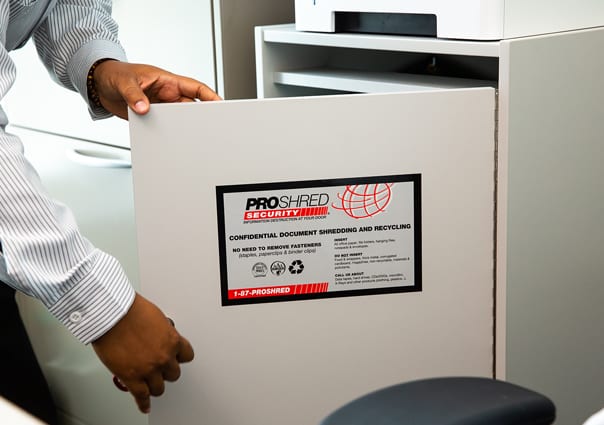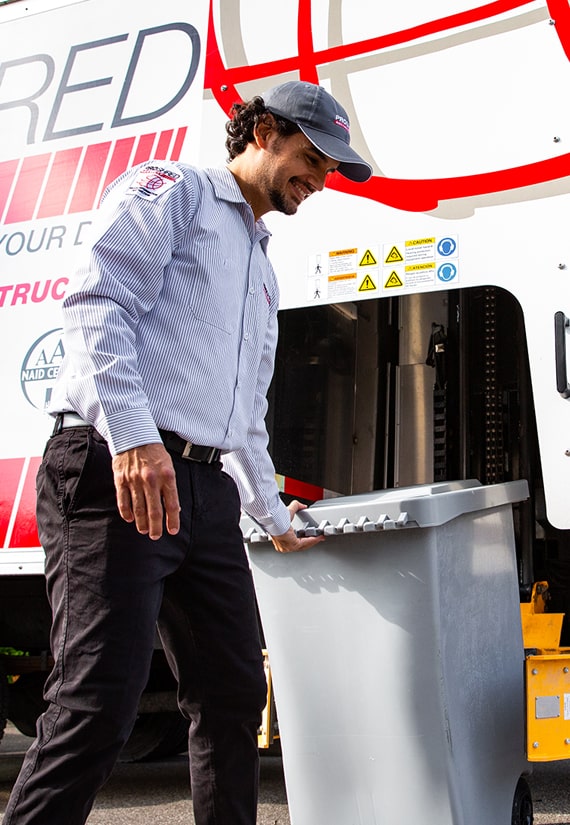 Mobile Shredding Trucks for On-Site Service
Each company is different and has unique shredding needs. Traveling can be costly and exhausting for small shreds, and smaller shredding machines are often too small for large businesses. PROSHRED®'s mobile shredding trucks are the perfect solution for those in-between jobs, where we come to your location at a time best for you.
Created for larger jobs, our mobile document shredding trucks arrive to your personal or corporate location to take the stress off of your plate. Performing all shredding directly on your facility ensures the process is done safely and securely to lessen the risk of an impending security breach.
Recently, state and federal laws have been enacted to maintain the safety and security of private information. Proper disposal can be carried out by our mobile document shredding trucks, making convenience and accessibility an option. We make proper destruction and disposal easier so that you have time to focus on what you need to get done, and perform everything right at your location!. This ensures high security of your confidential information right at your fingertips.
Whether you need a one-time purge or an ongoing service, making sure your documents are destroyed properly is easier than ever with our mobile shredding trucks.
Large off-site shredding facilities mean additional traveling which can be frustrating and tiresome for many, while small in-house shred machines are not built to handle the bigger shred jobs, or guarantee the high level of security you require. Mobile shredding trucks fit right in between this gap, providing a uniquely flexible service to modern document shredding.
Designed with large industrial paper shredders, mobile shredding trucks come directly to your Houston business or particular location, for the greatest ease and convenience. All material is shred on-site so you can rest assured that your sensitive documents will never risk falling into the wrong hands.
Recent sate and federal laws have strict guidelines in place when it comes to the security and disposal of confidential information. Mobile shredding trucks offer one of the most convenient and accessible options for busy companies that simply don't have the time to move documents to off-site locations – easily and effectively keeping your business operations compliant with industry legislation, and 100% secure.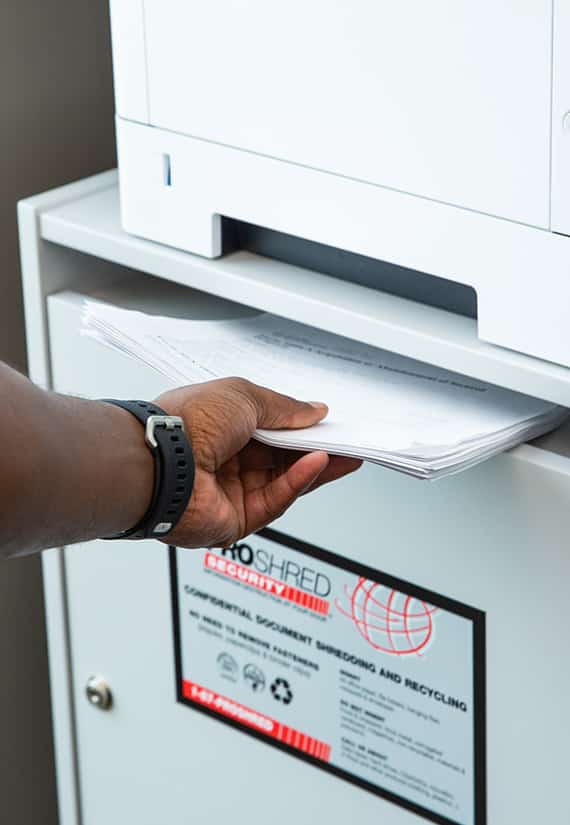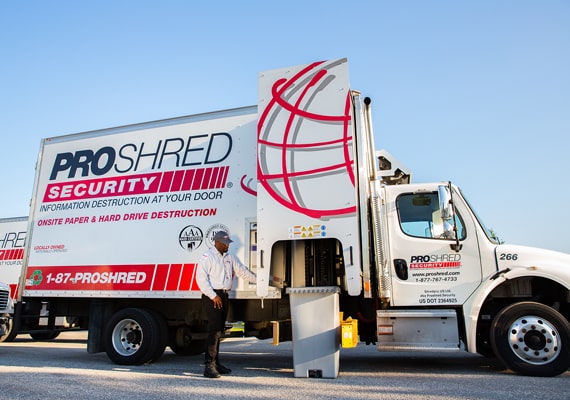 Whether you're looking for a one-time purge service to de-clutter your home or office, or would prefer a regularly scheduled service to continually keep your business on track, mobile shredding trucks from PROSHRED® of Houston bring the frontier of professional and secure document shredding directly to your home or business.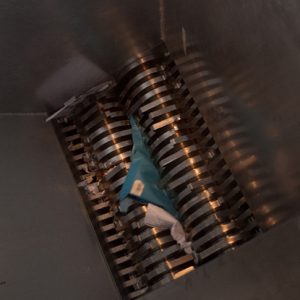 Pierce-and-Tear Shredding Trucks
Pierce-and-tear shredders use numerous revolving blades to create openings in the material or documents that are being shred, resulting in the material being torn into multiple pieces. This method rips the material at the seams instead of cutting it, resulting in a more irregular method, creating a higher level of security than traditional strips done by office shredders.
Premium Aerodynamic body with safety strobe lights

Shreds 2,000lbs/hr – 9,000lbs/hr  with a 5,000lbs – 10,000lbs payload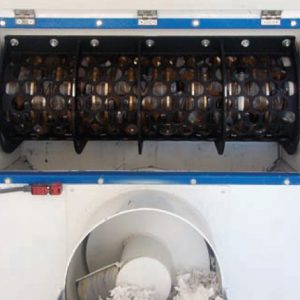 Single-Shaft Rotary Grinders
Single-shaft rotary grinders implicate an amp-controlled hydraulic arm, which moves whatever material being shredded toward a single cutter shaft, revolving at a slow speed of 100-125 rpm. This high-torque, slow-speed has accurate point precision, with 4 sharp point tools ingrained in it, which slice the material against a bed knife, and insert the sliced pieces to a new machine to guarantee the correct size granulate.
Payload compartment – 16'L, 1,200 cu. ft (8,000 – 10,000lbs)

Shreds up to 30,000 lb/hr, based on the size of grinder used.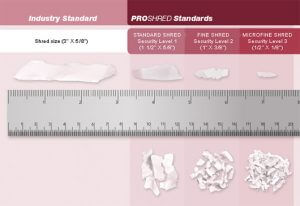 Various Paper Shred Sizes
PROSHRED® of Houston can achieve various sizes to ensure the most accurate level of protection tailored to your individual needs. Based on the amount of security, we offer Level 1- 3 shred sizes, with 1 being the smallest and most secure, at least 3 times as small as your traditional in-house shredder.
See the table to the right for more information in regards to security levels.