Hard-Drive Destruction
The amount of information and data that businesses keep on computer hard drives nowadays is unprecedented in history. Now more than ever, it's vital that a hard drive destruction service be used whenever a hard drive has reached its end-of-life. This is the only way to ensure that confidential and highly sensitive emails, invoices, budgetary numbers and internal documents aren't accessed by outside individuals.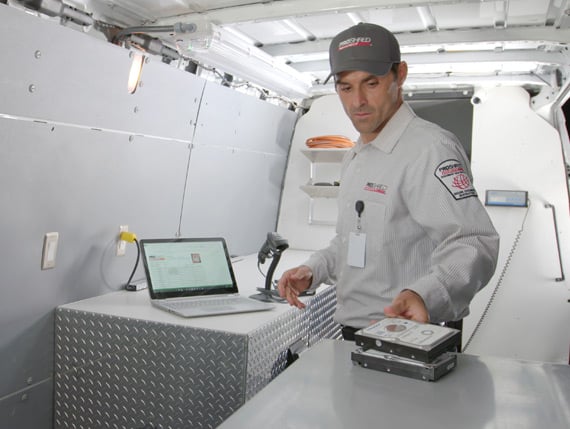 What is Hard Drive Shredding?
Hard drive shredding is a process that permanently destroys any files stored on computers and electronic devices.  Professional hard drive destruction eliminates access to confidential information, and thus protects businesses and individuals from identity theft and data breaches.
Houston On-Site Hard Drive Destruction
PROSHRED® of Houston hard drive destruction services and mobile hard drive shredding services can ensure that your hard drives are properly destroyed before being discarded. Our hard drive destruction professionals will come to your business to pick up your end-of-life hard drives. If you require that your hard drives remain in your custody until they are destroyed, PROSHRED® of Houston also offers mobile hard drive shredding. This on site hard drive destruction can happen on-location at your facility, so you can watch your hard drives being destroyed. We also provide a detailed certificate of destruction showing the date and the time of hard drive pickup.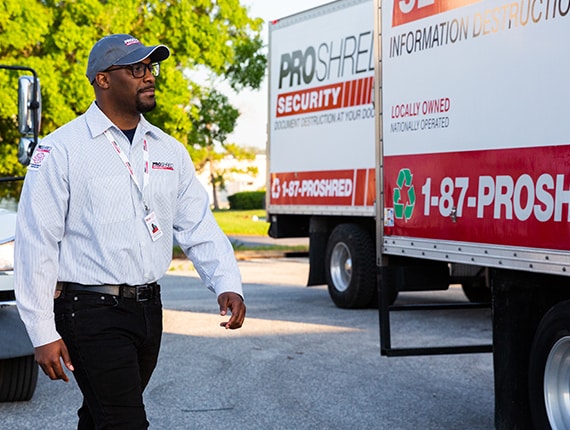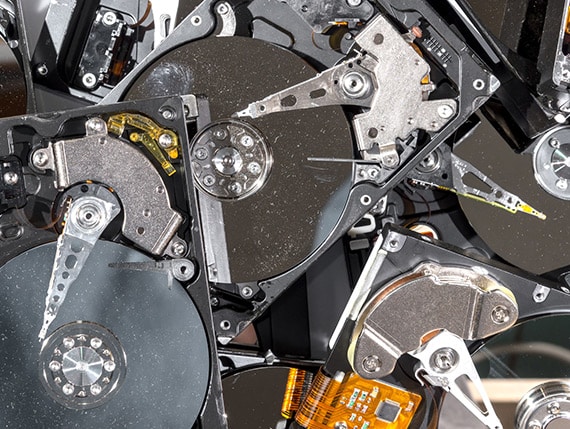 It's Not Enough To Just Erase Data
It's not enough to simply erase information from a drive and expect that the data cannot be accessed. Once files have been erased on a drive, they can still be accessed by an individual skilled in information retrieval. Even if the drive is formatted, some of the information may still be accessible. The only way to ensure that information cannot be accessed once the hard drive leaves your premises is to engage the use of a hard drive destruction service.
Why Choose Hard Drive Destruction?
Industry and Regulatory Compliance with Hard Drive Destruction
As a business owner, you are legally responsible to maintain privacy through proper records storage and destruction. In fact, there are regulations in place that specify exactly how this process must be done. Legislation can be government or industry specific.
Partnering with PROSHRED® for your hard drive destruction needs will keep your organization in compliance with legislation that is applicable to your company.  In doing so, your Houston business will stay in good standing, with a trustworthy reputation among the general public.  Furthermore, this smart practice will limit your chances of non-compliance, which can come with hefty fines!
Recycling Regulations and Hard Drive Destruction
Computers are built with valuable parts and materials that are safe to recycle. They do however also contain toxic and hazardous substances that should be disposed of properly to prevent reaching our landfills. Like destruction, there are government regulations that cover proper disposal of these electronics as well. When you partner with a professional hard drive shredding provider like PROSHRED®, you'll gain the peace of mind that through safe recycling and disposal practices, all data is irretrievable, and disposed of in an environmentally conscious manner.
Methods of Hard Drive Destruction
While there are several approaches to hard drive destruction, it's good to remember that not all options are 100% effective. Secure, hard drive shredding is the only method of data destruction that guarantees information has been securely eliminated for your safety.
Overwriting
Overwriting information on your hard drives can be completed with certain software, but it's a tedious task and one that can also be time-consuming. Most notably, it's not a guaranteed method of data removal.
Data Removal
Removing information from a hard drive does not mean data can't be accessed. Even if files are erased on a drive, if a skilled individual gains access, information can still be retrieved.  Even if the drive is formatted, it is highly likely that some data will remain accessible. The only method that promises to do away with information for good is through the use of a hard drive destruction service. A solution you can trust!
Degaussing
Degaussing is a procedure carried out to eliminate the hard drive's magnetic field. Unfortunately, this type of data removal isn't reliable due to a high level of error probability.
Shredding
Hard drive shredding is the only form of permanent data destruction.  For complete peace of mind that your confidential information is obsolete, choose professional hard drive shredding provided by PROSHRED® of Houston. Our mobile shred trucks have been designed to shred both your documents and critical hard drives; all at the convenience of your location. With PROSHRED® of Houston, we provide reputable and responsible hard drive shredding to ensure your sensitive data is safe from security threats and crime.
Why PROSHRED for Your Hard Drive Destruction Needs
PROSHRED® of Houston hard drive destruction services are entirely effective in eliminating the data on your hard drives.  Our hard drive destruction experts will come to your place of business to collect your old hard drives. If you require that your hard drives remain in your possession until they are destroyed, PROSHRED® Houston also provides mobile hard drive shredding solutions directly at your location, allowing you to witness the procedure first-hand. We'll also supply you with a Certificate of Destruction which indicates the date and time your hard drive destruction took place.
Recycling E-Waste and Complying With Legislation
PROSHRED® of Houston knows that your organization is as dedicated to environmental stewardship as much as we are. That's why we make sure that each hard drive we shred is then collected and sent to metal and electronics recyclers for further processing. We will only send electronic waste to recycling partners who are certified to comply with federal and state electronic waste regulations, and will only do so following safe destruction.
Houston Hard Drive Destruction Services Include:
On-site Hard Disk Drive destruction solutions!
24-hour turnaround on all urgent/emergency requests.
Invoice and Certificate of Destruction sent electronically immediately following service completion.
Hard Disk Drive serial number capture and excel spreadsheet report provided. * no charge
100% of Hard Disk Drive scrap recycled in line with PROSHRED's Green Initiative.
*Additional service fee applies.
Compliant with Privacy Legislation and Regulations
As stated, hard drive destruction is the only secure and trusted method of data elimination from a hard drive.  Our hard drive destruction services are completed by qualified and trained specialists, and provide you with a secure and complete method for the disposal of your hard drives.
When you work with PROSHRED®, you benefit from destruction services that adhere to key industry regulations, including those dictated under: