One-Time Cleanout
PROSHRED®of Houston one-time cleanout shredding service is designed for businesses and residents who need a single clean-out of their unwanted documents and papers. Whether you have a few file boxes that you need to shred or a large room/warehouse full of old confidential documents, our PROSHRED® Houston on-site trucks will come to your location and destroy all unwanted documents quickly and efficiently.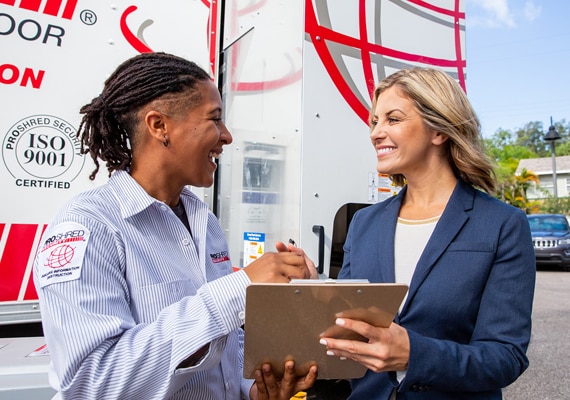 What is Document Shredding?
Document shredding is a cost-effective way to minimize confidentiality-related issues. From customer receipts to billing statements and employee records, every company has paperwork that needs to be properly shredded.
How Much Is Too Much Or Too Little To Shred?
There are no limits when you choose a professional shredding company. The best shredding company for your business allows you to shred as little or as much as you need!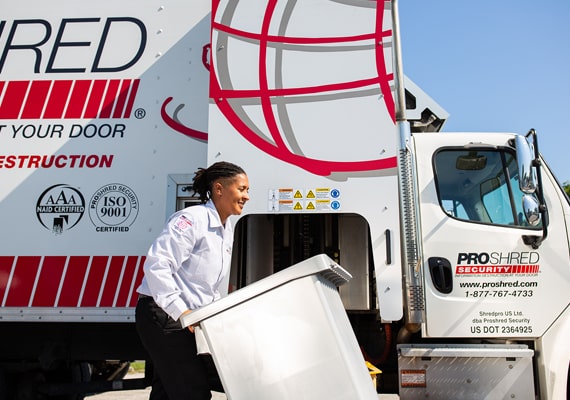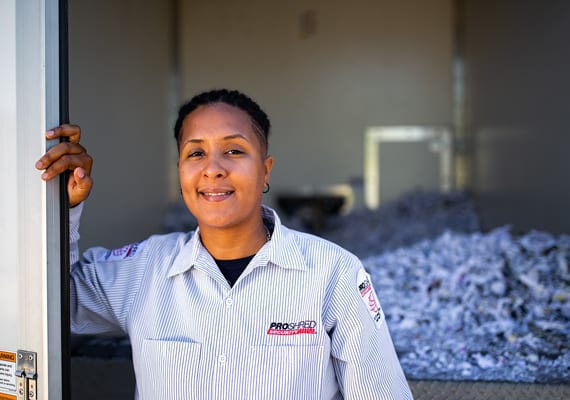 Affordable With No Hidden Charges
This service is very affordable, PROSHRED® of Houston always have trucks on stand-by to do purge or one-time document shredding service for our clients. There are no contracts required for clean-out shredding, and unlike many of our competitors, we don't charge fuel surcharges or any other hidden fees when we shred it for you.
PROSHRED® of Houston State-Of-The-Art Shredding Trucks
PROSHRED® of Houston takes pride in all our on-site trucks. Some of our mobile paper shredding trucks can even shred up to 3.5 tons of paper per hour! Which means PROSHRED® of Houston can be in and out of your facilities quickly and make sure all confidential documents are securely destroyed. No matter how many boxes our clients have, our Customer Service Professionals (CSPs) never physically handle your documents - when we shred it the entire process is touch-free!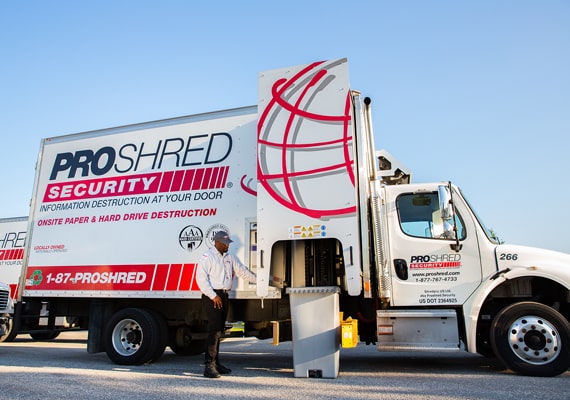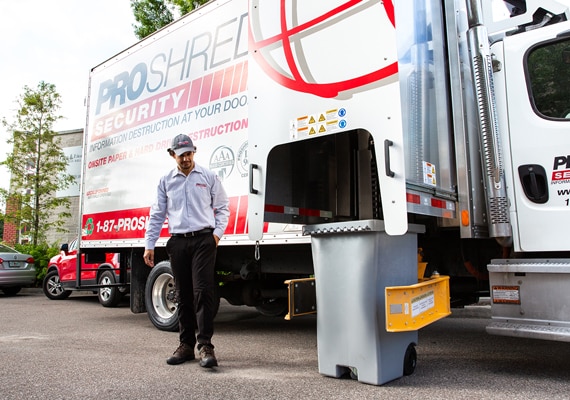 100% Of Your Documents Are Recycled
After all your confidential documents are fully shredded and destroyed our Customer Service Professionals (CSPs) will provide you with a certificate of destruction as proof that the destruction has occurred and completed. PROSHRED® of Houston will then take your shredded documents to a local recycling facility where 100% of the papers and documents are recycled.
More about our One-Time Purge Shredding Services – PROSHRED® of Houston
The cost of maintaining a large volume of outdated documents or electronic media goes far beyond office space expenditures.
An unorganized and cluttered work environment dictates and truly sets the tone for the overall productivity and office morale. Furthermore, failing to dispose of critical business data and shred it in a timely manner can contribute to compliance issues and legal risks. Why is this the case? If you no longer need certain files, backup tapes, and hard drives, allowing them to sit for an extensive period of time will only contribute to a greater risk of privacy breach exposure.
Reduce Your Risk with Periodic Purge Shredding
PROSHRED® offers the perfect shredding solution that allows organizations to securely dispose of information that's no longer needed. Our one-time purge shredding option provides you an easy method of destruction that offers guaranteed protection. We'll securely shred any quantity of sensitive material in the most effective manner possible.
Regardless of whether you only have a few boxes that require shredding, or an entire room full of records that require secure destruction, no purge job is too big or small for our professional team. We'll handle the entire process from beginning to end, ensuring you receive exceptional, smooth service from our shred specialists from the moment we collect your documents, to the moment they are destroyed.
Simple, Effective, One-time Purge Services
Simply contact us when a purge service is needed, or contact our team in advance to arrange specifics. Following an initial assessment of your particular purge requirements, we'll schedule an appropriate date and time for shredding that's fitting for your Houston organization.
On the day of your scheduled purge service, a PROSHRED® shred technician will arrive onsite at your location to immediately shred all confidential material through the use of our mobile shred trucks. We welcome our customers to get involved by witnessing the destruction process firsthand. Catch a glimpse for yourself, and gain peace of mind in knowing material has been thoroughly shred and the chain of custody is complete!
Like each of our shredding services, clients can expect to receive a Certificate of Destruction confirming documents and/or media have been securely destroyed.
Purge Shredding Services are Ideal for:
Destruction before an office move
Annual cleanups and cleanouts
Finalizing of an audit or litigation
Corporate consolidation
Destruction of records relative to compliance, legislative or internal
Our purge shredding services offer:
One-time, quarterly, biannual, or annual solutions
Quick and convenient scheduling
State of the art shred technology, providing the highest level of security
PROSHRED® of Houston Offers:
Screened and background checked shredding technicians
Full audit trail, including a documented chain of custody
Destruction services that are legal, and entirely compliant with state/federal privacy laws
Guaranteed Protection Over Private Information
Maintaining your security is at the forefront in everything we do, and our team is committed to protecting your privacy during one-time purge services. As a NAID AAA and ISO 9001 Certified Shredding Provider, our shred technicians undergo extensive training, including a detailed audit of each employee and shred equipment, to ensure the highest level of professionalism and privacy protection for clients.
To learn more about our one-time purge shredding solutions or to schedule a free consultation with PROSHRED of Houston, please get in touch with us today. Call 1-832-947-5700