August 17, 2021
On-Site Shredding vs Off-Site Shredding Services: What's the difference?
If you're reading this blog, you have likely already taken the initial step to maintain your company's safety and protect it from data thieves by researching ways to dispose of records securely.
Now, it is time to study the different file-shredding options and select the safest, most convenient solution. There are a variety of document shredding companies in Texas, all which offer various price points and services. One differentiator when deciding between paper shredding service providers is whether or not they provide on-site and off-site shredding, and which one is best for your business.
What is off-site shredding?
Off-site or plant-based shredding is when your records are shredded at a subsequent time and/or date gathered from your company, and transported to a different facility for destruction.
What is on-site shredding?
On-site shredding, or mobile shredding, is when your records are collected at your facility and then destroyed right there in the parking lot via a secure mobile shredding truck.
So..which is best?
Which method of paper shredding you decide on for your business may be a tough question to solve. With respect to the number of opinions, you will hear many different views regarding the positives and negatives of each method. It seems sensible to analyze the advantages and disadvantages, as well as the questions you need to ask, to be able to make sure your organization is completely shielded from potential risk.
Off-Site Paper Shredding for Houston-Area Businesses
Generally, the first step in an off-site shredding process is pickup of your sensitive documents. Shredding companies will come to your place of business and load up a truck with your records, and you can typically schedule a time of the day when this pickup would be most convenient for you. Then, the company will move on to the next business and pick up their documents for disposal. Once the truck is full, the shredding company would take the papers back to a plant for shredding.
When paper makes it to a plant to be shredded, the shredded paper is usually blended and compacted into bales. Many people believe that when shredded paper is co-mingled with shredded paper from other businesses and sources, there is greater security against files being recreated. However, it is not easy to ascertain if sensitive information is secure or unattended in a loading dock or queue before it's shredded.
Also, it is worthy of note, off-site companies frequently sort the records by hand before shredding as a way to increase the recyclability, often leaving your information exposed. You do not have physical access to the files: Once they have left your office, there's no means to visually see and check that your confidential files have been in fact destroyed.
The specific transport to the loading dock offers another component of doubt—Is it true the supplier possesses a redundancy strategy in the event the transport vehicle breaks down or is in a collision? Also, there may be a number of days between when the data is shredded and when it's bailed up, further delaying receipt of a Certification of Destruction. When you use an off-site service, you should be given a Certification of Destruction, which is a document that ensures your materials were totally destroyed.
One way to alleviate any potential security issues that off-site shredding poses would be to utilize a drop-off shredding service, but this is not a truly convenient option for businesses that deal with large amounts of paper to dispose of on a regular basis. Given these points, your other alternative would be to work using a supplier that destroys your materials on-site.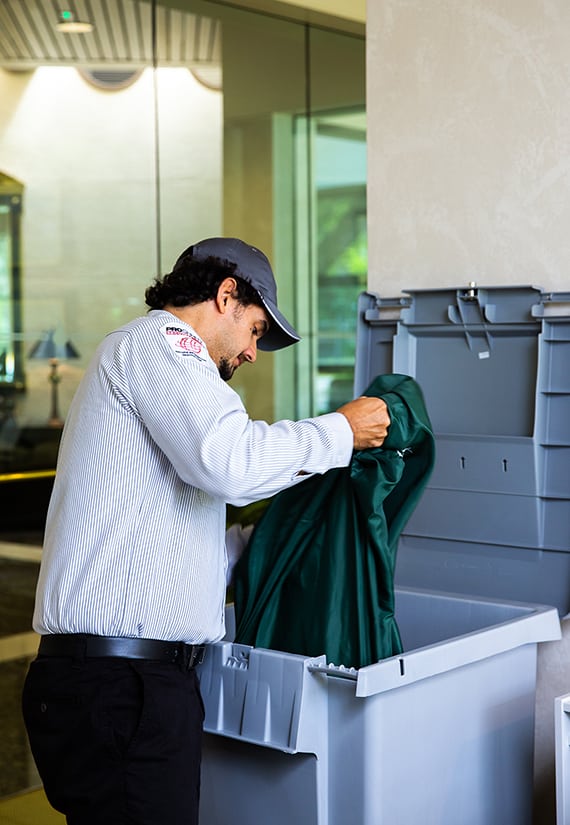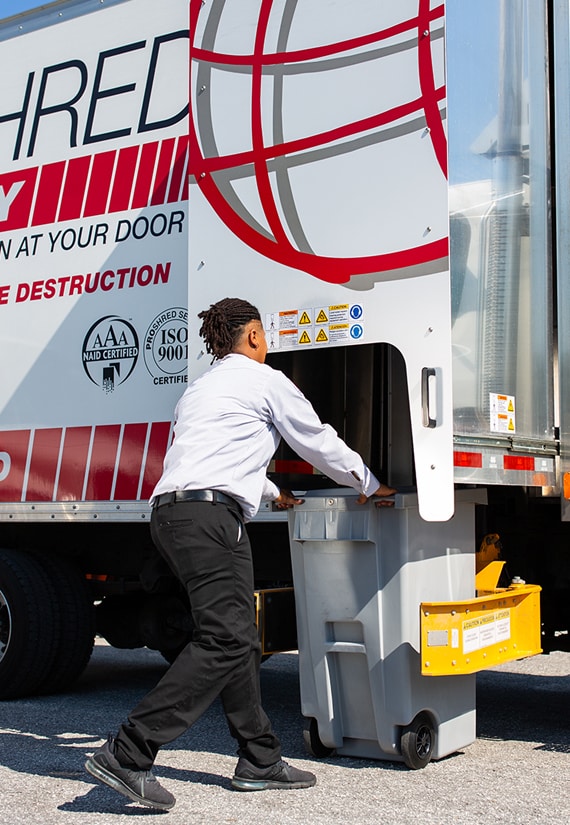 On-Site Paper Shredding for Houston-Area Businesses
With on-site paper shredding, or mobile paper shredding, your documents are shredded right before your eyes and are then transported to a facility to be bailed shortly after they have been destroyed.
All shredded paper is blended together in the truck, which makes it almost impossible to put back together. Jointly with the materials being destroyed on-site, there is not any danger related to the transport vehicle losing the files before they can be destroyed or shredded. The materials are securely managed at your premises, which means you understand just who had access to the contents before being destroyed.
With this process, records will not be left unattended so they're not exposed to reverse threat (example: loading dock). You can take comfort in knowing your material is destroyed and receive a Certification of Destruction documenting the whole destruction procedure. The one potential downside to mobile shredding is that because you are paying for the supplier to visit your place of business, this service can cost more than off-site shredding, but not nearly as much as one would anticipate, and most find the extra security features worth any extra cost.
What to Consider When Choosing a Shredding Company
Can the supplier ensure that everything is shredded?
Will the supplier sign a Business Associate Agreement? (A Business Associate Agreement is a contract between its own associates and an individual or firm who utilize confidential information or will have accessibility. It's usually viewed in the circumstance of dealing with protected health information and medical businesses (PHI).)
What happens to the material when it is destroyed? Is it recycled? Is it sent to a landfill?
Is it possible to get the Certification of Destruction at the time of service?
Is your provider NAID AAA and ISO Certified?
Get Secure On-Site Shredding with PROSHRED® of Houston
With one of these factors in your mind, you will be well on your way to selecting a paper shredding service that meets your needs, but additionally gives you 100% assurance that you are protected against data theft. PROSHRED® of Houston offers on-site shredding service to the entire southeast Texas area, and with its affiliate locations can handle your shredding needs from coast to coast.
Call on PROSHRED® Security in Houston for all your paper and hard drive shredding needs. We recycle 100% of the paper we shred, and we always supply a Certificate of Destruction before we leave your site. We're NAID AAA and ISO Certified, so you can ensure our customer service professionals will provide you with secure, convenient, affordable shredding services every time.