July 14, 2020
How to Find A Local Shredding Company
As a business owner, keeping your sensitive information safe is a must. Having a foolproof cybersecurity plan in place is an excellent way to protect your digital files, but it's not enough. Your physical documents are at risk just as much, if not more so, as your digital files. For example: in the medical industry, physical hospital records have been shown to be the most common target for data breaches.
No matter the industry, your business's information can be put at risk – either intentionally or unintentionally – by your own employees. Regardless, improper handling and disposal of company records can lead to serious consequences. Document shredding service providers like PROSHRED® Houston can help you prevent a data breach from occurring. Our secure destruction methods for paper and hard drives follow the latest security standards and privacy laws.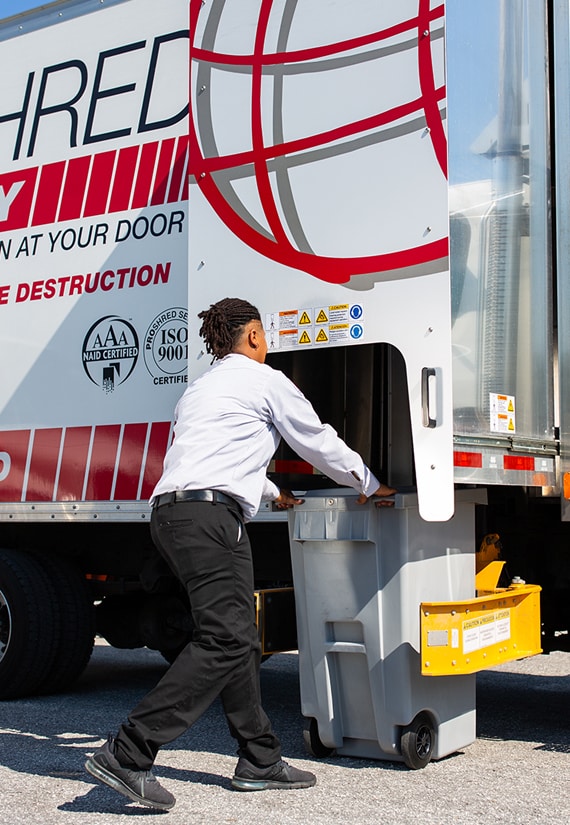 Why Choose PROSHRED® Houston?
There are many reasons why you should choose PROSHRED® as your Houston shredding service is the best decision for your business. We have state-of-the-art equipment that can handle any shred job, our technicians follow strict protocols, and our team works hard to make sure your data doesn't fall into the wrong hands. Below are some benefits to using PROSHRED® Houston:
We follow Compliance Laws. As we have worked with a variety of industries throughout the years, we have come to know the various security and privacy regulations that differ from business to business. We can help you stay compliant with these regulations thanks to our industry expertise.
Our staff is trustworthy. All of our shredding technicians undergo a thorough background check before they join our team of friendly staff. These new team members are also trained in the latest practices before they are trusted to handle your sensitive files.
We are NAID AAA Certified. PROSHRED® Houston follows the latest security practices in our shredding procedures. We are proud to be NAID AAA certified in these secure practices.
Our secure shredding processes. From the moment we collect your materials to the second they are shredded, your items follow a secure chain of custody that keeps your information safe from prying eyes. We start by providing you with shred bins or consoles where you can place your old files for pickup. Then, we will either take these files to a separate, secure shredding location, or we will dispose of them on-site with our shred trucks. Throughout the shredding process, access to your materials is limited among our team.
Certificate of Destruction. After your shred job is complete, we will provide you with a certificate of destruction that includes a service report that you can keep for your records. This will help you stay in compliance with state and federal regulations for your industry.
On-Site and Drop-off shredding options. For your own convenience, PROSHRED® Houston provides both on-site and drop-off shredding options. With on-site document shredding, you can watch your old documents get disposed of right from your door. Remote workers who need home office shredding can take advantage of our drop-off shredding services, where you can bring your materials to us and we will shred them just like we would if we came to you.
We shred a wide range of materials. As a business, you will have a wide range of materials that need to be properly disposed of. PROSHRED® Houston has the equipment needed to shred binders, folders, company products, and digital media such as disks and hard drives.
We are environmentally friendly. PROSHRED® Houston works with businesses to support a greener planet. All of the waste created by our shredded materials is recycled.
Up-Front Pricing. To better serve your needs, we keep our prices competitive, and will never charge hidden fees. We also have customizable shred plans to fit any budget.
We have wonderful reviews. The best way to gauge how good a local shredding company actually performs is by looking at their reviews. We keep our customers happy with our secure shredding services. We've placed our latest reviews throughout our website for your convenience and they can also be found on many review sites like Google, Yelp, and Facebook.
We give back to the environment. To better encourage our customers to recycle, PROSHRED® Houston has green loyalty programs that benefit both your business and your community.
Our customer-driven solutions. At PROSHRED® Houston, we are always looking for new ways to better serve our customers. The industry is constantly changing, and we work hard to stay on top of the latest shredding technologies and practices.
We Are Your Local Shredding Service
PROSHRED® Houston strives to stay above our competitors with our wide array of benefits. For years, we have been serving businesses across Texas. Our flexible schedule and pricing, plus our on-site shredding capabilities, have made us a preferred document destruction provider. Learn more about our services and see how we can help your business stay organized and compliant. Get started with a security self-assessment today! 1-832-947-5700