April 23, 2021
Keep Your Houston Office Organized with a One-time Purge Shredding Service
Have you recently noticed that your Houston office is becoming too cluttered? Perhaps desks are covered with papers, filing cabinets are overflowing, and in general, there seems to be a lack of organization? If so, this might be the perfect opportunity to turn your office around!
Unless the documents in your workspace are being referenced and used on an ongoing basis, records that are no longer relevant should be collected and destroyed with secure shredding. This will help keep your filing cabinets, drawers, and general office space clean and orderly for important business matters only. Not only is cluttered paperwork a significant distraction that can take away from employee productivity, but it also poses a security threat. Leaving documents out where anyone can access them as well as throwing them in the trash when you no longer need them are both practices that can put your business in hot water.
For your security and peace of mind, we highly suggest you take advantage of reliable, professional purge shredding services. If you are moving to a different office, need to make more space, or just want a fresh start, a one-time cleanout service like the one offered by PROSHRED® Houston is a perfect opportunity to safely dispose of these old records.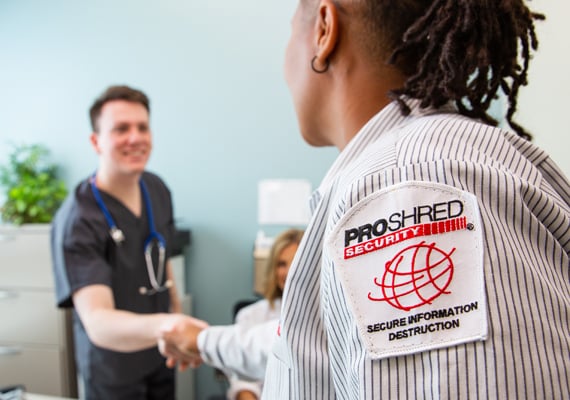 Benefits of One-Time Purge Shredding for Your Office
We've already mentioned two of the biggest benefits to using a one-time purge shredding service for your Houston office: reducing clutter and maintaining security. At PROSHRED® Houston, our main mission is to help businesses and organizations securely dispose of sensitive information, whether that be paper, old computer hard drives, or in the form of recalled products, uniforms, and expired security badges. There are many additional benefits to choosing a purge shredding service for your excess documents.
Quick and Easy Scheduling
PROSHRED® Houston is the top choice when searching for "paper shredding near me." Our shredding equipment is designed with industry-leading technology that will shred thousands of documents in a matter of minutes. Save your employees the hassle and extensive time that's needed for in-house shredding to take place: your employees have more important business matters to focus on than dedicating time to operating a shred machine. Allow us to assist and call our office for quick and easy scheduling that fits your needs. We'll come to you with a mobile shred truck, background checked secure access employee, and take care of all of your shredding on the spot. This way you can see with your own eyes that your documents are being treated with care and with security as the top priority.
Regain Valuable Office Space
Holding on to old documents that you no longer have use for takes up valuable real estate in your office or expensive storage space at an alternate location. As the world becomes more and more technology-focused, paper documents are going to the wayside. If you have scanned or digitized your documents, or just no longer need paper documents that you've been collecting, now is a great time to get rid of that clutter in a fast, convenient way. Document shredding will allow you to rearrange your storage space by removing boxes and cabinets full of obsolete information that are currently in use, so you have more flexibility and more room to grow your business. Who doesn't want an orderly, clutter-free work environment?
Compliant Shredding
Businesses owners have obligations to protect the private information that falls under their purview, from both ethical and legal standpoints. In order to be compliant with state & federal privacy legislation and any other rules that apply to your business, secure document shredding is paramount. Because your company could be held liable for data breaches and identity theft that is a result of poor document management, it's important to have a secure way to dispose of sensitive information. One-time cleanout shredding services from PROSHRED® Houston can provide you that peace of mind. And, after the purge shred job is complete, we'll provide your Houston area business with a Certificate of Destruction. This document is legal evidence that all information has been shred in compliance with privacy legislation.
All Paper is Recycled
PROSHRED® Houston is dedicated to sustainable practices, and we do our best in preserving our environment. We will take 100% of the shredded material we collect to a secure local recycling facility, where every last particle is recycled into new paper products. This sustainable practice results in a savings of thousands of trees, thousands of gallons of fossil fuel and water, and keeps paper out of landfills. It's a win-win for our customers and for the planet.
Schedule a Houston One-Time Shredding Service Today
At PROSHRED® Houston, there are no limits to how much paper you can shred. We allow businesses and organizations to shred as little or as much as needed, and our purge shredding services do not require a contract. For additional information on our shredding services, get in touch with your local Houston paper shredding company today: 832-947-5700
Frequently Asked Questions about One-Time Purge Shredding
The best one-time shredding service in Houston is offered by PROSHRED® Security. This highly-rated information security company provides one-time shredding services that are easy to schedule and take only a few minutes out of your day.
One-time mobile shredding is a great way to get rid of old boxes of documents in a quick and convenient way. For one-time mobile shredding near you, give PROSHRED® Houston a call.
One-time shredding costs can vary depending on where you are located and the amount of documents there is to be shred. Call the PROSHRED® Houston office for a quote today!