July 7, 2016
In Need of Houston Shredding Services On Document Destruction in TX
Along with the growth of the computer age comes the pressing problem of identity theft, and for most establishments, such as medical facilities, banks, and businesses, customer information is at the forefront of vulnerability. This is why states like Texas enact laws that aim to protect consumers' information from leaking out, and some of these laws include document destruction, causing many businesses to turn to efficient shredding services in Houston for help.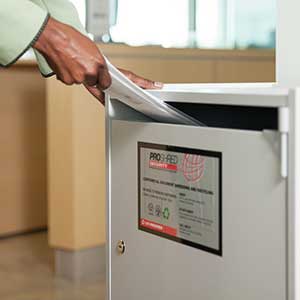 Texas Information Disposal Act
Commonly known as House Bill 698, the Texas Information Disposal Act provides for businesses to be cautious about recording, keeping, and destroying sensitive consumer documents. This law applies to every establishment that collects personal identifying information from clients or customers, and the punishments can range from a fine to civil action or lawsuit.
Mishandling Information
In the conduct of their day-to-day activities, it's not at all surprising that business establishments would sometimes unwittingly mishandle information. Unfortunately, even the tiniest slip can have drastic consequences. One of the most common ways these things happen frequently is because of people's habit of throwing papers or documents when it is believed they are no longer needed, when it would have been safer to have them shredded instead, to render them illegible or unreadable by identity thieves.
Identity Theft Problems
The Federal Trade Commission's Consumer Sentinel Network lists Texas as the 7th state with the highest rate of identity theft per capita in 2012. The state also has the 3rd highest number of complaints. This in itself is enough reason for consumer protection overseers to make sure their laws are strictly enforced, and for businesses and individuals alike to guard their personal information resolutely.
Fines
Here are some of the possible fines (as of July 22, 2014) for failing to protect consumer information, according to the Texas Attorney General's website:
[…] New provisions of Chapter 35 of the Business and Commerce Code require businesses to develop retention and disposal procedures for their clients' personal information. The law provides for fines of up to $500 for each record that could potentially land in the wrong hands. And the new Identity Theft Enforcement Act could mean fines of up to $50,000 for each similar violation – even for a single record. Additionally, businesses that give consumers specific reassurances about how their privacy will be protected could face penalties of up to $20,000 per violation if they fail to live up to those promises.
If you want to make sure that your documents are secure and safely disposed of, you should hire efficient Houston paper shredding services, such as PROSHRED® of Houston. Always remember to give top priority to the security of your customers' personal information, and don't fail their trust by letting anything leak out to fall into the hands of identity thieves.
(Source: Protecting Consumers' Personal Data, Texas Attorney General)