July 7, 2016
Paper Shredding In Katy
Paper remains an extremely integrated component of day-to-day operations – and even with the advent of the digital age, specialists indicate that use of paper is not likely to shift any time soon.
But what's changed is it is still not acceptable to just place paper that has confidential information in the trash or the recycling bin when the file is not needed.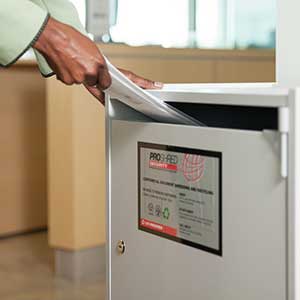 Here are five reasons why your workplace in Katy Texas should associate using a shredding service.
Outsourcing to a certified NAID AAA and ISO 9001 record destruction company using a documented chain of custody safeguards sensitive information properly and decreases the chance of a data breach.
The organization you choose should supply locked on site shred bins using an irregular cut or pulverizing shredding method with secure recycling, providing risk-free disposal of information for the workplace, as well as providing a Certification of Destruction after each shred.
Conformity – Not being forced to put up with routine maintenance fees and also other unforeseen costs or having to buy a shredding machine saves cash. Plus, proper destruction is handled by the shredding company, while employees can concentrate on their job.
Advantage – allowing the pros to handle the normal disposal and destruction of confidential records is suitable. Think about how much work it would be to shred and destroy 10 boxes of old files, let alone hundreds.
Legislative Compliance – Using a certified shredding company will allow your company to achieve compliance with state laws like the Texas IDA Law and federal Regulation such as FACTA and HIPPA, and/or GLBA. Paper and document shredding is the perfect way to ensure these requirements are met.
Find out about precisely what attributes you need to be searching for in a record destruction professional and the best way to select a shredding business.