January 5, 2021
4 Reasons to Have Hard Drive Destruction Done Professionally
Technology is a wheel that is continually being reinvented. From near-constant upgrades of current software and computers to a need for an entirely new system seemingly every few years, keeping on top of data security is more challenging than ever before.
Luckily, there are businesses that know this and work to provide services that can take your sensitive company data and destroy it quickly, securely and at little to no inconvenience to you.  PROSHRED® Houston offers hard drive destruction services that comply with all safety and security standards so you can rest easy knowing your data is not at risk. Still need convincing? Read on for four reasons why you should have your hard drives destroyed by professionals.
Keep Your Business Information Safe
It seems obvious, but destroying sensitive company information will help keep you safe from data breaches, identify theft and exploitation. But throwing a wiped hard drive into the trash when you're done with it isn't as safe of a disposal method as you might think: when you erase data off of a hard drive, the deleted information is still retrievable by people who know what they're doing. Punching or drilling holes in a hard drive also does not erase the data and the data can still be retrieved, even if the hard drive is inoperable.  
he only permanent way to destroy data on a hard drive is to have the hard drive itself destroyed with a secure shredding service. PROSHRED® Houston's hard drive destruction services are secure and convenient, and the company provides a chain of custody serialized Certificate of Destruction that shows the date, time, and serial numbers for all of your items picked up and shredded as proof they were destroyed.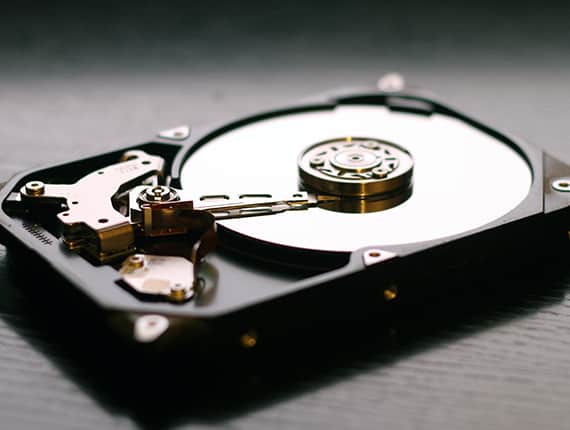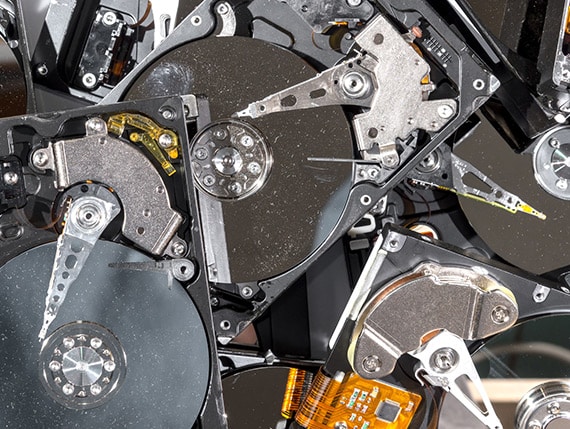 Ensure Compliance with Privacy Laws
Proper records storage and destruction is paramount in the business world today. Most industries have guidance on regulations for how and when to destroy records, and there are also government-sanctioned rules and legislation on privacy and how companies must maintain it. 
Keeping your organization in compliance with legislation that is applicable to the kind of work you do is vital to success, and no one knows that better than the experts at PROSHRED® Houston. Your hard drive destruction needs are in safe hands with PROSHRED®, as we work to ensure your company maintains its stellar reputation and stays in compliance with industry regulations. From FACTA to HIPPA to HITECH and GLB, PROSHRED® is familiar with all standards and privacy legislation and will help you avoid fines that come with non-compliance. 
Keep Toxic Materials out of the Landfill
Hard drive destruction services aren't just beneficial to the business or person who owns the data, but to the environment as well. Hard drives are much like other e-waste in that they contain potentially hazardous and toxic materials that shouldn't go into the landfill. A buildup of these materials can contaminate groundwater and lead to other adverse effects on the environment. Those materials are also not going to break down, and will sit forever in the dump taking up space. 
Because discarded hard drives contain hazardous materials, they should be destroyed safely and by professionals who know what they're doing. After your hard drives are securely shredded to the point where no information could ever be recovered from them, PROSHRED® Houston will recycle the materials with our trusted recycling refiners, who will further process the shredded components. The refined materials can then be turned into new products or repurposed in other ways. 
PROSHRED® Makes It Easy with On-Site Hard Drive Destruction
If you're looking for hard drive destruction services that are easy and convenient, PROSHRED® Houston should be the first on your list to call. Our mobile hard drive shredding trucks can visit your office, business complex or work-from-home situation and pick up your end-of-life hard drives. You can watch the hard drives be destroyed on-site if you wish, to give you peace of mind that your hard drives are being securely destroyed. 
PROSHRED® Houston offers reputable and responsible hard drive shredding to keep your data safe. Along with our on-site destruction solutions, we also offer 24-hour turnaround on all urgent requests and ensure that 100% of our scrap materials are recycled. Call us today to schedule your hard drive shredding service so you can rest easy knowing your confidential information is obsolete. 1-832-432-8044