April 19, 2023
Our Guide to Paper Types and How They Can Be Shredded
In today's highly competitive markets, managing risk is critical to the success of a business. One data breach can destroy a company due to lost consumer confidence, and employees are left to consider how much of their own personal identifying information has been compromised. You should always choose a reputable and efficient document and hard drive information destruction service provider to guarantee the safe destruction of business and personal documentation.
Documents that should always be shredded
The key to protecting your employee, customer, and business information is to know which types of documents should take priority when it comes to shredding. Any information contained on paper or hard drive that includes names with addresses, social security numbers and birthdates, or financial information like bank account or credit card numbers should be the first to be shredded.
Most companies are surprised to discover how much of this type of information is thrown into the trash or an unsecure recycle bin. Consider the following documents that can leave a paper trail for possible identity or financial data theft:
medical records
ID cards, passports
airline tickets
business or marriage license
loan documents
house deeds or mortgage records
vehicle titles or insurance papers
wills and/or power of attorney
Next, you will want to decide which types of papers can be shredded using your in-office shredding machine, versus an industrial shredding truck. These trucks arrive at your location on a pre-determined schedule or as needed to destroy business, financial, legal, medical, and personal documentation, on any medium including printer paper, cardstock, cardboard, corrugated paperboard, photographic paper, and more. When using a NAID AAA and ISO 9001 certified shredding company you will achieve legal compliance by receiving a certificate of destruction documenting the legal chain of custody of the data.
Different types of paper for shredding
Office paper shredder
Every small and large business should have an in-office paper shredder to get rid of the most sensitive documents in a timely manner. But, office shredders have their limitations when it comes to paper shredding. And certainly, you should never attempt to destroy hard drives or product prototypes in an office shredder.
How much paper and what type of paper you can shred in-the-office will depend on whether you have a light-duty or heavy-duty paper shredder. These paper shredders are also limited by the entry width and sheet capacity of the machine. This means that larger or oversized documents like blueprints cannot be shredded. Nor can these machines handle larger volumes of documentation, which a company may hold as outdated business, sales, legal, and financial history.
An office paper shredder is designed to strip-cut or cross-cut, legal or standard-sized office and printer paper. The paper weight these shredders can handle includes the lightest 16-bond weight paper up to the heavier printer paper (up to 36 pounds, if the paper shredder is of good quality).
Paper over 36 bond weight is considered craft paper or heavy-weight paper and should be shredded with an industrial shredding machine or shredder truck. If you have post cards, flyers, menus, business cards, brochures or programs – do not attempt to shred these papers with an in-office paper shredder.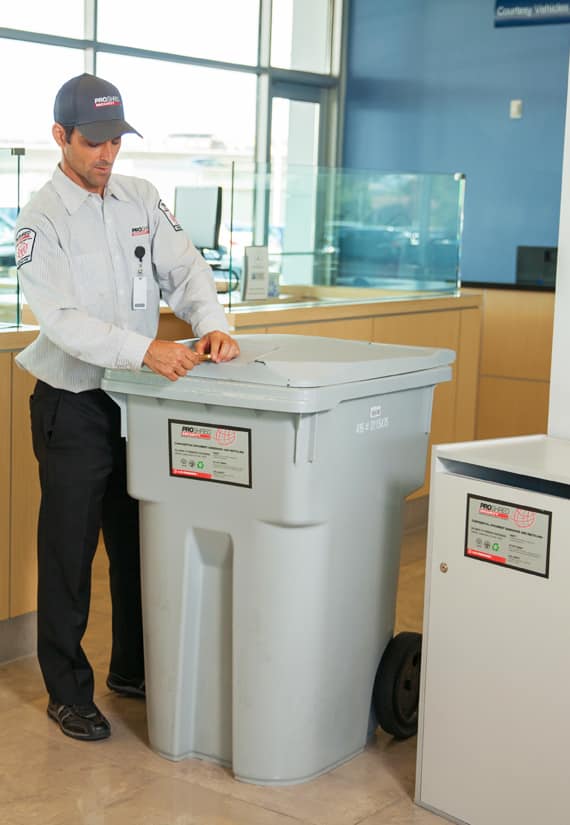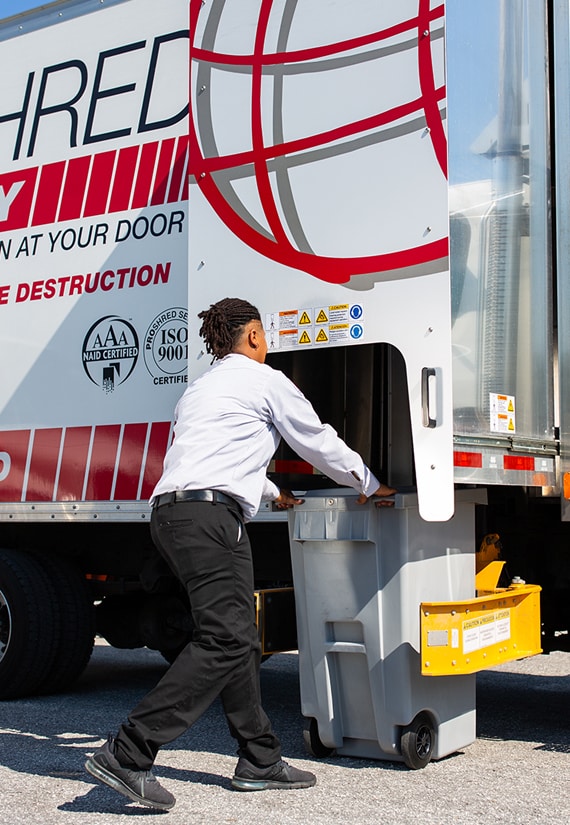 Industrial shredding truck
Shredding trucks are considered industrial or bulk shredders that are appropriate for end-of-year business documentation clean outs, or any time a company decides to destroy large quantities of unwanted or outdated sensitive documentation, very quickly. In just a matter of minutes, these heavy-duty shredding machines can destroy thousands of pounds of documents of any weight and any size, including flattened, cardboard product boxes, blueprints, computer hard drives and memory cards, and more.
If you have any of the following types of business or personal documentation that you have collected and needs destroying, consider an industrial shredding truck that can quickly leave all information unidentifiable and ready for disposal, including:
reams or stacks of paper (any size)
bulk legal size documentation
product manuals, employee booklets
blueprints and oversized documents
laminated paper and advertisements
heavier card stock and paperboard
file storage boxes with archived files
Choosing a Certified Shredding Company
Business, financial, legal, and medical records hold sensitive business and personal information. For this reason, choose a NAID AAA certified shredding company that can arrive on-site with an industrial paper shredder to completely destroy these documents, provide a written chain of custody with a certificate of destruction, and leave you with peace-of-mind that your company's information will not be compromised.
As a component of your information risk management program, PROSHRED® of Houston partners with small, medium, and large businesses to shred and destroy mixed-media, hard drives, and anything of a proprietary nature. Confidential information that is leaked can destroy a company's public image and put them at risk of breaking local, state, and federal laws meant to protect personal identifying information.
If you are relocating to another office location, bulk shredding of old and outdated information gives your business the head start needed to operate more effectively and efficiently. Contact us today to learn about our on-site, industrial shredding program that can help keep your business and financial documents from landing in the wrong hands.