October 27, 2021
The Benefits of a Clean Desk Policy
What is the usual state of your desk at work? Are your papers organized and in neat little stacks, or do you have sticky notes and paperwork cluttering every available surface? While every employee has a method to their desk organization that helps them be productive, it's important to organize your information in a way that doesn't jeopardize the privacy of your company.
If you leave passwords written down on scrap paper, anybody could easily get their hands on this information. A clean desk policy helps eliminate risks like these with simple processes for storing and the disposal of important information.
Clean Desk Policies Support Information Security
When you are practicing a clean desk policy, you are also taking care to help ensure that your workplace is secure. A typical clean desk policy will require employees to clear off their desk at the end of each workday. This includes removing notes and documents in a secure fashion, and storing any paperwork you need in a safe place. If you have any external hard drives or flash drives, make sure that these are put away in a secure spot as well.
While carrying out these processes at the end of each workday can help your desk stay tidy, you are also doing your part to prevent your company's sensitive information from getting stolen by disgruntled employees or criminals who break in after business hours. If items like these were to fall into the wrong hands, your company could be at serious risk of identity theft or a data breach.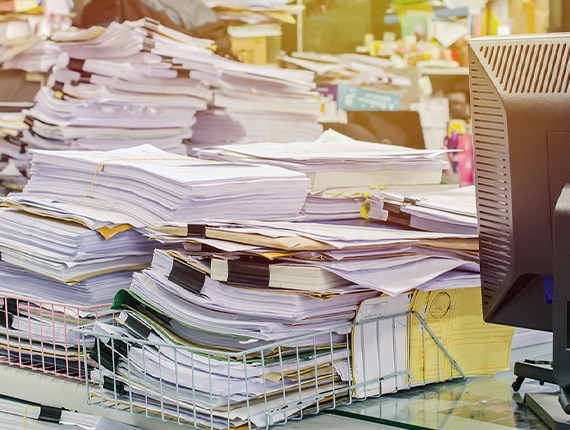 Clean Desk Policies Promote Greener Work Practices
The easiest way to practice a clean desk policy is to digitize all of your files. This way, you won't have to worry about clearing paperwork from your workspace at the end of each day, as everything you need will be securely stored on your computer. With less paper being used in the workplace, you can save trees and decrease printing costs by relying on the screens of your computers and tablets for necessary information.
Clean Desk Policies Help Businesses Stay Compliant
The ISO/IEC 27001 standard requires businesses to have an information security management system (ISMS) in place in order to protect company data. Carrying out a clean desk policy will help ensure that your business is compliant with these statutes. If you work in a medical facility, for example, you are also complying with HIPAA laws when you store patient information in a safe place, instead of leaving this paperwork out for all to see.
PROSHRED® Orange County Can Help You Practice A Clean Desk Policy
While there will be information that you need to keep when you are clearing off your desk at the end of the day, what do you do with the paperwork and notes that you no longer need? These items may contain sensitive information that could be detrimental to your company if it were to fall into the wrong hands. You can't just throw away these materials. You need a secure way to dispose of this paperwork, and PROSHRED® Orange County is here to help.
Our on-going shredding services include a secure and efficient process that your business can use on a regular basis. When you call our team for a consultation, PROSHRED® Orange County will set up a customized service plan that works for you. Our team will provide your workplace with free shred bins for you to use to safely store your unwanted documents until the date of your shred service. When that day arrives, our certified shredding technicians will come to your location with our shred trucks. We will take your shred bins and destroy the items inside using the equipment in these trucks. You can watch this process from right outside your door.
This on-site regularly scheduled shredding program is designed to be as unobtrusive as possible. You and your team can carry on with your busy workday without getting interrupted. The PROSHRED® Orange County team will dispose of everything in your shred bins, and then return the shred bins for you to use again, all in a way that won't disrupt your regular processes.
If you're ready to sign on with PROSHRED® Orange County, then give us a call. We can help you practice an effective clean desk policy with our customizable paper shredding or document scanning solutions.