Long Beach Paper Shredding
There are many businesses that call Long Beach home, and all need paper shredding services to some degree. PROSHRED® stands out from our competitors because we have experience working with a wide range of industries. Whether you are a healthcare facility or law firm or anything in between, we can provide custom shredding services that are unique to your needs.
We are a preferred provider for Long Beach paper shredding, and our team works hard to meet the needs of our diverse client base. No matter your industry, PROSHRED® can help your business stay organized and compliant. Trust our team as your Long Beach shredding provider.
Home Office Shredding for Long Beach Residents
Just because you work from home, doesn't mean you're exempt from privacy legislation. Many businesses have adopted remote work policies in light of the events of 2020, and this has given employees more flexibility alongside greater responsibility.
Anyone with a home office must be mindful of how they are storing and disposing of printed company documents, which contain sensitive information. If these items were to fall into the wrong hands, it could be detrimental to the company as a whole, and the employee responsible would face major consequences.
PROSHRED® offers home office shredding for Long Beach residents at affordable prices. With this service, businesses can ensure that all of their remote employees are properly disposing of unneeded printed materials. Our mobile shred trucks destroy these items with a method that is superior to the strip shred method of store-bought home office shredders.
With PROSHRED®, you can enjoy the convenience and reliability of a local home office shredding provider. Our mobile shred trucks can destroy your documents in a timely manner without interrupting your work day.
Long Beach Medical Record Shredding
In order to maintain patient privacy and comply with disposal regulations, Long Beach companies requiring medical record shredding can count on PROSHRED®.
PROSHRED® provides secure medical record shredding for Long Beach businesses and residents. With our onsite shredding service, we can provide fast and efficient shredding for:
Hospitals
Doctors
Physiotherapists
Pharmacies
Surgery Centers
Chiropractors
Naturopaths
Nursing Homes
Walk-In Clinics
Dentists
Psychiatrists
& More
Trust PROSHRED® as your local provider of medical record shredding. We offer custom solutions for healthcare professionals across Long Beach and its surrounding area. Our team will work with you to discuss your needs and develop a medical record shredding plan that works for your facility.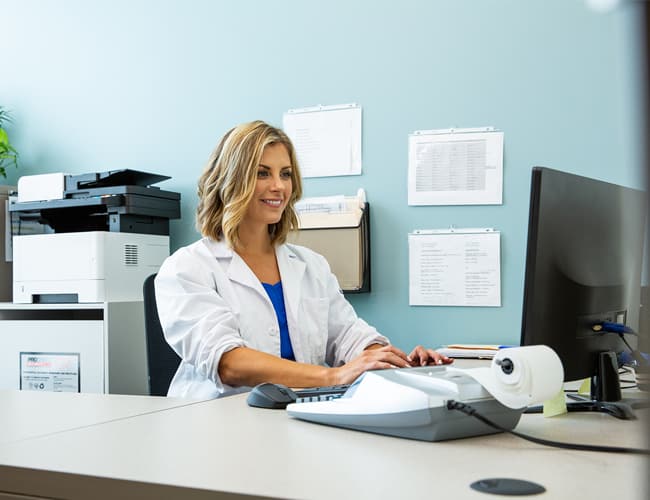 Local Legal Record Shredding Services
Any law firm should already be familiar with just how important privacy is, and this is especially true for their clients. In order for legal professionals to keep their clients' information confidential, they need a local legal record shredding service they can trust. PROSHRED®is a qualified service provider in the Long Beach area.
Under the Fair and Accurate Credit Transaction Act (FACTA), it is required for legal professionals to properly destroy legal record documents.
After a firm satisfies the needs of its client and the two part ways, there is going to be a fair amount of paperwork to take care of. There will be plenty of printed materials containing client information that is no longer needed.
When you reach this point, you should call an experienced paper shredding service who has worked with plenty of firms in the industry. PROSHRED® has the equipment and expertise needed to properly dispose of all of your legal documents in no time at all.
A Top-Rated Document Destruction Solution Near You
PROSHRED® has been proudly serving Long Beach and surrounding areas for years. We know how different each industry is, and have created custom shred plans to meet these diverse needs. We keep up with the latest industry practices and legislation, so you don't have to worry about compliance when you use our shredding service. We help make sure that your business is meeting all local and federal regulations in regards to the disposal of unneeded confidential documents.
Contact your top-rated document destruction solution near you today: 1-949-204-0981