Lake Forest Shredding Services
At PROSHRED®, we understand the importance of data security. That's why we offer a range of shredding services that can help you safely dispose of sensitive documents. Whether you're looking to destroy outdated files or confidential records, our team can provide you with a reliable solution. We offer both on-site and off-site shredding, as well as hard drive destruction, so you can choose the option that best suits your needs. With our services, you can rest assured that your data will be securely destroyed and disposed of.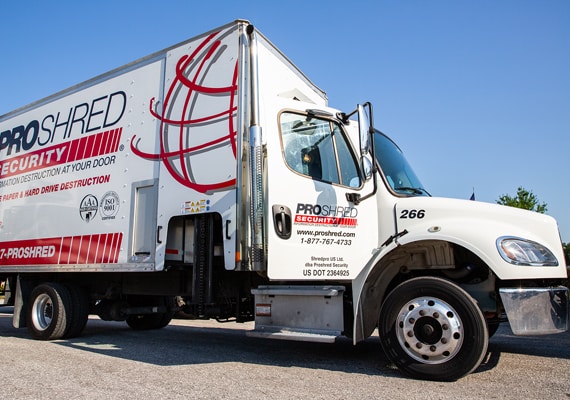 Mobile Shredding Services in Lake Forest
PROSHRED® is proud to offer mobile shredding services to our clients. Our mobile shredding trucks are equipped with state-of-the-art shredding technology, allowing us to shred your documents on-site. This ensures that your documents are destroyed completely and that there is no risk of them being stolen or compromised while transporting them to a separate location. In addition, our mobile shredding services are convenient and easy to use. Our team will come to your location, grab your documents, then shred them, so you don't have to do anything. PROSHRED®'s mobile shredding services are the perfect solution for businesses that need to destroy large quantities of documents.
Lake Forest Home Office Shredding
These days, more and more people are working from home. While this arrangement has many perks, it also poses a unique challenge when it comes to disposing of confidential documents. Fortunately, there are now shredding services that cater specifically to home offices and work-from-home employees. At PROSHRED®, we offer convenient pick-up and drop-off options, so anyone that works from home can safely dispose of their sensitive materials. If you're looking for a reliable and affordable solution for your home office shredding needs, then PROSHRED® is here to help.
Hard Drive Destruction Services Near You
Many people believe deleting files from your desktop is enough to protect your digital information, but that's not true. When you delete files on your computer, that information is still being stored on your hard drive for skilled hackers to access. The only way to protect your digital information is by hiring a secure shredding company. At PROSHRED®, we offer hard drive destruction services using our state-of-the-art shredding machines. With on-site and drop-off options, we've worked hard to make this service as convenient and affordable as possible. We'll also provide a Certificate of Destruction after each service, so you have legal proof that your digital information was securely handled.
Choose PROSHRED® for Your Shredding Needs
PROSHRED® is the leading provider of shredding services in Lake Forest. We've been in business for over 25 years and have shredded over 100 million pounds of documents. With our experience and expertise, you can rest assured that your documents will be destroyed completely and securely. Contact us today to learn more about our services or to schedule a free consultation. We look forward to helping you protect your confidential information.
Ladera Ranch Shredding Services
On-Site Shredding in Lake Forest, CA
Scheduled Shredding Service in Lake Forest, CA
One-Time Shredding in Lake Forest, CA
Drop-Off Shredding Location in Lake Forest, CA
Legislative Compliance
HIPAA Compliant
HITECH Compliant
GLBA Compliant
FACTA Compliant