Mixed Media Shredding
With traditional paperwork becoming a thing of the past, many companies are switching to mixed media for their information storage needs. With this shift to new technology, companies will also need to find new ways to protect their information. While many businesses understand the importance of shredding their paperwork, it's just as important to properly dispose of digital information.
At PROSHRED® Orange County, we're committed to protecting all of your information, whether it's physical paperwork or digital files. Don't wait until your information is stolen, learn more about our mixed media shredding services and the ways we can help protect your company.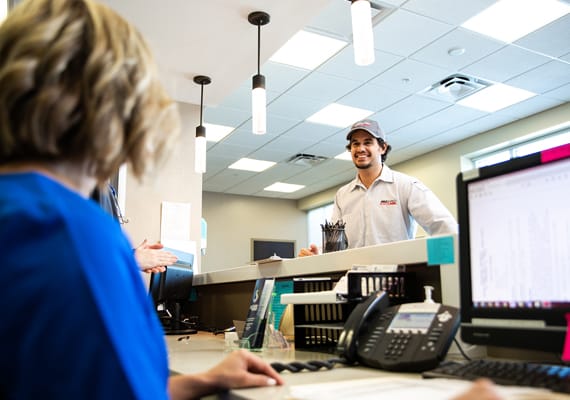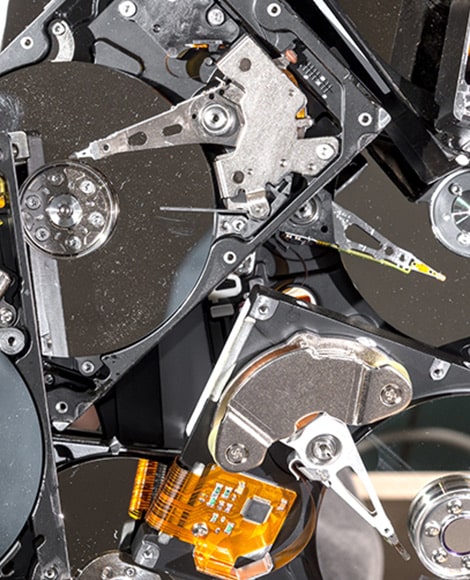 Hard Drive Shredding for Your Business
Your hard drive holds a lot of sensitive information about your company, including customer data, financial records, and employee information. If this information falls into the wrong hands, it could be used to commit fraud or identity theft. Not only could this harm your company, but it could also harm your customers' security or finances.
Many people believe deleting files on your desktop will protect your data, but that information is still recoverable on your hard drive. The only way to truly delete information from your hard drive is by hiring a shredding company to destroy it. At PROSHRED® Orange County, we provide hard drive shredding services to ensure that your digital information is properly protected. We use state-of-the-art equipment to punch or shred your hard drives into pieces, making it impossible for anyone to recover your data, and is certified to NAID AAA and ISO 9001 standards for information security.
Electronic Media Destruction
In addition to hard drives, many other types of electronic media also need to be properly destroyed. Some of these devices include:
CDs and DVDs
USB Drives and Flash Drives
SD Cards
Laptops
Cell Phones
Tablets
Each of these devices can store sensitive information about your company. If they're not properly destroyed, that information could be accessed by criminals seeking to harm your company. At PROSHRED® Orange County, we offer electronic media destruction services, so you can rest assured that your information is safe. We use industrial shredders to destroy your devices, making it impossible to access the data they contain.
On-Site Mixed Media Shredding Services
We understand that some companies may have sensitive information that they don't want to leave their office. That's why PROSHRED® Orange County offers on-site shredding services to all of our clients, so you can watch as your mixed media is destroyed right in front of you. Our team is highly trained and works quickly and efficiently to get the job done.
Our on-site shredding services are completed using our state-of-the-art mobile shredding trucks. Our trucks are equipped with cross-cut technology and built-in monitors, so you can watch in real-time as your material is securely destroyed. After each service, our team also provides a Certificate of Destruction, so your company has proof that your materials were handled responsibly.
Drop-Off Mixed Media Shredding Options
If your company doesn't want to use our on-site services, we also offer drop-off shredding options for your convenience. Simply bring your devices to one of our secure facilities and our team will take care of the rest. We have a strict chain-of-custody protocol that ensures your information is protected at all times during the disposal process. For the best experience, you can call our facility in advance and set up a drop-off appointment, so our team is ready to meet your needs.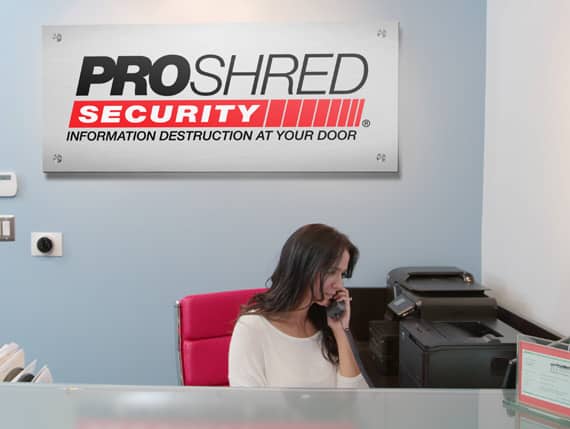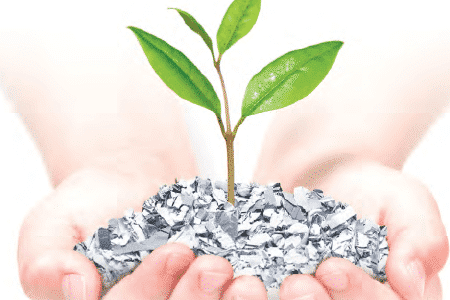 Compliant E-Waste Recycling
PROSHRED® is committed to protecting the environment and we take pride in recycling all of our electronic waste. After we've disposed of your items, we work closely with certified e-waste recycling centers to ensure that all of your material is properly recycled according to state and federal regulations. Many electronic devices contain harmful chemicals that can pollute the environment if they're not properly recycled. By recycling your e-waste, your company can help reduce pollution and protect the planet.
Keep Electronic Media Safe with PROSHRED® Orange County
If you're looking for reliable hard drive and mixed media destruction services, look no further than PROSHRED® Orange County. We're committed to providing secure services that are guaranteed to protect both your physical and digital information. We also implement strict employee guidelines to ensure that our services stay compliant with state and federal regulations. With our state-of-the-art mobile shredding trucks and secure drop-off locations, all of our services are designed for your convenience. To learn more about our services or schedule a free consultation, contact us to get a quote and get started today!