Tustin Shredding Services
At PROSHRED®, we recognize the importance of keeping your sensitive data secure. That is why we provide a variety of shredding services to suit your unique requirements. Our mobile shredding trucks can come to your location, making it convenient and easy to dispose of any papers you don't want or need anymore. We also provide businesses with ongoing shredding services so that their data may be destroyed regularly. To ensure that your data is fully erased, we can also destroy hard drives and other electronic products. You may rest assured that any delicate information you have is always safe and secure with PROSHRED®.
Mobile Shredding in Tustin
PROSHRED®'s mobile shredding service offers a quick and secure method to destroy sensitive papers. Our cutting-edge mobile shredding trucks come to the location of your choosing and destroy your materials on the spot. This ensures that your documents are properly destroyed while also removing any concerns you might have about them falling into the wrong hands. After each mobile shredding service, we provide a Certificate of Destruction, which states that your material was properly destroyed by a reputable shredding firm. We serve companies of all sizes and offer reasonable pricing for our mobile shredding services.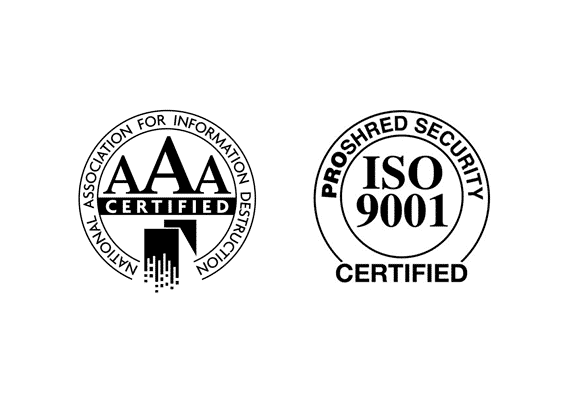 Tustin Ongoing Shredding Services
PROSHRED® provides ongoing shredding services that give you the peace of mind and security that your sensitive documents will be destroyed on a regular basis. Our team of customer service professionals will arrive at your office on a timetable that is convenient for you and destroy your papers on-site. You may have your paperwork shredded on a weekly, bi-weekly, or monthly schedule. For our ongoing clients, we also offer shredding bins where you can securely store your papers between shredding appointments, ensuring that your documents are secure. For those instances when you have a large number of documents to destroy, we provide a one-time purge shredding service.
Secure Hard Drive Destruction Services
With the growth in technology use in both personal and professional settings, keeping your digital information secure has never been more vital. Physically destroying your old hard drives and other storage devices is one of the most effective methods to safeguard that information. PROSHRED® provides secure hard drive destruction services to keep your information safe. Our cutting-edge shredding technology can quickly and effectively destroy your hard drives, ensuring that your data is protected. In addition, the material is recycled after the shredding process, saving you money while also being environmentally responsible.
Contact PROSHRED® for Your Shredding Needs
Tustin residents can count on PROSHRED® to dispose of their documents in an environmentally conscious manner. We provide secure mobile shredding services, as well as hard drive destruction services, on both a regularly scheduled and one-time basis. Our staff of highly trained experts is committed to safeguarding your private information, whether it's contained in paper files or digital data. Contact us now to learn more about our document shredding services or to schedule a free quote.
Tustin Shredding Services
On-Site Shredding in Tustin, CA
Scheduled Shredding Service in Tustin, CA
One-Time Shredding in Tustin, CA
Hard Drive Shredding in Tustin, CA
Legislative Compliance
HIPAA Compliant
HITECH Compliant
GLBA Compliant
FACTA Compliant