Fullerton Document Destruction
Your Local document Destruction Provider
As a Fullerton business owner or decision-maker, paper shredding should be at the top of your to-do list when it comes to business security. There are many benefits to both a one-time paper shredding service or on-going shredding service, including the continued protection of the information contained in your physical documents. The service can also help you stay organized in the office and clear out space that is currently filled with old paperwork.
At PROSHRED® Orange County, we can fulfill all of your Fullerton document destruction needs. Our regularly scheduled paper shredding services include a customized security program that keeps your information safe. Our service technicians will set up a paper shredding visit at a time that works for your busy schedule. You don't have to worry about your work day getting interrupted, either. Our mobile shred trucks will arrive at your location and our shredding professionals will take your shredding materials off your hands. All of your items will be shredded in the mobile shred truck parked outside without you having to leave your desk.
Purge Shredding for Fullerton Businesses
For Fullerton businesses who have never had a shredding service before, chances are that you are in need of a large-load shredding service. PROSHRED® Orange County's one-time purge shredding service is perfect for this situation. This service can handle a shred job of any size, including entire rooms or warehouses full of outdated documents. 
With purge shredding for Fullerton businesses, you don't have to worry about your stored, confidential information falling into the wrong hands. PROSHRED® Orange County's one-time shredding services are both secure and affordable, with no hidden charges. All of your shredded materials are recycled too, so you can enjoy clearing out old files while also doing your part to perform greener business operations.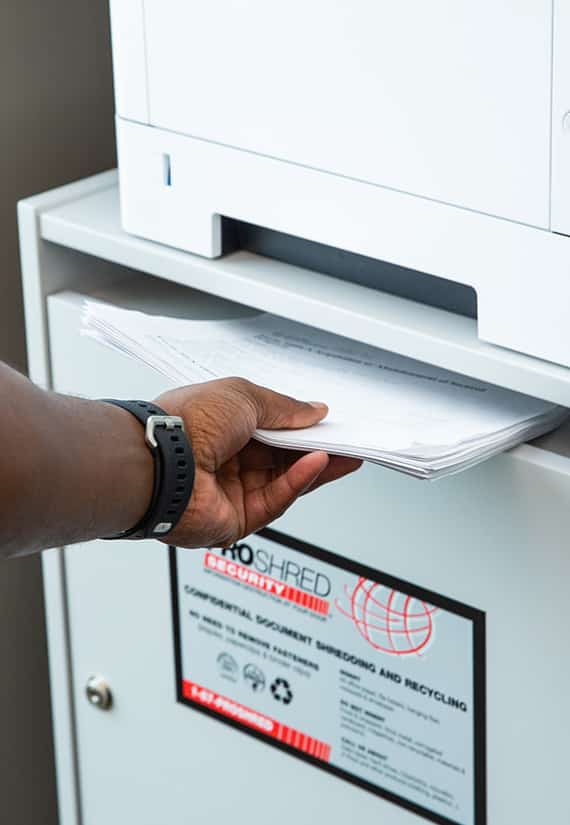 Drop-Off Shredding Near You
If you have relatively small loads of shredding materials, it may be more cost-effective to use our drop-off shredding services. You can drop off your documents at our secure office in Irvine, where our technicians will perform an in-depth shred of all of your items. As soon as you drop off your materials, you can rest easy knowing that your documents are in the right hands. 
At PROSHRED® Orange County, all of our shredding processes include secure operations. Your documents are highly monitored throughout the shredding procedure, and are handled by certified professionals who are required to undergo a background check before joining our team. 
If you are interested in drop-off shredding near you, our office is open on weekdays for these services. Our hours are 9 a.m. to 4:30 p.m. Simply visit our location and drop off your items to be shredded. We will deposit these materials into one of our secure, locked containers in our highly-monitored warehouse. These containers are routinely serviced by our mobile shred trucks.
What items are OK for drop-off shredding?
Credit Card Statements

Tax Documents

Financial Records 

Medical Records

Legal Records 

School Records

Invoices 

Receipts

Insurance Policy Information

Employment Documents

Any Files Containing Personal Information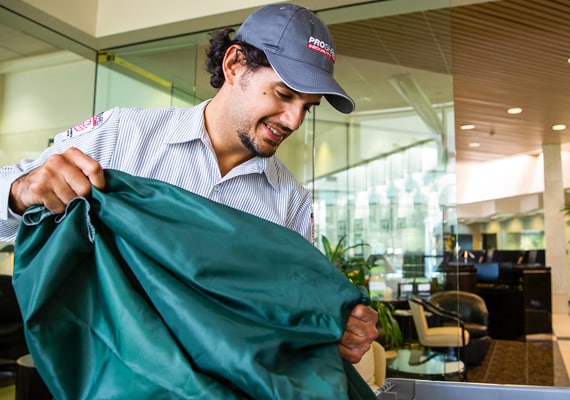 Top-Rated Paper Shredding in Your Area
PROSHRED® Orange County is your most trusted Fullerton document destruction service. Our team is here to help you develop a shred plan that fits the needs of your business. Whether you are large or small, we have specialized shredding programs to fit businesses of all sizes. You can enjoy affordable and secure shredding when you sign on with PROSHRED® Orange County.
As a top-rated paper shredding service in your area, our team can make sure that your important information never falls into the wrong hands. Our mobile shred trucks are able to shred items in a criss-cross formation, making the final shredded materials unrecoverable. Your office can stay organized, you can free up space that is currently being taken up by old paperwork, and you and your employees can maintain the security of your confidential information.
Contact PROSHRED® Orange County to get started: 1-949-204-0981
Fullerton, CA Shredding Services
On-Site Shredding in Fullerton, CA
Scheduled Shredding Service in Fullerton, CA
One-Time Shredding in Fullerton, CA
Hard Drive Shredding in Fullerton, CA
Legislative Compliance
HIPAA Compliant
HITECH Compliant
GLBA Compliant
FACTA Compliant