Newport Beach Shredding Services
Newport Beach Shredding Service Coverage Area
PROSHRED® is a company that specializes in paper shredding for Newport Beach businesses and residents. We understand the importance of security and privacy, which is why we have strict protocols in place to ensure that all documents are properly shredded. We also go above and beyond to provide excellent customer service too. Our team is always available to answer any questions or concerns you may have. When you choose PROSHRED®, you can be confident that your documents will be securely shredded and that you will be completely satisfied with our services.
The City of Newport Beach today is known for its strong business community. All those companies need a convenient service to dispose of their confidential information on hard drives and in documents. The PROSHRED® team is proud to provide document shredding trucks to corporate, institutions, and residential clients in the Newport Beach area, including its schools and public facilities as well as small businesses and local business owners.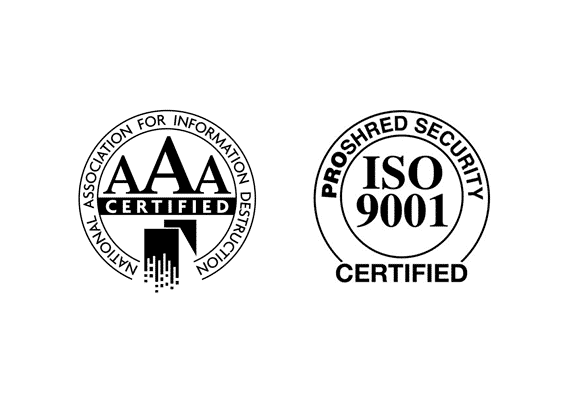 Certified Newport Beach Shredding Company
Destruction of confidential documents is something that should not be taken lightly. After all, if sensitive information falls into the wrong hands, it could have devastating consequences. That's why you can trust us to destroy your documents and electronics. Our trucks use a pierce-and-tear destroying technique, which features multiple revolving blades that tear paper into tiny pieces. PROSHRED® is also an ISO 9001 and NAID AAA certified shredding company. When your service is completed, you will receive a Certificate of Destruction recording what was shredded and when the service took place.
Newport Beach Shredding Trucks
At PROSHRED®, we understand that the safety of your sensitive documents is of the utmost importance. That's why we offer onsite shredding through our mobile shred trucks. We'll travel to your location and get the job done quickly and securely, so you can rest easy knowing your confidential information is in good hands. Making things even more secure, the whole process can be watched as it happens outside of the truck. Our trucks can shred both hard drives and paper, so give us a call if you need one outside your office.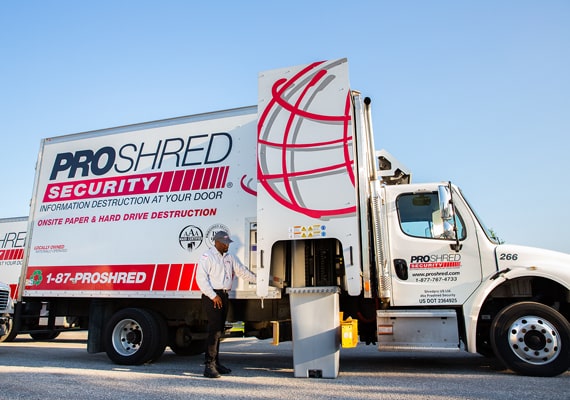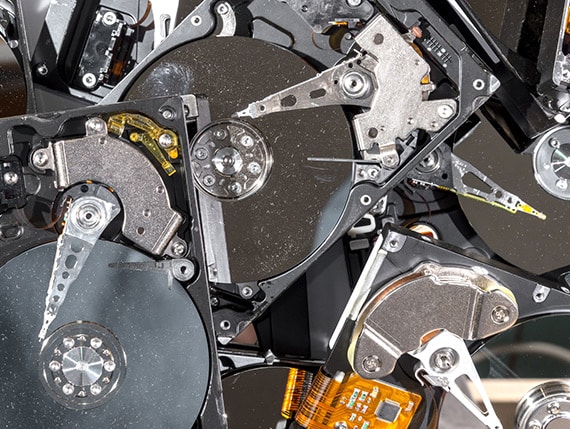 Reliable Hard Drive Destruction
Simply hitting the "delete" button does not mean that the data on a hard drive is gone forever. In fact, unless a hard drive is physically destroyed, someone can recover the information that has been stored on it. This is why many businesses choose to use professional hard drive destruction services when they need to dispose of old computer equipment. PROSHRED® offers on-site hard drive destruction, ensuring that your data will be completely unrecoverable and is safe to dispose of. We also offer pick-up and drop-off services for your convenience.
Call About Our Newport Beach Shredding Services
As the premier provider of shredding services in Newport Beach, PROSHRED® is dedicated to protecting the confidential information of our clients. We offer a variety of service options to meet the needs of hospitals, businesses, and schools. Our experienced team is always available to answer any questions you may have, so feel free to give us a call!
Newport Beach Shredding Services
On-Site Shredding in Newport Beach, CA
Scheduled Shredding Service in Newport Beach, CA
One-Time Shredding in Newport Beach, CA
Hard Drive Shredding in Newport Beach, CA
Legislative Compliance
HIPAA Compliant
HITECH Compliant
GLBA Compliant
FACTA Compliant