July 5, 2023
History of the Paper Shredder
Who knew something as simple as paper shredding could have such a fascinating history? From wartime intelligence officers destroying sensitive documents to business professionals pre-emptively thwarting the efforts of identity thieves to creative types looking for their next piece of art—the paper shredder is an iconic tool that has been integral to countless tales throughout time. As we explore its past and current use, you may find yourself astonished at how much impact this small machine has had.
The First Paper Shredder
The first idea of the paper shredder originated with Abbot Agustus Low when he set out to design a machine for efficient document destruction. He filed a patent for a paper shredding machine in February 1909. However, Low died soon afterward before his invention was ever manufactured.
It wasn't until thirty years later that document destruction was mentioned again. In 1935, Adolf Ehinger was a German man dedicated to creating and spreading anti-Nazi leaflets and propaganda. To avoid capture, he needed a quick and efficient way to destroy his materials. Taking inspiration from a pasta maker, Ehinger succeeded in creating the first paper shredder.
After patenting the invention in 1936, his invention grew in popularity as governments and banks saw the value of being able to effectively destroy paper documents.
New Advances in Paper Shredding
As with other technology, there was room for the paper shredder to evolve. One of the first of these changes was cutting paper in both horizontal and vertical directions, ensuring that paper was more difficult to reassemble. Other advances worked to make the machine smaller and move at higher speeds. Another important step was making the shredder more affordable and accessible so that everyone could have access to one.
Mobile Shredding
As time went on, paper shredding companies looked for ways to make their service more accessible for their consumers. Their answer was making mobile shredding trucks. Each of these trucks comes with state-of-the-art shredding machines installed in the back with monitors mounted on the wall so you can view the shredding and ensure that everything thrown inside is being properly destroyed.
Besides making the shredding progress more convenient for customers, mobile trucks also make the process safer. No matter how secure containers and vetted drivers are, there is always a risk that documents could be intercepted when they travel from your office to the off-site shredding facility. By having the shredder come directly to you, we eliminate that chance, making the process as efficient and secure as possible.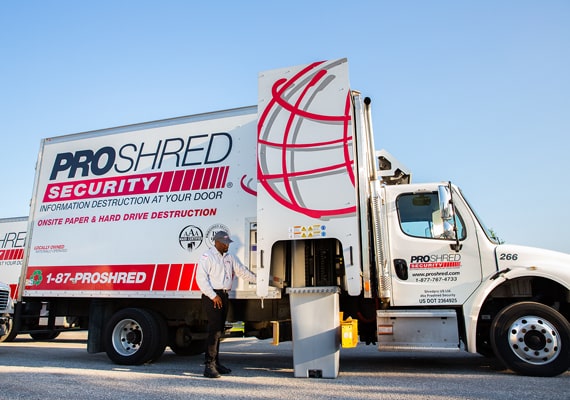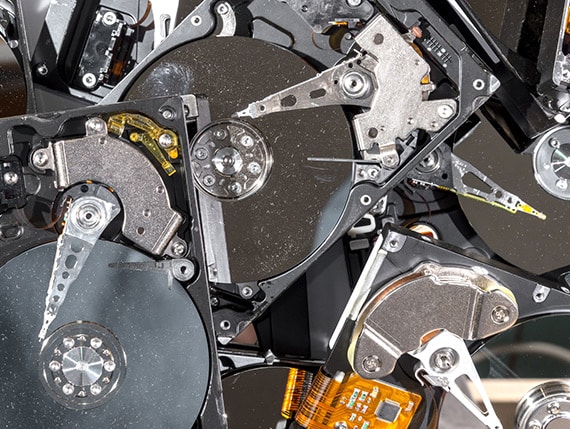 Hard Drive Destruction
As more and more information is becoming available online, shredding companies have come up with a way to protect your digital data too. When hard drives are no longer in use, a lot of people make the mistake of thinking that erasing them is all you have to do to remove the data. That is not true. Skilled hackers have the ability to retrieve data from erased hard drives, so the only way to ensure that your digital information is safe is to thoroughly destroy the hard drives. This is why shredding companies built machines capable of shredding hardware and hard drives to ensure that your information is protected.
PROSHRED® Orange County Can Help with Your Shredding Needs
It is clear the paper shredder has been a necessary tool for confidential and secure document destruction since 1909. The time and hassle to shred large amounts of paper have been drastically reduced and now, with mobile shredding services, businesses don't need to worry about their confidential documents ever falling into the wrong hands. Organizations are also benefiting from hard drive destruction services that guarantee complete and reliable data destruction when disposing of outdated computers and other electronic devices.