September 29, 2023
On-Site vs. Drop-Off Shredding: Understanding the Benefits of Each Method
In today's era, confidentiality and data protection are paramount in both professional and personal settings. Whether it's a home office or a multinational corporation, safeguarding sensitive information is a top priority. One way to ensure this is through effective paper shredding strategies. There are two primary shredding processes to consider: secure on-site shredding and drop-off shredding services. Top shredding companies like PROSHRED® Orange County offer both, helping you decide which is best to meet your business needs.
On-Site Shredding
Secure on-site shredding is the process of destroying documents or drives within the premises of your business or residence. It's an ideal choice for those needing immediate document destruction, which takes place right at your location. After your documents are properly destroyed, the shredded material is securely transported to a recycling facility.
When considering on-site document destruction, you may question if a personal home or office shredder is capable of handling the task. Despite their convenience, these shredders often provide a lower level of security, as they typically cut documents into larger strips that can potentially be reassembled, leaving the information vulnerable to unauthorized access. Personal shredders also experience overheating and necessitate time-consuming cooldown periods. Professional on-site document destruction services like those offered by PROSHRED® Orange County are transparent, allowing you to watch as sensitive documents are shredded, providing assurance that confidential information is thoroughly destroyed.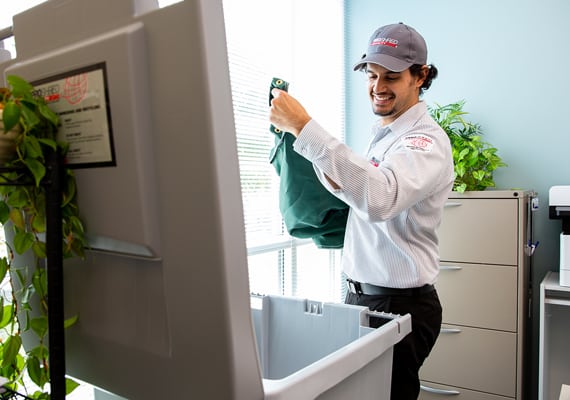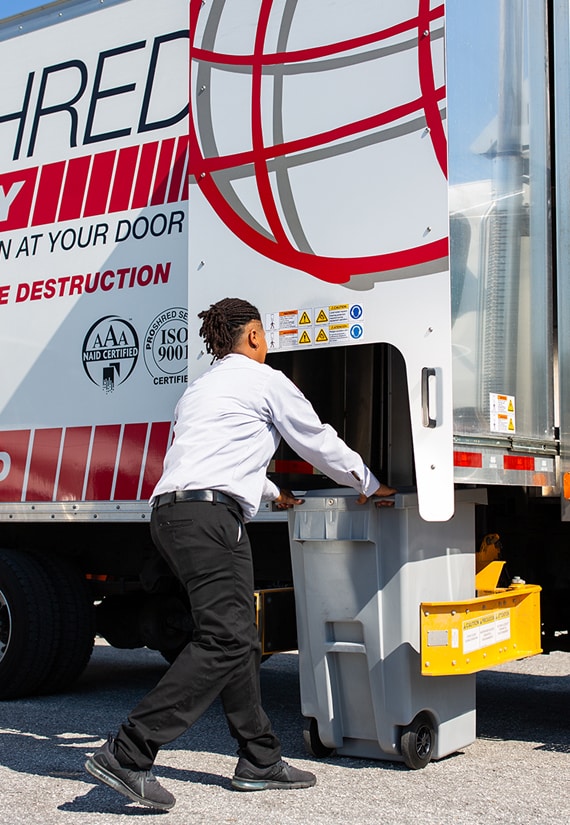 Mobile Shredding Services
Mobile shredding services offer a unique blend of convenience, security, and immediacy. In this on-site model, a mobile shredding truck equipped with industrial-grade shredders comes to your location, making it an ideal choice for businesses with high-security needs or large volumes of documents. Mobile document shredding not only eliminates the risk associated with transporting documents before they are destroyed but it also saves time and resources. Plus, mobile shredding services like ours will provide a Certificate of Destruction upon completion, ensuring that your business remains compliant with data protection laws.
For over 30 years, PROSHRED® has been at the forefront of mobile shredding, constantly striving to provide businesses with the most cost-effective, convenient, and secure shredding services. Our dedication to excellence has allowed us to develop innovative solutions that ensure your documents are handled with the utmost care and confidentiality. Trust Proshred for all of your on-site shredding needs and experience the difference in our unparalleled service.
Dropoff Shredding Services
Dropoff shredding services are another flexible and cost-effective off-site solution for businesses and individuals with smaller volumes of documents needing secure disposal. With this method, you bring your documents to a secure shredding facility at your convenience. Upon arrival, your documents are placed into locked bins, ensuring security and confidentiality until they are shredded. This service is typically charged based on weight, making it an economical choice for those with lighter shredding needs, often personal documents. Moreover, like on-site shredding, you receive a Certificate of Destruction after the process, assuring you that your sensitive documents have been properly destroyed. This method blends the immediacy of on-site shredding with the convenience of off-site services, making it an excellent option for many businesses.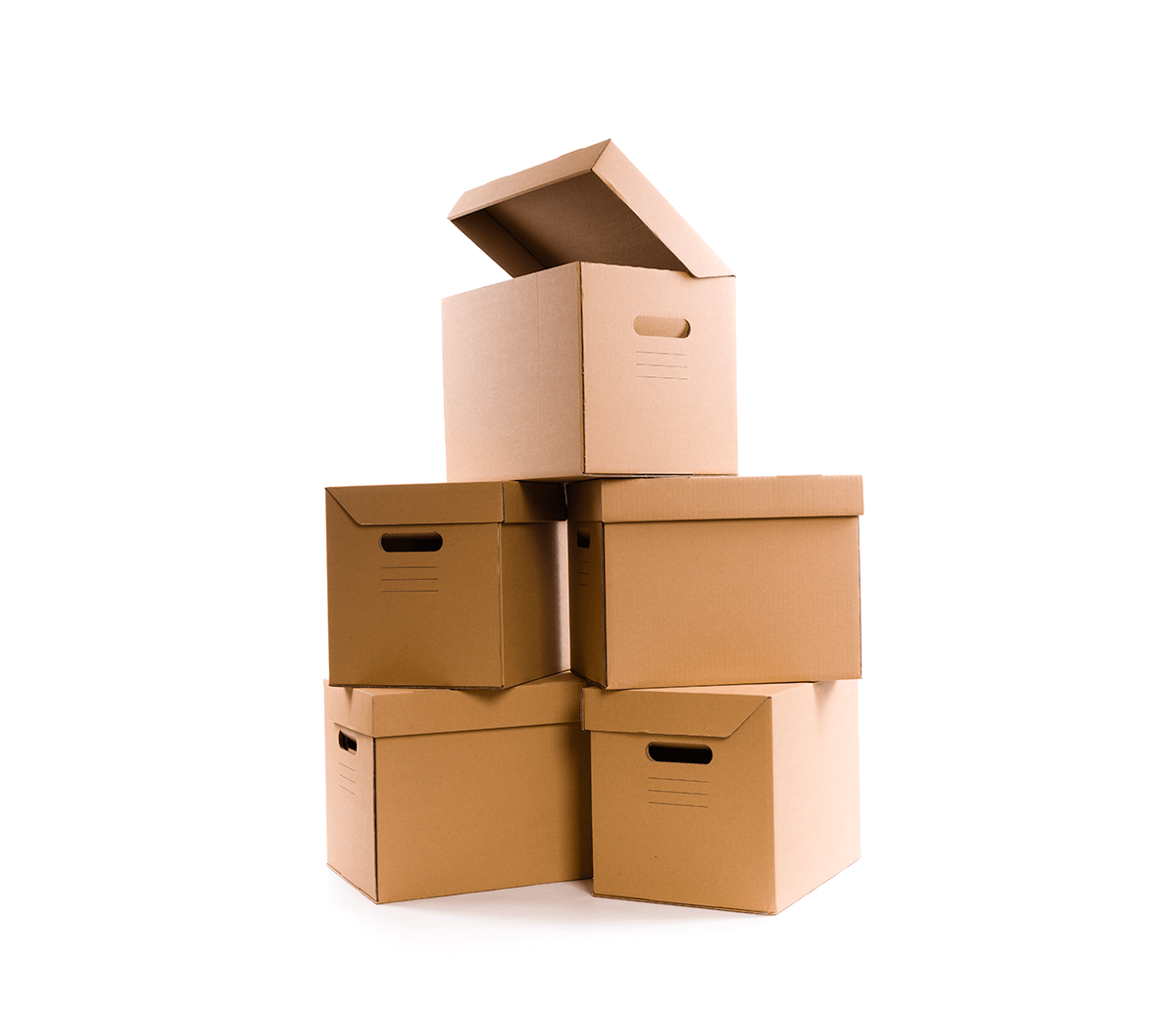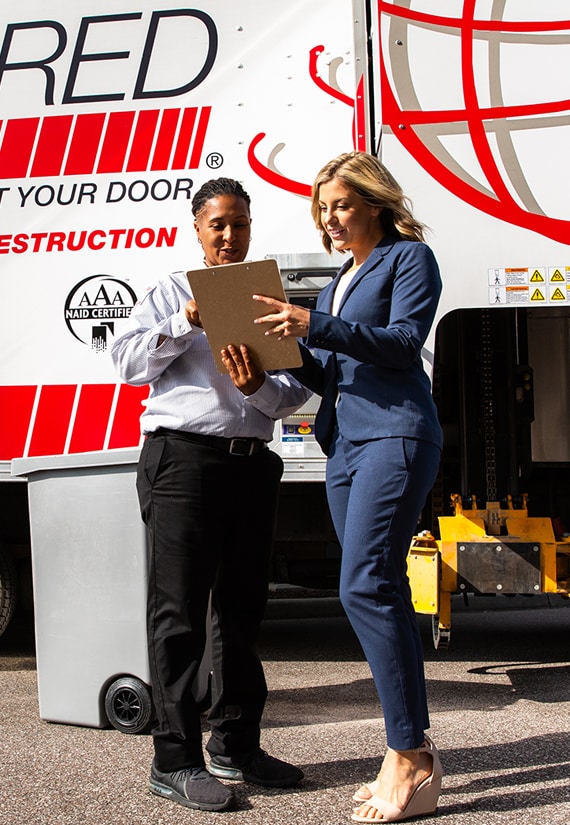 The Benefits of Both Shredding Methods
Both on-site and drop-off shredding services offer unique advantages that contribute to effective document destruction and data protection. On-site shredding provides immediate and transparent document destruction, ensuring the complete elimination of sensitive information and reducing the risk of mishandling or transportation leakage. Moreover, it is environmentally friendly as shredded paper can be easily recycled.
On the other hand, drop-off shredding offers a convenient, time-saving way to safely get rid of your confidential documents without any distractions. This method allows for scheduled pick-ups, and convenient dropoffs, and is particularly suitable for businesses that need to balance their document disposal needs with their busy schedules. At PROSHRED® Orange County, we offer both methods to guarantee an efficient, secure, and compliant approach to destroying sensitive documents.
PROSHRED® Orange County Offers On-Site and Off-Site Shredding Services to Meet Your Needs
Information is power, and it's essential to take precautions to protect your data. On-site and drop-off shredding provides a secure way to dispose of sensitive information, whether it's on paper or electronic media. Data breaches can be costly, both financially and in terms of reputation, and a reliable document destruction company with a solid reputation can help ensure that your confidential information stays secure. Partner with PROSHRED® Orange County today for your mobile shredding services! As a reputable information destruction company, we are committed to keeping your sensitive information secure.