April 8, 2021
Four Reasons Purge Shredding Might be a Good Fit for Your Business
At PROSHRED®, we know having a good reputation is vital for continued success in the business world, and that's why we take document destruction seriously. If you're a business owner who deals with sensitive business data on a daily basis, you probably already know the benefits of shredding as a secure and effective disposal method. But sometimes regularly shredding your outdated and unwanted business documents isn't feasible, and that's where a one-time purge shredding can be a better option to take care of the job.
With our purge shredding service one of our mobile shredding trucks visits your location at a specific time to shred a large quantity of documents. This is a great service for companies that don't create the volume of paperwork necessary for regularly scheduled shredding, or that need a one-time quick fix for piled-up paperwork.
And there are many reasons why purge shredding could be good for your business:
1) You've Moved to Digital
As the world around us becomes increasingly more digital, many business owners are starting to feel the pressure to go paper-free. Customers are buying online more than ever and are expecting companies to cater to their online-first mindset for in-store purchases as well, which include a preference for email receipts and one-tap payments.
This new no-printing approach applies to the office as well, where it's affecting records and documents that used to be standard filing cabinet fodder, like medical records or confidential employee information. These items are either no longer being printed and are created and maintained digitally, or are scanned into a new system and destroyed. (Find out more about PROSCAN® Solutions, PROSHRED®'s document scanning and imaging division.)
When businesses switch to digital data and document management systems, it's helpful to have a secure way to dispose of outdated paper files once they've been scanned into the system. If you own a business in a similar situation and have an overwhelming amount of old and digitized documents that need to be destroyed, a one-time purge shredding service can be a game-changer.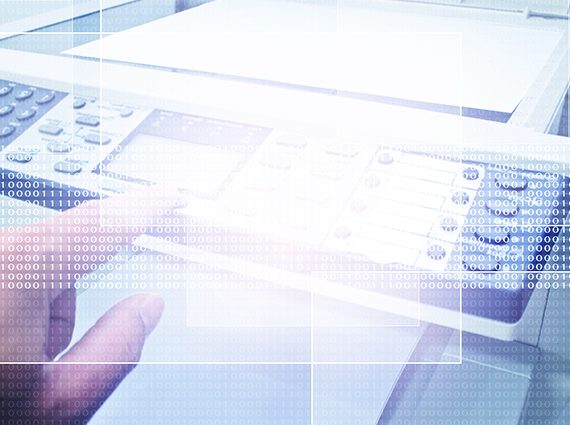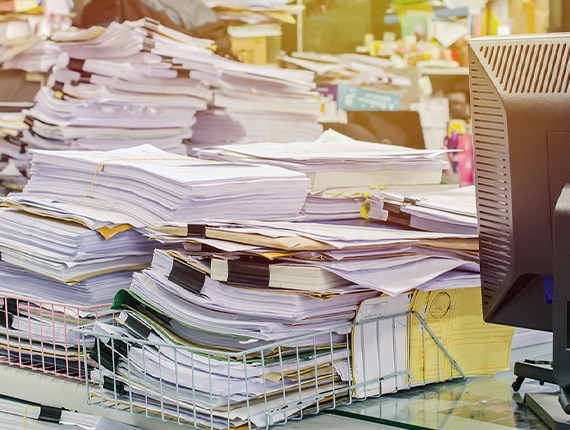 2) You Want to Spring Clean Your Office Space
Even if you run a company that doesn't have a large paper output (compared to medical offices, law offices, and other paper-heavy industries), you may still find yourself buried under mountains of paperwork from time to time. Junk mail, notes, old presentations, receipts, deposit slips and other items can collect quickly if you don't keep on top of it.
A yearly or bi-annual purge shredding service can be a great way for your entire office to clear out space at their desks and toss out old, unused documents from filing cabinets, storage rooms, and even warehouses. Each year outdated documents roll forward another year and can be destroyed to close out the year, free up space and create a new start for the next period.
3) You Want to Guarantee Compliance
When you have employees use an office shredder to take care of disposing sensitive documents, you're leaving a lot up to chance. Not only does it take a lot of manpower to keep on top of regularly shredding confidential information, but it takes training and an understanding of privacy laws and document disposal regulations as well. Sometimes, employees tasked with this job may not fully grasp that documents of this nature must be carefully destroyed, leaving your company data at risk.
When you want to guarantee that your business is complying with procedures for disposing of obsolete paper documents, a purge shredding service is the best way to make that happen. By contracting with an ISO 9001 and NAID AAA certified shredding company like PROSHRED® for your purge shredding service, your due diligence in following current privacy legislation is heighted to the highest standard in the industry. And for less compared to trying to shred a one-time purge shredding job with an office shredder.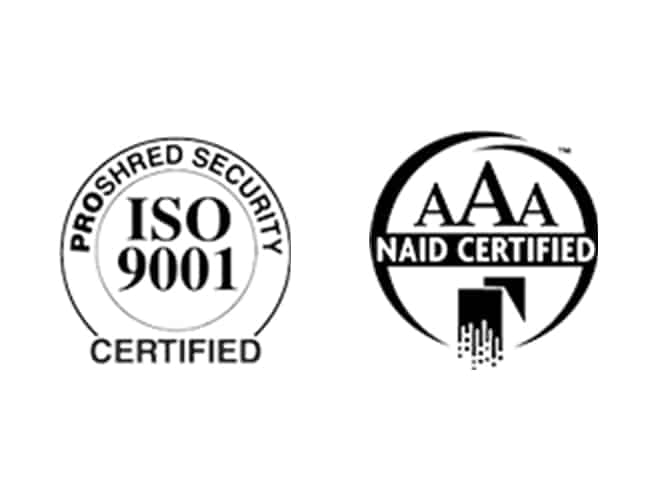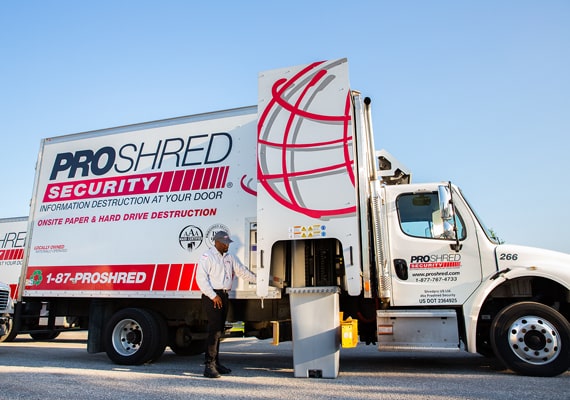 4) You Want to Save Time and Money
A lot of companies make the switch to a dedicated shredding service after years of fighting with an in-office shredder. From investing in the equipment to keeping on top of repairs and maintenance, it can quickly become costly to keep up with an office shredder, especially if it's only being used when the piles of paperwork get to be too much. On top of that, you're having to take employees away from their dedicated tasks to get shredding done, which can mean hours and hours of time and productivity lost. When you schedule a purge shredding service, papers that would have taken your team weeks to get through are shredded in seconds by a mobile shredding truck, so you never have to worry about those items again. And it is all done for the fraction of the cost that you would spend maintaining your own equipment!
Schedule a One-Time Purge Shredding Service Today!
Purge shredding is a no-brainer for business owners who want to ensure quick and efficient destruction of sensitive business documents. At PROSHRED®, our service is convenient and will create only a minimal disruption to your daily workflow, so you can get on with other important tasks. And it's extremely affordable, with no hidden charges, contracts, or fuel surcharges. If you've read through our list and think one-time purge shredding is the best option for you, call us today to schedule an appointment and get rid of those unwanted documents and papers that are taking up space. Give us a call at: 1-949-748-3595
Frequently Asked Questions about Purge Shredding
At PROSHRED®, our shred technicians agree that the best way to dispose of large amounts of paper is to schedule a one-time purge shredding service. This is a quick and convenient way to destroy large quantities of paper.
Purge shredding, or one-time paper shredding, is when a large volume of paper is shredded at one time. This typically only takes place once a year for businesses that use the service.
Hiring a professional paper shredding company like PROSHRED® is the best way to ensure your company is disposing of confidential documents correctly, and with no inconvenience to you or your employees.