October 9, 2020
What Should and Should Not Go In A Shredding Bin?
When you sign up for on-going shredding services with PROSHRED® Orange County, your ISO 9001 and NAID AAA certified shredding provider, you will be given secure shred bins to safely store unwanted documents until our local shredding service picks up your materials on a routine basis. These shredding bins can be placed throughout the office, and are a convenient way to secure old documents for on-site shredding. 
As soon as you place your unwanted documents in your shred bin, they are out of sight and out of mind. And when PROSHRED®, your local shredding provider, visits your office to empty your shred bins, your materials are shred on-site using our mobile shredding service. The only thing you have to worry about is putting the right materials in your shredding bin.
At PROSHRED®, we have laid out these simple guidelines regarding what should and should not go into your shredding bin.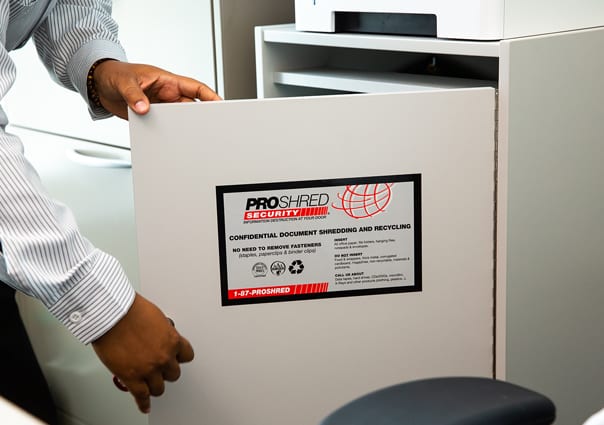 Things to Shred
Any printed documents that contain sensitive information are recommended for PROSHRED®'s shredding bins. These secure bins are in your office to provide a safe storage space for your unwanted confidential documents until our certified shredding service provides on-site destruction of the paper in your shredding bins. 
Below is a list of items that are safe to shred:
Confidential documents

Outdated printed files and forms

Manila and colored filing folders (NO army green folders – not paper)

Spiral bound notebooks and presentation papers

Checks, payment copies and receipts
Items Never to Put in a Shredding Bin
While we would love to dispose of all of your business's unwanted materials, there are some items that are not suited for PROSHRED®'s secure shred containers. Anything that is not a physical document or other printed material cannot be safely shredded by our shred trucks and equipment. If our certified shred team spots any of these items in your shred bin, we will let you know right away that we cannot properly dispose of these materials.
Below, we have listed items never to put in a shredding bin:

Batteries, electronic media or electronic waste

Army green hanging folders (not paper)

3-ring binds or any kind of large metal

Trash and plastic

X-rays and films

Carboard (separate recycling steam)

Newspaper and magazines (separate recycling stream)

Wet or burnt paper 
Remember that you can always call the experts at PROSHRED® if you aren't sure if your items are "OK" to put in your shred bin. We are happy to answer your questions!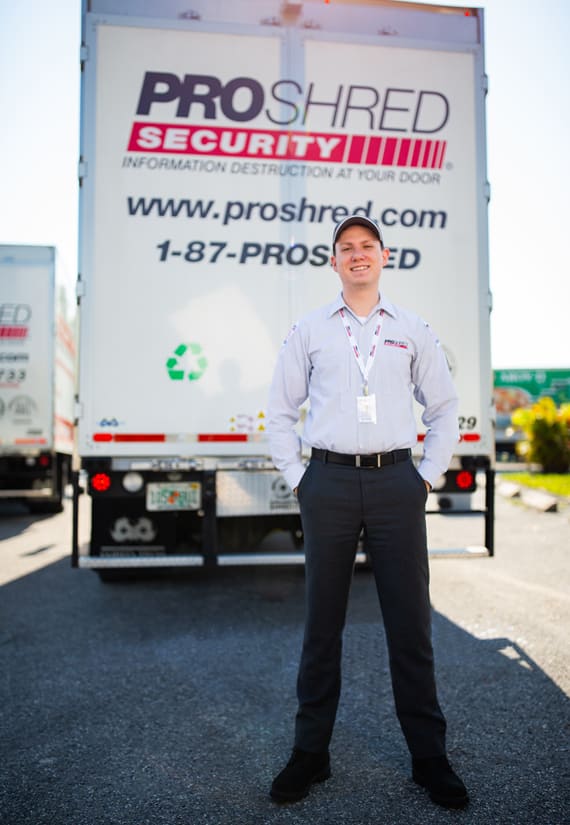 Find Your Local Shredding Provider Service
At PROSHRED®, we make paper shredding easy and convenient. Our on-going shredding services include providing your office with company shred bins. You can use these shredding bins throughout the week until our team members visit your office at a designated time to empty your shred bins and destroy all documents. As soon as you place your unwanted documents in your shred bin, you never have to worry about them again.
PROSHRED® can give you peace of mind with our secure shredding services and quality shredding bins. If your business needs any kind of shredding services, we have a variety of shredding services to suit your needs and budget, including:
One-Time Document Shredding

Document Scanning Services

Drop-Off Shredding

Mobile Shredding
On-Going Shredding Services & Shred Bins
As an ISO 9001 and NAID AAA Certified shredding provider in Orange County, PROSHRED® has been trusted by businesses all over California with their confidential materials. We have the equipment and experience needed to handle any shred job, no matter the size. We can accommodate your business's daily paper waste with a number of shred bins as part of our on-going shredding services. We handle your materials with care, and guarantee that your documents are completely destroyed with every shred job.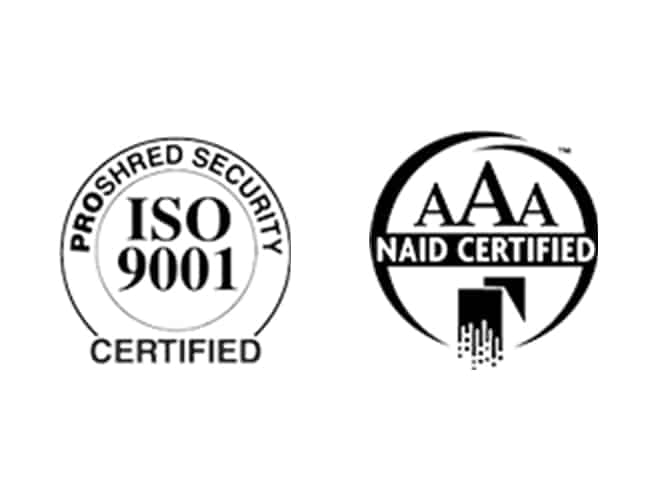 PROSHRED® puts your security as our top priority. We take measures to ensure that your company's information never falls into the wrong hands. Our secure shredding processes keep your confidential materials safe from data breaches and identity theft every step of the way. All of your documents are highly monitored by security equipment and a dedicated team up until the point that they are shredded. You can't find this level of dedication or efficiency in just any local shredding provider.
PROSHRED® is here for all of your business's shredding needs. Contact us today to learn more about our secure shred bins and shredding processes! 949-748-3595