September 24, 2020
7 Reasons to Hire A Mobile Professional Paper Shredding Service
As a business manager, you are often tied up by phone calls and customer interactions during the day. It can be difficult to find time to stay organized on top of your regular responsibilities. You may think that a mobile paper shredding service is unnecessary, but the right professional paper shredding service offers everything from compliance to convenience at a cost-effective rate.
In fact, a paper shredding company like PROSHRED® can actually save you time and money! There are a number of benefits to signing on with a custom paper shredding program, which we've outlined in this article.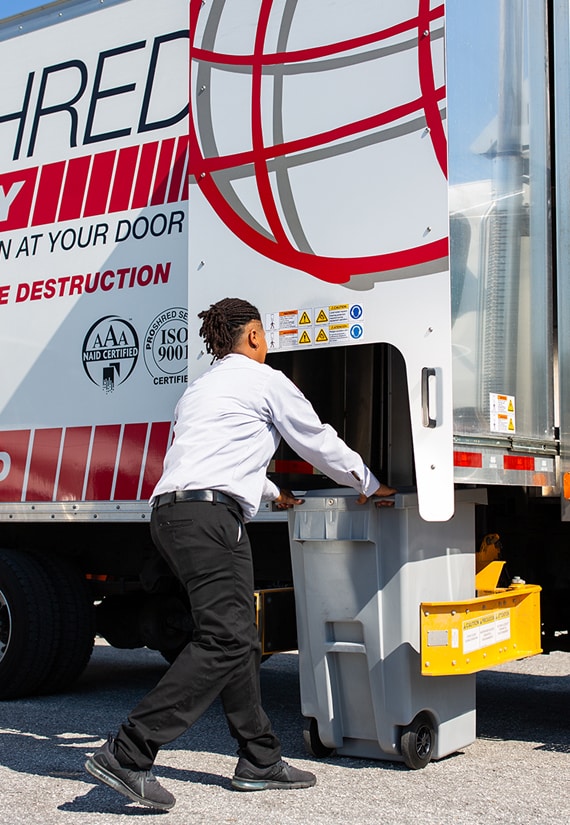 1. Stay Compliant 
Many federal and state regulations require businesses to take measures to keep employee information safe. Any documents containing these confidential materials must be handled with care, from the moment they are printed to the second they are disposed. You cannot simply throw away these documents when you no longer need them. In order to remain in compliance with state and federal privacy laws, you need to use a professional paper shredding service to ensure that the information in these files can't be stolen and used for identity theft.
2. Makes "Cents" 
Signing on with an affordable paper shredding service eliminates hours of hands-on shred work while also ensuring the security of your files all shred on-site at your location. At PROSHRED®, our mobile shredding services cut up your papers using state-of-the-art "pierce and tear" technology, making it impossible for the shredded waste to be reconstructed. What's more, all of our shred jobs are heavily monitored, from the moment the shredding starts to the second we prepare the shred waste for recycling. You never have to worry about identity thieves when you shred with us.
And remember, the amount of time and money it takes to use a manual office paper shredder is not cost-effective. What's worse, the materials left over from this store-bought machine can still be reconstructed fairly easily. Anyone who gets a hold of your shredded waste can puzzle together the shredded paper with a little glue and patience. This means that your confidential items still aren't safe, even after you've shredded them yourself.
3. Receive a Certificate of Destruction
At the end of every shred job, PROSHRED® Orange County provides you with a Certificate of Destruction after every shredding service we provide. You can use this official document for your records, and can call back on this certificate when you need to prove your compliance with state and federal laws. At PROSHRED®, we are always taking steps to make things easier on your business. 
4. Hassle-Free 
As a manager or administrator, you have many responsibilities to keep track of in your day to day operations, and need to hire a shredding service that is easy to work with, reliable and gets the job done professionally . Organizing paperwork and sorting through old files can be time-consuming, and precious hours often can't be afforded to these necessary but non-core business tasks. With PROSHRED® you save time and money with our convenient on-going shredding services. We'll take your old files off your hands and give you the option to see your papers be shredded right from your door with our mobile shredding service trucks.
5. Set a Tone
When you sign on for a paper shredding service with a certified company like PROSHRED®, you are letting the workplace know that you take security seriously, and that you care about your customers' and employees' sensitive information. This level of dedication and consideration for your company will put you above other businesses in your industry.
6. No Risk for Transporting Confidential Materials
If you are worried about handing off your paperwork to a shredding company who disposes of these materials at a secondary location, PROSHRED® can grant you peace of mind. We are a mobile shredding company that uses secure shredding equipment to shred your materials on-site. Our shred trucks can handle shred projects of any size safely and efficiently.
7. No Maintenance or Wasted Space
With a professional shredding service, you never have to worry about the hassle of an office shredder or storing boxes of documents that take up valuable space. There are no headaches or parts to breakdown with our shredding service. Without a store-bought shredding machine there is no need for maintenance, nor valuable office space being taken up when keeping outdated records in boxes. This is especially beneficial in facilities where every square foot matters!
At PROSHRED® Orange County, we care about our local businesses. With our dependable paper shredding services, we can save your company time and money while also ensuring the security of your business's confidential information. Learn more about our paper shredding programs today! 1-949-245-2862