Beltsville Shredding Services
At PROSHRED® Washington D.C., information security is our top priority. If you're looking for a way to keep your confidential data secure with a convenient, cost-effective, and environmentally friendly shredding service, PROSHRED® is the way to go. We charge no hidden fees or fuel surcharges, and no contract is required to sign up for our services. To protect your personal, client, or employee information from data breaches, sign up for Beltsville shredding services today.
Mobile Shredding Beltsville
With our Beltsville mobile shredding services, one of our Customer Service Professionals will come to your location to conduct the shredding on-site. You can schedule recurring shredding or a one-time pick-up, with no contract required. Whether you are representing a historic Beltsville institution or a fresh local start-up, PROSHRED® Washington D.C. has the local know-how and document destruction experience to satisfy all of your needs.
Scheduled Shredding
Scheduled shredding services are the best way to protect your information on a regular basis, and with PROSHRED® Washington D.C., you can get all of the benefits of professional shredding without the hassle.
With PROSHRED®, you just have to set up your service and one of our Beltsville shredding trucks will visit your location on a weekly, daily, or monthly basis. When you start up an ongoing shredding service, we will fill your office or business space with the proper number of shredding bins for your employees to deposit their documents for shredding. When it's time for your service, one of our technicians will simply pick up your bins and shred the documents on site with one of our shredding trucks, and then safely dispose of the shredded paper.
Purge Shredding
Many of our customers only get shredding services once or twice a year, or even more sporadically. Our Beltsville purge shredding services are perfect for those customers who need a one time cleanout for any reason, whether they're cleaning out an old warehouse, digitizing patient files, or looking to declutter their office. We'll send a shredding truck to you and load your documents into the shredding machine, so you don't have to worry about transferring large amounts of paper to a recycling facility or other on-site shredding facility.
Hard-Drive Destruction in Beltsville
Paper documents aren't the only type of information that needs to be shredded before being disposed of. Hard drives are also vulnerable to theft and data breaches if not effectively destroyed. Many do-it-yourself methods call for breaking hard drives with a hammer or wiping them with software, but the only truly secure way to destroy a hard drive and render it unreadable is with a hard drive shredding service. This way, not even a skilled hacker can access sensitive information that's left behind.
Our Beltsville hard drive shredding services work much the same way as our mobile paper shredding services, where a mobile shredding truck that is capable of destroying hard drives and other electronic devices will show up at your door to perform the service. We scan the barcodes of the hard drives we shred and give that information to you for your records.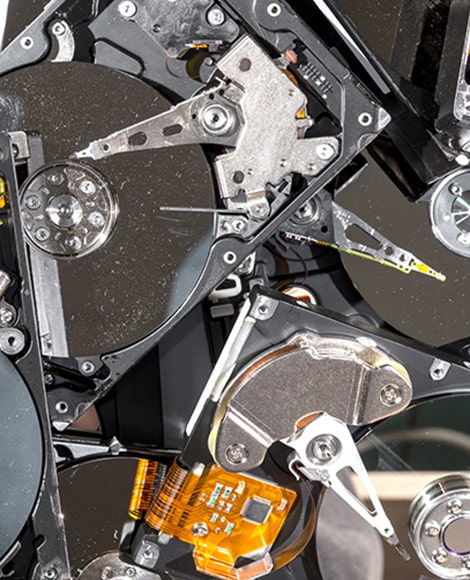 Hours of Operations and Scheduling Services
Our Beltsville shredding services are available every weekday during convenient business hours:
Monday 8AM–5PM
Tuesday 8AM–5PM
Wednesday 8AM–5PM
Thursday 8AM–5PM
Friday 8AM–5PM
Saturday Closed
Sunday Closed
To schedule service, please give us a call. We also provide free quotes.
We'll arrange an appointment time that's convenient for your schedule. If you enroll in ongoing shredding services, we'll also perform a document audit and provide you with shredding bins and consoles for your location.
Top-Rated Beltsville Shredding Company
There are many reasons why we are considered a top-rated Beltsville shredding service provider. Once your documents or electronics have been shredded by us, we transport the waste to a local recycler in the Beltsville area, keeping our environmental impact at a minimum. We're also NAID AAA and ISO 9001 certified, and comply with such privacy regulations as HIPAA, HITECH, GLBA, and FACTA. If you have unwanted papers, hard drives, or other documents at your home or office, contact PROSHRED® Washington DC to take advantage of our Beltsville shredding services.
Beltsville Shredding Services
Scheduled Shredding Beltsville, MD
Hard Drive Destruction Beltsville, MD
One-Time Shredding Beltsville, MD