Shredded Paper Recycling
At PROSHRED® Washington D.C, we have a commitment to environmental stewardship and are continuously working to decrease our carbon footprint and support recycling initiatives in our community.
With our certified document destruction services, paper documents are not only shredded securely on-site and at our facility, but 100% of the shredded paper is recycled and turned into new paper products. We routinely recycle over 5 million pounds of paper between our Washington D.C. and Baltimore locations, conserving thousands of trees, millions of gallons of oil and water, and thousands of cubic yards of landfill space.
More Than Shredding
While information security and secure data destruction services are always our top priority, we are much more than the shredding services we provide. We partner with a local paper recycling center to give all of our shredded paper a new life and to help stimulate the economy.
In order for your unwanted and outdated documents to become recycled paper, we first start with the shredding process. Our mobile shredding trucks use advanced technology to cut your paper documents into tiny, randomly shaped pieces that cannot be put back together. The high speed and efficiency of our shredding machines means we can handle thousands of pounds of paper in a matter of minutes.
When our trucks get back to our secure facility, the shredded paper is compacted into large bales and transported to our local recycling center. From there, staples and other foreign materials are removed and the recycling process begins! New paper products like paper towels are created from the recycled paper.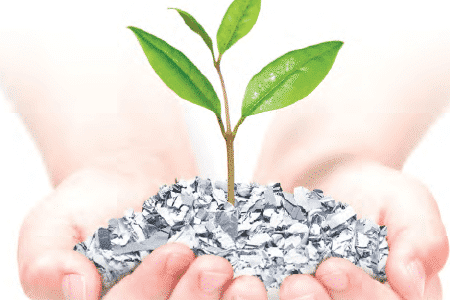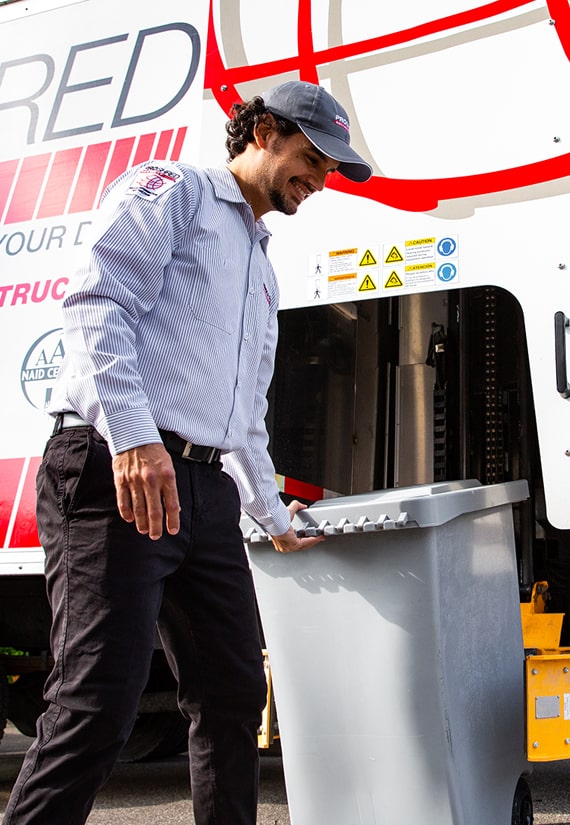 Benefits of PROSHRED® Washington D.C. Paper Recycling
When you have your paper documents destroyed and recycled with PROSHRED®, you're doing more than helping the environment. You're protecting your personal, business, medical, financial, or legal information from being stolen or otherwise accessed by people who could do you harm. Throwing documents in the trash can leave you vulnerable; but by using a paper shredding company that specializes in secure on-going shredding services, you can stay on top of secure document destruction easily and with no extra strain on you or your business.
Paper shredding with a certified document shredding company can also save you money and time in the long run. With our on-going shredding services, all you need to do is schedule a time and day for pickup and collect your items to be shredded in our pre-designated shred bins or consoles. When it's time to shred, we will come by your location and shred the documents on-site. You can even watch the entire process as our state-of-the-art mobile shred trucks go to town on your confidential documents. Get rid of your clunky office shredder that takes up employee time and resources and outsource this important service with PROSHRED® D.C., your wallet and the environment will thank you!
Ask About Our TreeSaver Environmental Certificate
One of our favorite parts about being able to recycle shredded paper is providing our clients with the information about how many trees they have saved each time they use our services. At the end of the year, our clients are presented with a TreeSaver Environmental Certificate, which tells you the number of mature trees you saved by using our secure shredding and recycling services. On average, recycling one ton of paper saves 17 trees!
Looking to become a more environmentally friendly and secure business? Call us today to learn about our shredding services and to get a quote!
Frequently Asked Questions about Paper Recycling
You should not put shredded paper in with all of your recyclables at your home or office because it can be difficult to process with municipal systems. Shredded paper can be recycled in special circumstances, such as when a paper shredding company collects shredded paper and transfers it directly to a recycling facility.
Businesses like PROSHRED® Washington D.C offer drop-off services that serve a dual purpose; to securely destroy your confidential documents as well as to recycle the shredded paper into new paper products. For more information about our paper recycling, give us a call!
Do not place shredded paper in your recycling bin; instead, use a paper shredding service like PROSHRED® Washington D.C for both your shredding and recycling needs.