Rockville Shredding Services
Information security is an important aspect of every business that shouldn't go unchecked. To keep your business safe by preventing data theft, you'll need a professional Rockville shredding company to destroy any old documents or hard drives you no longer need. This way, your information cannot be stolen and accessed by anyone else down the line. PROSHRED® will work with you to keep your company data safe: you can choose from services such as scheduled shredding, hard drive destruction or product shredding to keep your private information confidential.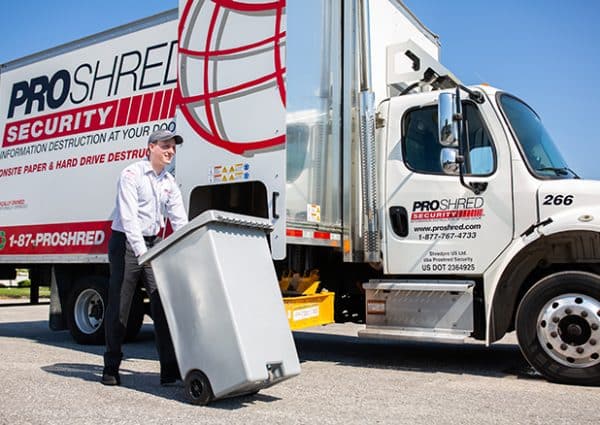 Rockville Scheduled Shredding for Businesses
If you have an office or other business that produces lots of paper, then you may benefit from a regularly scheduled shredding service. PROSHRED®'s mobile shredding truck will come to your location on a regular scheduled basis to securely shred the sensitive documents that you have collected in one of PROSHRED®'s bins or consoles. Our Customer Service Professional will collect the shred bin or console(s) at your office and load them onto one of our state-of-the-art mobile shredding trucks for secure and permanent destruction. The process only takes a few minutes and you can watch! Our Rockville mobile shredding services are just one of the ways that we can help keep your office compliant while keeping confidential information safe.
Visit our new Rockville location at:
199 E Montgomery Ave suite 100,
Rockville, MD 20850
Rockville Hard Drive Destruction
In today's digital world, sensitive information is not just stored on paper but on hard drives as well.  Even after digital files have been deleted, the information can still be accessed by data thieves.  That's why many businesses and organizations use a professional shredding service like PROSHRED® for their hard drive destruction needs. Our industrial strength shredders will destroy each hard drive so the information can never be accessed again. Once the hard drive has been shredded, a certificate of destruction is issued for you to keep for your records.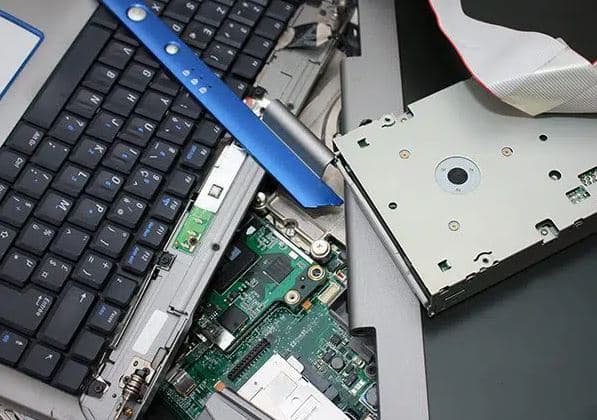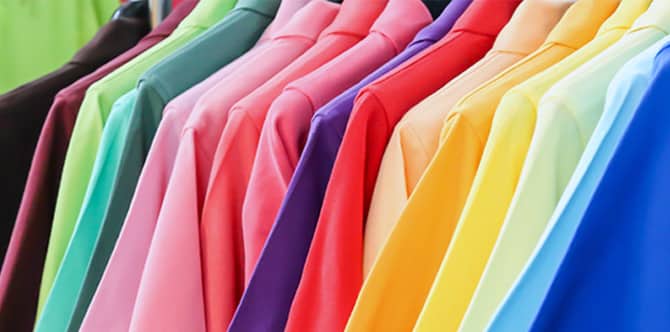 Rockville Product Destruction Services
Many companies don't know that we also offer product destruction services to help organizations like law enforcement agencies, security companies, manufacturing businesses and more keep sensitive items from falling into the wrong hands. We offer incineration services so that organizations can get rid of old uniforms or apparel, branded packaging, recalled or outdated products, promotional items, security badges, and other items that contain sensitive company information. We charge Rockville product destruction services based on the type of materials being incinerated and the quantity of items, which makes every service a little bit different. For an accurate estimate of how much a product destruction service will cost, give us a call.
Rockville's Certified Shredding Services
Businesses that take their security seriously hire professional paper shredding companies like PROSHRED®. Our dedication to information security can't be beat, and is backed up by our NAID AAA and ISO 9001 certifications. Not only are our mobile shredding trucks the most efficient in the industry, but we also make sure the process is as secure as possible. All drivers must pass a background check and drug test as well as meet high company standards. To further security, you can watch as your documents and hard drives are shredded through a screen mounted on the side of the truck. Don't leave your business's information security up to chance; contact us today and work with a trusted Rockville shredding company to secure your data.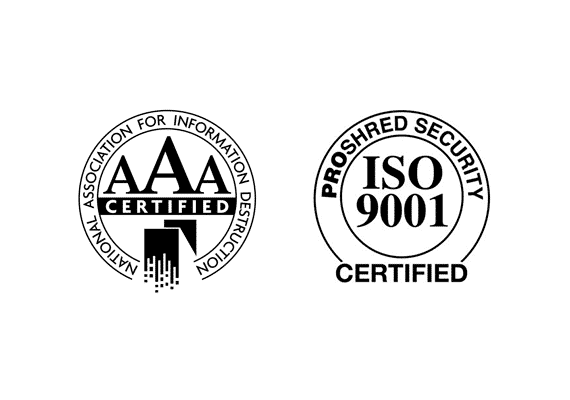 Rockville, MD Shredding Services
On-Site Shredding in Rockville, MD
Scheduled Shredding Service in Rockville, MD
One-Time Shredding in Rockville, MD
Product Shredding in Rockville, MD
Hard Drive Destruction Services in Rockville, MD
Legislative Compliance
HIPAA Compliant
HITECH Compliant
GLBA Compliant
FACTA Compliant