Mobile Shredding Trucks
At PROSHRED®, we're proud of our mobile shredding services, and we complete these services using our state-of-the-art mobile shredding trucks. Learn more about the benefits you can expect from our mobile shredding trucks.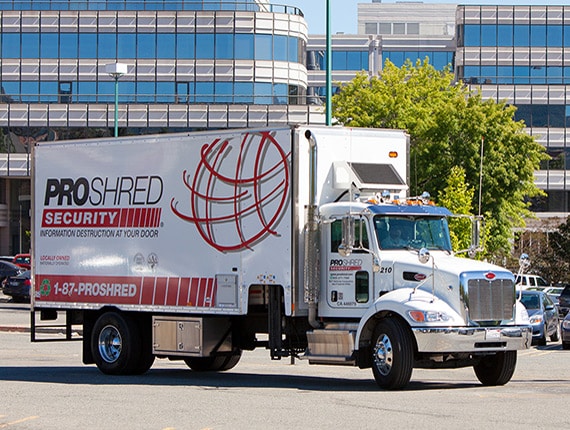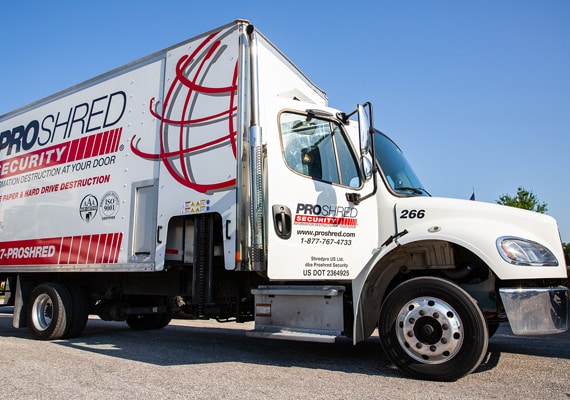 On-Site Document Shredding Washington D.C. 
Modern technology makes it easier now than ever before to keep your business and financial documents secure and protected. With mobile paper shredding services from PROSHRED® Washington D.C., a driver and truck from our fleet of state-of-the-art mobile shredding trucks will come right to your curb and destroy your documents on-site. This secure shredding solution is ideal for businesses, medical facilities, law offices, and financial institutions that process large amounts of paperwork on a regular basis. Don't get stuck using an outdated, cumbersome office shredder; get the best in Washington D.C. mobile shredding services with PROSHRED®.
A Paper Shredding Service That Comes to You
When you schedule an ongoing shredding service, a customer service professional will arrive at your location at a predetermined time to collect your shred bins. These are secure bins that have been supplied by PROSHRED® for the purpose of collecting sensitive documents within the office. The shredding trucks act similarly to dump trucks, with arms that lift bins and dump the contents into the industrial-sized shredder inside. Because the documents go straight from the bin to the shredder with no physical human contact, you can rest assured that your documents remain secure from the time they leave your office to the time they are shredded. You can even watch your documents be destroyed via a screen that's mounted on the side of the shredding truck.
Another great attribute of mobile shredding trucks is that they have capacity for high volumes of paper, with the ability to shred thousands of pounds of paper within minutes. Whether you schedule documents to be shred on a daily, weekly, or monthly basis, or need a one-time purge every so often, there isn't a job that is too large for our high-performance shredders to tackle.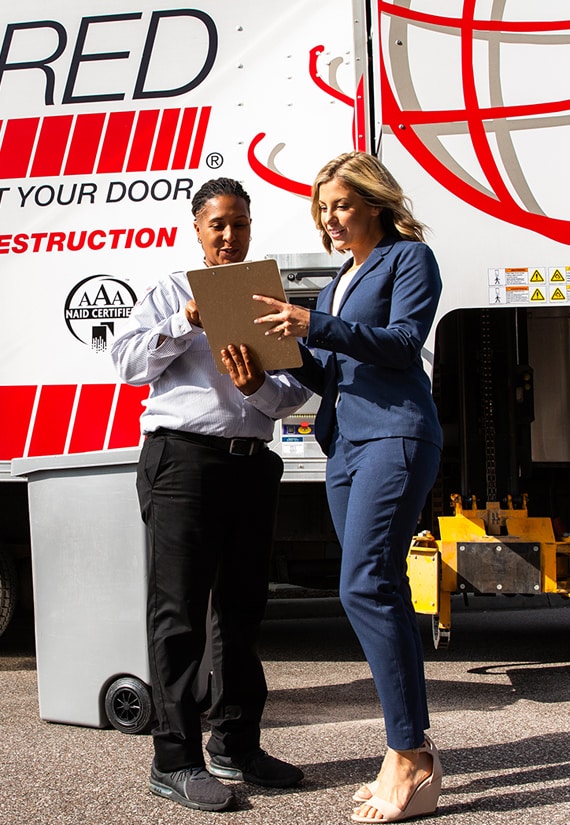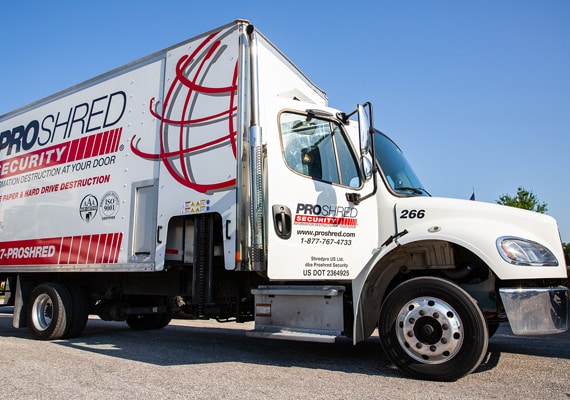 Stay Compliant With Mobile Document Shredding
It's more than just a good practice to protect confidential information belonging to yourself, your employees, and your customers; in some cases, it's the law. Some industries have to stay compliant with privacy laws and regulations that determine when and how records can be disposed of.  Mobile document shredding is a great way to stay compliant with these rules and ease some of the burden on employees to dispose of confidential data. Keep sensitive documents out of the dumpster by scheduling a mobile shredding truck for your business.
Schedule a Mobile Shredding Service with PROSHRED® D.C.
By utilizing mobile shredding trucks from PROSHRED® Washington D.C., you can be relieved of the hassle that is document destruction. Of the companies that offer mobile shredding services, we use some of the most effective and secure methods of paper shredding and hard drive destruction available today. To learn more about this modern, flexible solution to document destruction, give us a call today.
Frequently Asked Questions about Mobile Shredding Trucks
The cost for mobile shredding services can vary depending on if you want a one-time purge or need ongoing service, but most of our clients will agree that PROSHRED® mobile shredding services are much more cost effective than maintaining and using a commercial paper shredder.
Mobile paper shredding refers to the process of a truck with an enclosed industrial shredder coming to a specific location in order to provide witnessed, on-site shredding services. At PROSHRED® Washington D.C., we will also provide customers with a certificate of destruction, which is proof the documents were securely destroyed.
If your business or organization is located in the Washington D.C. area, PROSHRED® is ready to assist you! We specialize in mobile shredding services for companies looking to boost productivity and ensure confidentiality of sensitive information.