August 4, 2022
The True Cost of DIY Paper Shredding
The average person produces about 4.5 pounds of paper waste each day, and much of that waste ends up in the trash. To protect your identity and keep your personal information safe, you need to shred your confidential documents before disposing of them. Most people believe that the best way to shred their company's documents is to do it themselves. However, there are a number of hidden costs associated with do-it-yourself (DIY) paper shredding that you may not be aware of.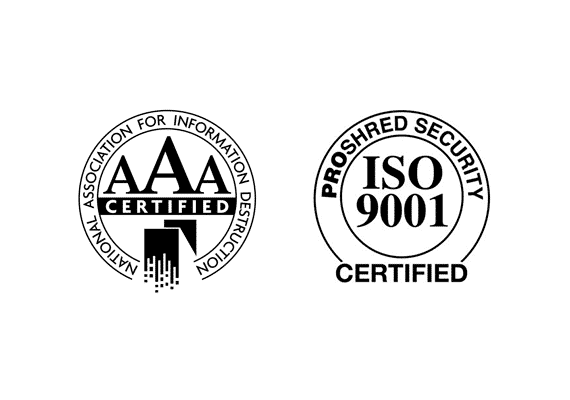 Hidden Costs That Come With Shredding Your Own Materials
If you're shredding confidential documents that contain sensitive information, it's practically guaranteed that unplanned costs will affect the disposal process. Here's our breakdown of what is most affected by DIY shredding.
Equipment
Let's start with the basics. Shredding machines are expensive. A decent-quality home shredder can cost anywhere from $100 to $300. And if you want a commercial-grade machine that can handle large quantities of paper, you're looking at a much higher price tag. The initial investment in a paper shredder may be relatively low, but the cost of maintaining and repairing it will quickly add up. Blades need to be replaced regularly, shredders need to be oiled, and bins need to be emptied often. As your business grows, the amount of paper waste you produce will increase, and so will the equipment costs associated with shredding it.
Time
Shredding is time-consuming. If you're doing it yourself, you'll need to devote hours to the process to make sure it's done effectively, especially considering most shredders can't shred anything with staples or paper clips. It also takes a toll on productivity. It takes time to gather all of the documents that need to be shredded, and what's more, time to actually do the shredding. This is time that could be spent on other tasks that are more important to your business. This doesn't even cover the time you or your staff will need to devote to maintaining the office shredder. Part ordering, bin emptying, and fixing paper jams all serve as major time-wasters for you and your business with DIY paper shredding.
Injury Risk
The risk factor to employees is significantly higher with a DIY paper shredding system in place. Shredders can be dangerous no matter their size and there's a risk of injury if you're not careful. As previously mentioned, routine shredder maintenance requires an employee to switch out the blades. These blades are unimaginably sharp and repeatedly cause employees to receive deep lacerations (or worse) finger amputations. These types of injuries merit OSHA investigations, workers' compensation, and other actions that can have a significant impact on your business.
Effectiveness
DIY shredding is not always effective. In fact, you may not be able to shred everything. Some types of documents, such as receipts and credit cards, can't be shredded by a typical home shredder. If you try to shred these types of papers, you could end up damaging your machine and causing personal injuries trying to fix it yourself.
Security
Another risk of DIY paper shredding is compliance and security issues. If sensitive documents from financial institutions or medical facilities are not completely destroyed during disposal, you could be increasing the chances of data theft and compliance violations. Standard home office shredders aren't as thorough with their destruction process, which means your data could easily be reassembled and be used to commit identity theft or fraud.
There are strict laws and regulations governing the disposal of confidential documents, and if you don't follow them you could face hefty fines. For example, the Gramm-Leach-Bliley Act (GLBA) requires businesses to take reasonable steps to protect the confidentiality of customer information, and the Health Insurance Portability and Accountability Act (HIPAA) has specific requirements for the disposal of protected health information (PHI). If you're not familiar with these laws, it's best to leave the disposal to a professional shredding company to ensure your company's data and identity are secure.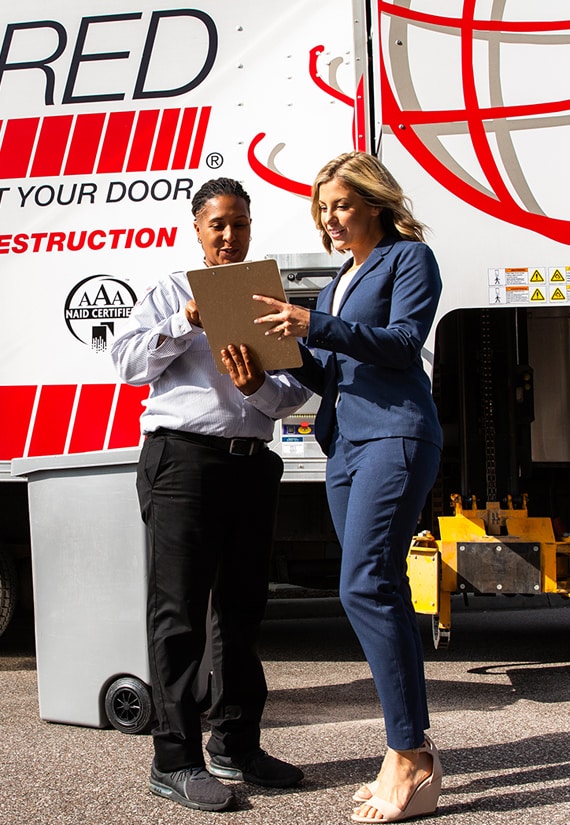 Help Your Business with Services From PROSHRED®
At PROSHRED®, we understand the importance of protecting your data and confidential information. That's why we offer a variety of document destruction services to help you shred paper documents, hard drives, and other materials in a safe and secure manner. We also offer on-site and drop-off shredding services to accommodate businesses of all sizes. We are ISO 9001 and NAID AAA certified, which means we follow document destruction best practices and are compliant with all known data protection laws. The PROSHRED® process begins with our attentive staff working with you to develop a tailored document shredding program that seamlessly fits your organization.
All your confidential documents are destroyed at your location by our highly trained Customer Service Professionals using our state-of-the-art mobile shredding trucks. By utilizing the most advanced technology on the market, we ensure each visit is completed efficiently and to the highest standard of security. Our clients can witness the shredding via a closed-circuit monitor and receive a Certificate of Destruction after each service with PROSHRED® Washington D.C, ensuring sensitive materials are confidentially destroyed—something that's not possible with a DIY approach.