April 22, 2021
PROSHRED® Security Recycling Saves Trees, Landfill Space
Earth Day is a special day for us at PROSHRED® Security. While we are best known for our stellar commitment to information security with our mobile shredding and data destruction services, we also hold a deep sense of pride in our efforts of environmental stewardship.
That's why we are so proud to announce that in the year of 2020, our Washington DC and Baltimore locations recycled approximately 5,946,642 pounds of paper!
This is the equivalent to conserving approximately:
50,546 trees
1,129,862 gallons of oil
Over 20 million gallons of water
About 297,000 cubic yards of landfill space!
This is a huge accomplishment, and it is all possible because of our customers, who choose us 365 days out of the year to not only protect and securely destroy their confidential information, but to do it in a way that is conscious of the effects on the environment. 100% of the paper that we shred gets recycled at a local recycling facility and turned into new paper products.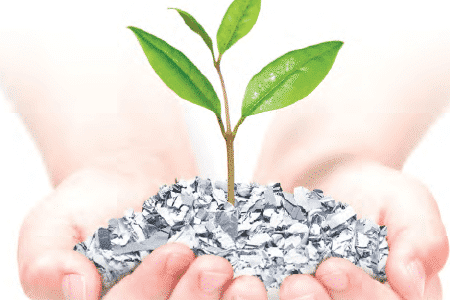 How does shred paper get recycled?
At PROSHRED® Security, we work with businesses of all sizes and in a variety of industries to provide recurring shredding services. Whether we host a shredding event, collect your documents at our drop-off location, or bring one of our mobile shred trucks to your site on an on-going basis, you can rest assured that not only will your documents be treated with the utmost care and confidentiality, but that they are also completely recycled.
Once your documents have been shred into small pieces, they are then compacted into large bales and loaded onto one of our transport trucks. From there, the bales are taken to a secure recycling facility where any staples, paper clips, and other items are removed, and the paper is further processed into new materials. This system ensures that not only is your information shred beyond recovery, but that it is not simply thrown into a landfill.
Complete recycling of your documents is not the only advantage of scheduling recurring shredding services with PROSHRED®. Simply throwing your paper in the trash without shredding it can leave your company vulnerable to data breaches or identity theft. By having your documents professionally shred by a secure document shredding company, you are protecting yourself and remaining in compliance with any federal privacy legislation that impacts your business or organization.
Professional shredding is also a great way to run a more efficient organization. Office shredders are notoriously loud, clunky, and can only shred so much at one time. With services from PROSHRED®, you and your employees only have to place unwanted documents into a secure shred bin, and we'll take care of the rest! Our industrial shredders are capable of turning boxes of documents into tiny pieces within minutes, and at a price that makes great business sense.
Choose PROSHRED® Security for your Document Destruction Needs
Protecting our community extends well beyond protecting your confidential information. With your help we are also able to help protect our precious environment. As we all consider our impact on the environment this earth day, consider destroying your documents with PROSHRED® Washington DC and PROSHRED® Baltimore's on-going services or one-time cleanout service. You will be protecting not only your sensitive information, but also helping to make a positive impact on Mother Earth!