August 4, 2021
Our Guide on How to Return to the Office Safely
The coronavirus pandemic has had a major impact on the working world. Companies have been making do with various work from home configurations in order to keep employees safe. But now that the country is working to return to the office, many people will be worrying about their health and the spread of this devastating illness. Fortunately, there are plenty of ways to adjust to life in the office, and workplaces have the potential to be a safe environment.
When returning to the office, you need to protect yourself and your employees from more than just germs and the drastic change in routine—you need to protect your data security, too. The protection of private information is important to both companies and their clients. Secure shredding services from PROSHRED® D.C. will guarantee that information security isn't among your worries as you return to the office.
How to Protect Yourself from Germs
Going back to the office doesn't have to mean putting yourself in harm's way. There are many precautions that can be put in place to keep everyone healthy and put your fears at ease. We've compiled a list of some suggestions to make going back to the office safe, so employees can concentrate on work knowing you are taking every step to protect yourself and others against the spread.
Stay Away From Others if You're Sick
No one wants to spread sickness to their coworkers. If you aren't feeling well or suspect you may have an illness, the best thing to do is call out of work. You can get better at home, and won't be putting others at risk of getting sick, too. In the office, social distancing and wearing face coverings can help protect against the spread of viruses. By staying at your own desk, you can prevent yourself from catching the virus or giving it to someone else.
Wash Your Hands Often
Other than social distancing, the spread of germs can be prevented by not sharing items with others. Germs can spread through the objects we touch. To get rid of them, you should wash your hands often and avoid touching your face. This will also help to prevent spreading your germs to the objects in the first place, but remember that illness can also be spread through the air. When you sneeze or cough, make sure to catch it in your elbow. Masks are worn to keep airborne pathogens, like those from a sneeze, from getting into your system.
Keep Surfaces Clean and Sanitary
Surfaces around the office that are touched often will carry the germs of those who have touched them. Objects that are touched frequently and by a variety of people, such as elevator buttons and the copy machine, are a mode of transmission for illnesses. Daily cleaning of the office and disinfecting these surfaces will aid in preventing the spread of bacteria. As a bonus, the office will be sparkling clean and a pleasant place for workers to spend their time.
How to Protect Yourself and Your Employees from Burnout
Remember to take things slowly when returning to the office. It's already been a stressful year, and employees will be readjusting to a different work environment once again. It may feel overwhelming to be out of the comfort of your home and back at a busy workplace, but it could be the perfect opportunity to change things for the better. Try starting a new routine at work that will keep you productive without feeling overburdened.
Get Organized
In celebration of returning to the office, it's a beneficial idea to decrease the clutter and increase the organization. Start by getting rid of the numerous boxes of old documents with secure mobile document shredding. Cleaning up your desk will get rid of germs and is also a good opportunity to organize and to put things where they belong. You'll spend less time looking for what you need and more time being productive instead.
Pace Yourself
When going back to work after a year of having flexible hours and the comforts of home during
the workday, employees might feel rushed to catch up and do better with their bosses around. However, rushing will only cause stress and sloppiness. Slowly adjust back into the office by prioritizing your tasks. Decide what is highest priority and consider due dates to determine what should be done now and what can be done later. This strategy helps with time management and will keep you from having to finish work last minute. Reminders may also be beneficial in ensuring there's enough time to finish work. Make sure that the pace you set for finishing work is an achievable one.
Split Up the Work
There are strategies that can be implemented to help pace the work, but sometimes the workload is just too big for one person. Now that you're back in the workplace, it's easy to split up the work with coworkers as fits best. Plan with coworkers about the best way to delegate tasks. If you're not the best at a specific assignment, it's ok to let someone else assist you.
How to Protect Yourself From Data Breaches
Today, lots of information is stored digitally, but this leaves it vulnerable to hackers and other online data thieves. The best way to avoid this is by being aware and prepared. Ensuring your devices have solid, updated security software is a great way to keep digital information out of the wrong hands. Fraud alerts can be used to alert or warn when something is wrong. Employees can do their part in securing information as well. They should be trained on the best practices to do this such as using different passwords for their accounts, and making them strong ones.
However, not all information is digital, and many businesses often store confidential data in the form of printed documents. If you have a surplus of paperwork that piled up during the pandemic, then it must be disposed of properly. No matter your workflow, protect data by having papers securely destroyed at your home office, dropping papers off, or bringing papers to work for secure on-site shredding. At the office, the disposal of old stored records with secure document shredding is an effective form of data breach prevention.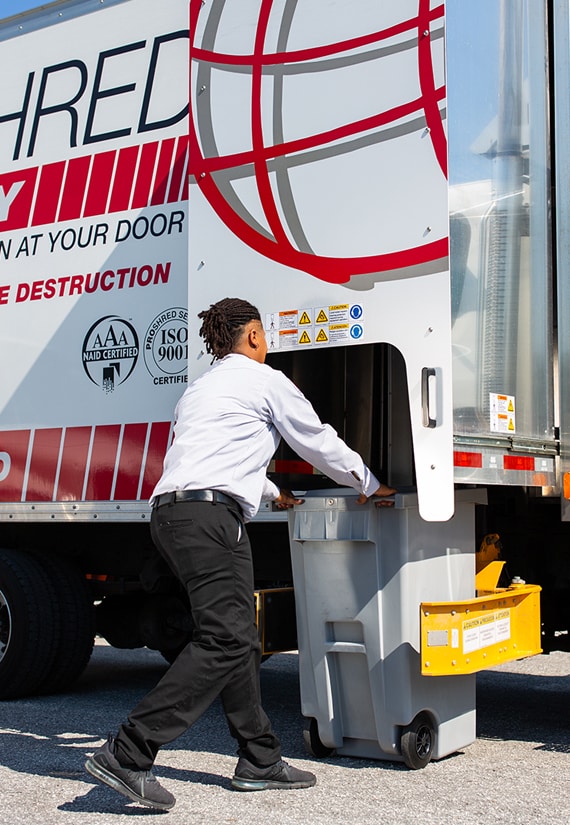 Regularly Scheduled Shredding
If you're an employer, using an onsite paper destruction company helps  keep your workplace uncluttered. Papers can quickly pile up, and they can't just be thrown away: Safe and regular scheduled document shredding will keep things neat without the risk.
Hard Drive Shredding Services
Got new computers post-pandemic? Get rid of the old data safely with hard drive destruction services. Traces of private information can still be found on devices once deleted. That's why it's important to take advantage of the services of professionals who know what they're doing. Hard drive destruction services can save you from the trouble of doing it yourself and prevent possible complications from leaked information.
Residential and Drop-Off Shredding Services
Still working from home a few days a week? Luckily, we can do residential shredding or drop-off shredding so you can get your at-home office cleaned up. When you return to the office, there's no need to leave traces of work at home. Use the best home office information security strategy there is instead with D.C. data destruction services.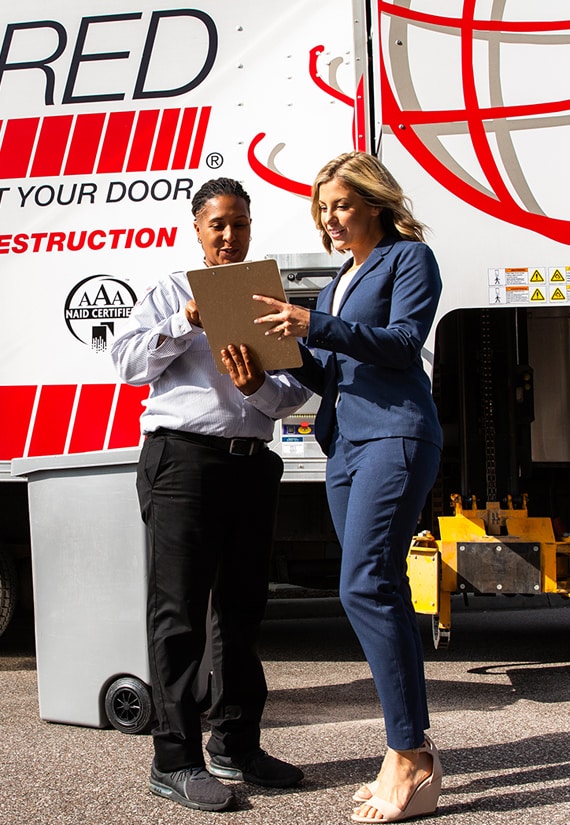 Get Back to Work in D.C. with Secure Data Destruction Services
Data security is necessary to companies, and all the more important as employees return to the workplace after an extended period of working from home. The storage and destruction of data is a sensitive matter because, if handled improperly, it can put client, business, and employee information at risk. Not only are there legal consequences of data leakage, but it can also result in fines and damage a business's reputation. Important information about a company can be stolen as well. Data theft can occur with the improper disposal of documents and hard drives, but the secure shredding services of a professional are the solution. Don't let stolen information ruin your return to work!
The most efficient way to dispose of sensitive information in the D.C. area is with PROSHRED® D.C. Your confidential information will be properly destroyed, whether it's on a hard drive or contained in ink printed on paper documents. Our services are available for drop off at our D.C. location, and you can also request regularly scheduled services for your office. PROSHRED® D.C. is a reliable secure document shredding company. Give us a call to request additional details about our services: 301-652-0005
Frequently Asked Questions about D.C. Data Breach Protection
If you are wondering where to find "secure shredding near me," PROSHRED® shredding solutions are the answer to your needs with on-site or drop off document destruction through our full service Baltimore office. No matter what your needs are, PROSHRED® Baltimore has a secure shredding service tailored to meet your exact situation.
Having a regular shredding service not only helps prevent data breaches but also encourages a culture of confidentiality at your workplace. PROSHRED®'s on-site shredding services will ensure that everyday office documents as well as highly secure files are destroyed completely before ever leaving your location.
In house paper shredders are inefficient, take up valuable man hours, and, most of all, are far less secure than state-of-the-art on-site shredding systems. Luckily, PROSHRED® Baltimore's paper shredding systems employ a "pierce-and-tear '' method, which is vastly more secure than traditional "strip cut" stand alone shredders, so your confidential documents stay confidential.