November 29, 2021
5 Reasons Your Business Needs Washington D.C. Document Shredding Services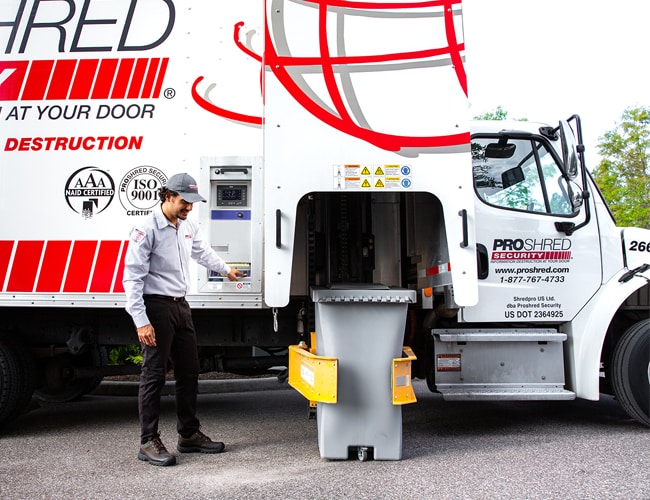 Businesses today collect and maintain a lot of sensitive information. Although paperless recordkeeping has begun to replace paper records, many businesses in Washington, D.C. may still store paperwork in their office. Not sure why your Washington D.C. business should get rid of unnecessary, out of date, or irrelevant paper files? Here are 5 reasons:
1. Document Shredding Keeps Customer Information Safe
Businesses have a responsibility to protect their customer information by shredding any paper documents that they no longer need. A hotel in Rockville, for example, should destroy any credit card information that is kept on file for its visitors. A financial planner in Gaithersburg should properly dispose of sensitive financial information from old clients. Facilities like schools should also keep personal information about staff and students secure. This may include Social Security numbers, tax information, or financial aid information. Imagine what would happen if the over 40,000 students who went to University of Maryland had their personal information released by accident due to poor recordkeeping. It wouldn't be good for students or shine a good light on the university. Secure document shredding services can help prevent incidents like this from occurring.
2. Secure Document Shredding Protects Employee Information
While you're thinking about keeping customer, client, and student information secure, don't forget about safeguarding sensitive employee information, too. These documents, which include job applications, resumes, I-9 forms, and other personnel forms can include personal information like Social Security numbers, addresses, phone numbers, and photo IDs.
It's important to create a records management program for old employee documents that includes secure shredding by a professional shredding service. This can not only save your HR department the time it takes to shred documents by hand with an office shredding machine, but also eliminate any worries about data leaks. Secure document shredding protects your employees' privacy and identity. Just like your customers, your employees are trusting you to keep their information safe.
3. Document Shredding Services Can Prevent Identity Theft
The number of data breaches continues to rise exponentially each year, and unfortunately, credit card fraud is one of the most common results of data theft. This is followed by tax-related or employment fraud, phone or utilities fraud, and bank fraud.
As a business, you must take steps to protect the information you handle every day, whether that's information about your customers, staff, or business partners. If you don't protect that sensitive data, the risk of being involved in a data breach runs higher. It's best to be proactive and decrease that risk by securely shredding your documents. With professional shredding services like those provided by PROSHRED®️ Washington D.C., not only are shredded documents harder to reconstruct, but a professional shredding service can ensure that other people don't see or come in contact with those documents.
How do we do this? Our mobile shredding services are conducted by fully vetted and background checked Customer Service Professionals who have your data security at top of mind. When you schedule an onsite service with us, one of our mobile shredding experts will arrive at your location and perform secure document destruction right in front of you, so there is never any doubt that your information is being leaked or stolen.
4. Document Shredding Helps Businesses Comply with the Law
Businesses have a legal obligation to protect client and employee privacy by destroying confidential information. By using secure document shredding services, you comply with laws such as FACTA, HIPAA, HITECH, AND GLBA.
The Fair and Accurate Credit Transaction Act (FACTA): This act requires proper destruction of discarded consumer information, helping to reduce the risk of identity theft.
The Health Insurance Portability and Accountability Act (HIPAA): This act requires that healthcare industry professionals properly transmit, share, or discard health information responsibly.
The Health Information Technology for Economic and Clinical Health Act (HITECH): Part of the American Recovery and Reinvestment Act of 1009, this act widens the scope of privacy and security under HIPAA.
The Gramm-Leach-Bliley Act (GLBA): Also known as the Financial Modernization Act of 1999, this U.S. federal law requires financial institutions to explain how they protect and share customer information.
Many of these laws require that sensitive documents not only be securely destroyed, but many also dictate how long records must be kept before they are shredded. If your business routinely has large amounts of paper documents that are ready to be shredded in compliance with record retention laws, a regularly scheduled shredding service could help you keep on top of them.
5. Regular Document Shredding Helps Free Up Office Space
When your business gets rid of papers that are no longer needed, you'll be able to free up a lot of space in storage, filing cabinets, shelves, and desks. If you work in a confidentiality-heavy sector, as many do in Washington, D.C., it makes it a lot easier to keep that "clean desk" policy, too. Having too many stacks of paper lying around the office can also turn into a fire hazard if left unchecked. Instead of waiting until your filing cabinets are bursting at the seams, you can use a shredding service to remove old documents when they're out of date and not needed any longer.
Many businesses are now switching to cloud-based storage methods, which means many paper documents and legacy records are no longer needed. If your company has scanned records into an electronic document management system, a purge shredding service is a good solution to get rid of a large quantity of documents in a short period of time. At PROSHRED®️, our mobile shredding trucks are capable of shredding thousands of documents in minutes, allowing you to get on with your day without having to fuss with a cumbersome office paper shredder, or having to transport boxes upon boxes of records to an on-site shredding facility.
Find a Professional Document Shredding Service Near You
If you're searching for secure Washington D.C. document shredding, contact PROSHRED®️ Washington D.C. Our local operators service areas including Greenbelt/College Park, Silver Spring, Bethesda, Largo, and many more. Learn more about our services and service areas by contacting us online, or you can give us a call. If you've got paper to shred or information to protect, we're here to help!