May 11, 2021
Why You Need Hard Drive Shredding
At PROSHRED®, we help customers in the Baltimore, MD and Washington D.C. area with maintaining their document destruction needs. But we are also often asked what can be done to take extra steps in protecting confidential information.
Often, companies and organizations will have policies and procedures to routinely destroy paper documents, but don't address the mountains of data contained on computer hard drives. Just a single hard drive can contain the equivalent of millions of paper documents worth of data. The thought of just one of those hard drives ending up in the wrong hands is enough to keep any business owner up at night. But there's no need to lose any sleep over the security of sensitive data when PROSHRED® can provide peace of mind through our onsite hard drive destruction services.
Reasons to Safely Dispose of Hard Drives with On-Site Shredding
If you're reading this, you probably already understand the importance of shredding sensitive documents. Secure shredding with a professional company like PROSHRED® keeps your information from being used against you, and the same principle applies to hard drive shredding.
Hard drive destruction can prevent the types of data breaches seen on the news daily. Most businesses today keep cybersecurity top of mind, installing firewalls and using Virtual Private Networks to maintain security when performing vital business functions. But often, the same type of care is not practiced when dealing with computer hard drives. Most computer hard drives contain some type of essential or sensitive data, so when your company decides to update computers or upgrade equipment, hard drives are often left obsolete.
To keep your company compliant with data privacy laws as well as to protect yourself and your reputation, it's important to realize that simply wiping a hard drive will not remove all of its data indefinitely. Data thieves can still access information from a wiped hard drive. Because of this, the only way to truly make sure that your outdated hard drives can't be accessed by outsiders is to have them securely shredded with a professional hard drive destruction service.
It can also be dangerous to attempt to destroy or dispose of a hard drive by yourself, and, due to the materials that make up a hard drive, it's also not a good idea to simply throw them into the trash when you're done. When you engage a mobile hard drive shredding service like the one provided by PROSHRED® Washington D.C., you're using a service that partners with certified recycling facilities that take care to comply with all federal and state regulations for disposing of old, used electronics.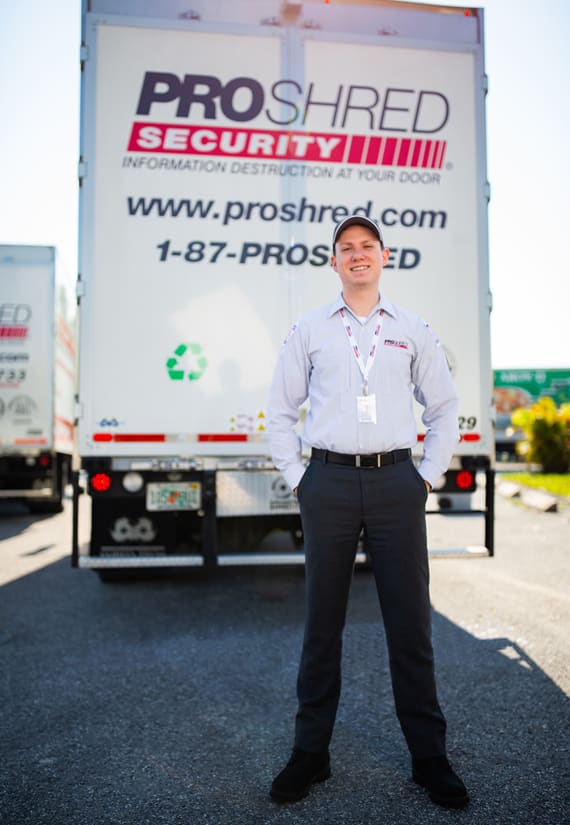 Get Mobile Hard Drive Shredding with PROSHRED® Washington D.C.
As a locally-owned, nationally-operated company, PROSHRED® Washington D.C. has gained a positive reputation among our clients not only for our commitment to the highest standards of security, but also for our attention to providing the greatest customer service possible. Call us today to gain confidence and peace of mind with on-site hard drive shredding: 1-301-652-0005