Document Scanning Service Guidelines
Full-Service Scanning Solutions Include:
Secure Document Pick-Up and Delivery, by PROSCAN® Solutions Employee/s (for Off-Site Services)
First Trip Included (up to 50 miles)
Document Preparation
Includes: Removing Binding Elements, Locating/Moving Sticky Notes, Etc.
Document Scanning (Custom Scan Settings + OCR)
Document Indexing (Indexing Fields TBD by Client)
Quality Control
Digital File Delivery
Output Options: Via PROSCAN® ECM Software, Integration with Client ECM Software, or External Media (CD, DVD, Flash Drive, External Hard Drive, Etc.)
Document Destruction (If/When Desired, and Only Upon Written Permission)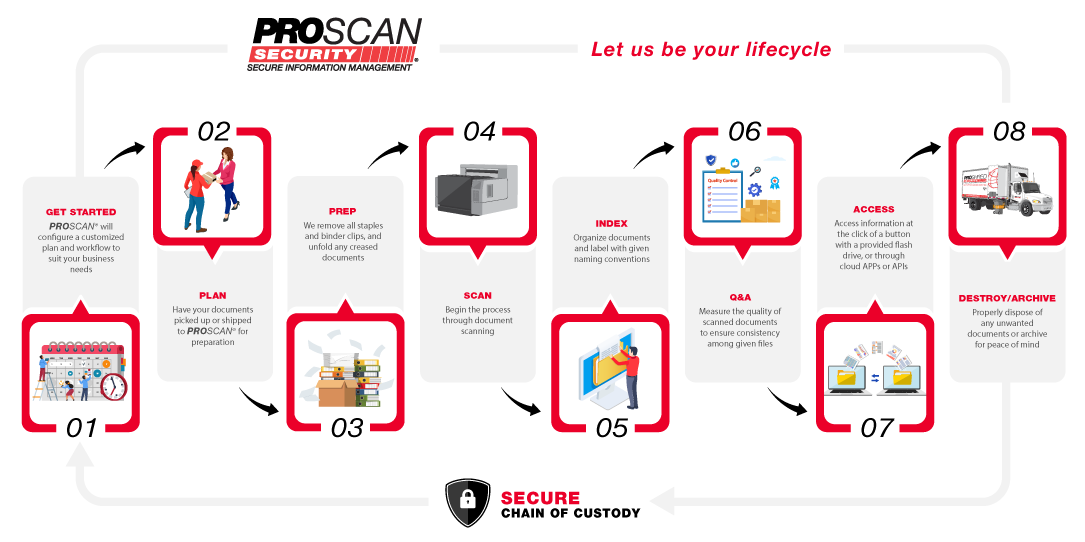 Additional Service Details
Document Destruction:
After the scanning process is complete, and the electronic files have been received and reviewed by the client, PROSCAN® Solutions can provide document destruction services through our partner, PROSHRED® Security.

Document destruction is only performed after written consent is given.
Clients will receive a certificate of destruction upon completion of the shred.
This service is included in the overall project cost.
ProScan can provide temporary storage of the originals until the destruction

The timeframe for storage and destruction will be established with the client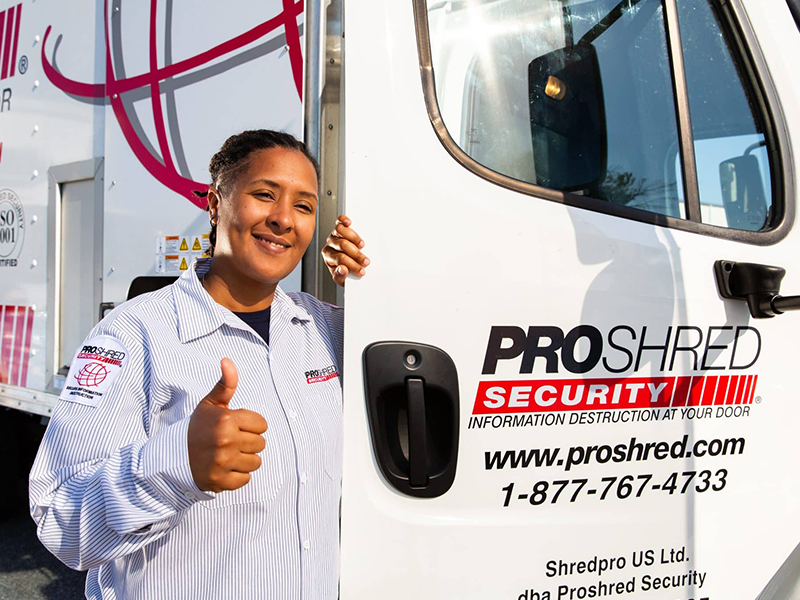 Scanning Requirements:
File Size:

While PROSCAN® Solutions will not charge differently for color vs. black and white scanning, or for 200 vs. 300 DPI resolution, these settings will dramatically affect the size and quality of electronic files

We will evaluate client documents to provide the client with the highest quality image at the most reasonable file size.

Indexing:

We will index the files for easy retrieval using name conventions, established with the client
Indexing costs will depend on the number of manual indexing fields

The price will vary with the addition of manual indexing fields

There is no charge for automatic or DataXChange fields, or for file grouping.
For all indexing fields, ProScan requests that they are readily apparent/available.

Text Searchable Documents

PROSCAN® Solutions can use OCR on images to create text-searchable PDF files. This will dramatically assist with document retrieval and locating pertinent information within files, and is provided at no additional charge.
Billing Structure:
PROSCAN® Solutions can complete and invoice work in batches.

Invoicing and payment structure can be established based on client need
Off-Site Scanning and File Retrieval:
PROSCAN® Solutions understands that client files are important to daily operations and will remain available to the client during the off-site scanning process in case a file is needed.

Requested files will be pulled, scanned, and sent to client contact within 24 hours of the request being made.
This service is provided at no additional charge to the client.

Additionally, securing your confidential information is PROSCAN® Solutions' top priority, which is why we maintain the highest level of security measures and protocols.
On-Site Scanning:
PROSCAN® Solutions understands that some clients prefer to keep their documents onsite, and we can provide on-site scanning if requested by the customer.
Additional travel and setup fees will be associated with onsite scanning and can be quoted based on individual job requirements.
In order to accommodate on-site scanning, our customer service professionals will need an area where they can set up. This area must provide adequate workspace, lighting, electrical outlets, and often an internet connection. We ask that all the material already be staged in the space for our customer service professionals. If you require our help moving and/or staging the materials we would be happy to help, but there will be separate labor charges associated.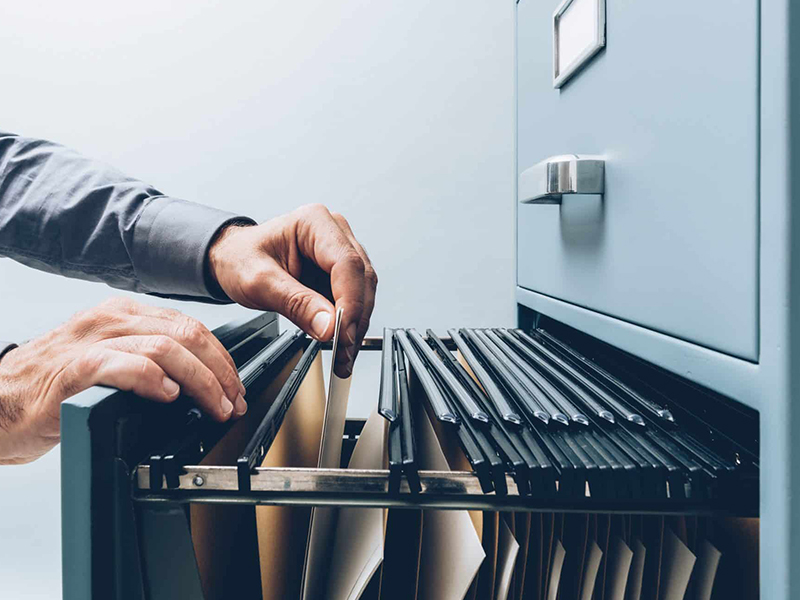 Price Guidelines for Full-Service Scanning
Standard Size Documents: The average price range for scanning paper documents is $0.06-$0.15 per page with an average of $200-$300 per box. Our scanning prices are all-inclusive. Discounts are given for large volume projects. Each project requires a detailed analysis to provide you with an accurate quote.