Careers With PROSCAN® Solutions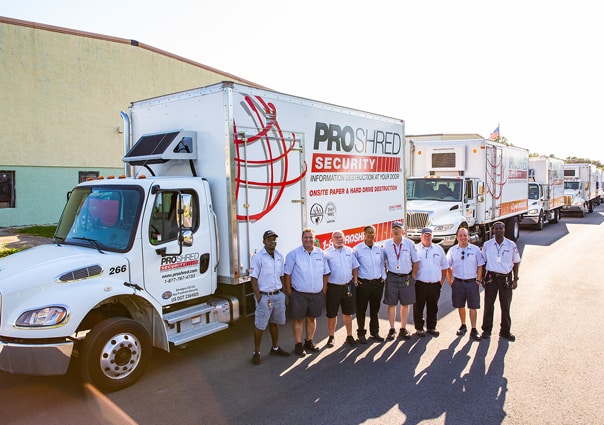 At PROSCAN® Solutions we are always seeking bright, energetic, team-oriented individuals to be a part of our rapidly growing national network of document scanning and document management franchises. As a fast-paced organization driven, we offer careers in a dynamic work environment that is both challenging and rewarding. There is no question that each employee plays a crucial role in the success of our business!
If you are interested in a career with PROSCAN®  Solutions, please view any available positions below, or contact us for more information.
What People Are Saying About PROSCAN®
Convenient location. $10 per banker's box full of paper. Price seems fair to me. However, the lady that helped me was rushed and unfriendly... read moreConvenient location. $10 per banker's box full of paper. Price seems fair to me. However, the lady that helped me was rushed and unfriendly and promised to send the destruction certificate once the printer was working again, but didn't. I don't like it when people don't follow through. Have used them twice in a year and I recommend them. read less

Sonia Perez

I've used this Proshred once a year several years for my company to do our annual purge of old documents. They are great and easy... read moreI've used this Proshred once a year several years for my company to do our annual purge of old documents. They are great and easy to work with! They brought a truck to our office to shred about 2 dozen boxes of filing at once. At every stage it is quick and painless, and the price is reasonable. I do recommend having your documents in boxes. I plan to keep working with them! read less

Rachel Stepanek

Used ProShred for shredding piles of personal paper and made couple of trips to the location. On both occasions Marcus helped me. His professionalism... read moreUsed ProShred for shredding piles of personal paper and made couple of trips to the location. On both occasions Marcus helped me. His professionalism and pleasant attitude embodied Customer Service. He rolled out the bin, we emptied out the bags, boxes and he would take it in for shredding. Made it all simple and easy.Love the drop off service and would highly recommend them. read less

QC Rob

Super impressed with Proshred residential onsite service. It was quick and easy to coordinate. Anngelica Tudor was polite and personable as she scheduled our appointment.... read moreSuper impressed with Proshred residential onsite service. It was quick and easy to coordinate. Anngelica Tudor was polite and personable as she scheduled our appointment. Corey the driver was professional, quick and efficient. He called prior to arriving to let us know he was on his way. Overall highly recommend the service. Tops! read less

Christina Barss

Proshred did a great job for me. I asked for service at my home and they sent a truck. Service was very quick. The filled... read moreProshred did a great job for me. I asked for service at my home and they sent a truck. Service was very quick. The filled up a container with my papers, rolled it to truck and I was able to watch a camera feed while the machine shred all my papers. Very cool. Darrien was the technician and he was very nice and knew what he was doing. It was nice to work with a Pro like Darrien. read less

Steve Sherron

Fantastic service and a great value. My company had a huge scanning job and the team at ProScan exceeded my expectations at every point... read moreFantastic service and a great value. My company had a huge scanning job and the team at ProScan exceeded my expectations at every point in the project. Every team member I dealt with was professional and courteous. I highly recommend this company! read less

Deo_1776

I was looking for a quote on some scanning I needed done. I called a few companies and couldn't get an immediate quote on pricing.... read moreI was looking for a quote on some scanning I needed done. I called a few companies and couldn't get an immediate quote on pricing. I called ProScan and was given a quote, with the price structure and all the information I needed and even more was also included, answering questions without even having to ask. Will definitely recommend to others and keep in mind for future needs. read less

Melanie Bateman