Certifications
PROSHRED® Tampa Bay is the only on-site document shredding company to hold both the ISO 9001 and NAID AAA certifications in Tampa.

PROSHRED® ISO 9001 Certification
With PROSHRED® Tampa Bay's regular mobile shredding solutions, we work with you to customize an appropriate plan that is fitting for your business and employees. Your private documents are securely shred on-site on a continual basis, without holding you or your company to a demanding, long-term contract. We provide quality on-site shredding solutions, to meet the scheduling needs of your company and provide the necessary level of security for each specific shred job.
Third-Party Assurance and Audit
ISO 9001 certification is recognized as the international standard for achieving excellence in system performance, customer service and ongoing improvement. ISO 9001 certification supplies our clients with third-party assurance of the honesty that comes with PROSHRED®Tampa Bay's world-class quality and security processes.
It requires PROSHRED® Tampa Bay to showcase its ability to continuously supply secure document shredding solutions that meet client expectations, as well as necessary regulatory requirements. The certification also demands that we exceed customer satisfaction levels by communicating with customers and ensuring their satisfaction.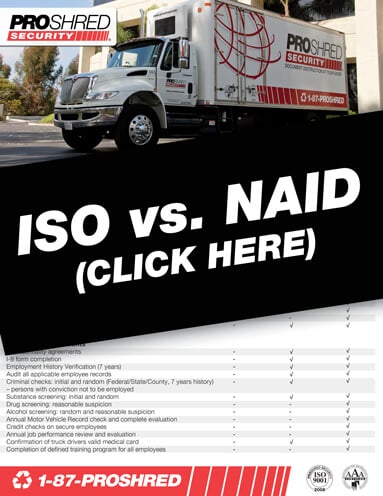 The Eight Management Principles
The ISO 9001 standard reflects eight quality management principles: client focus, leadership, involvement of people, process approach, systems approach to management, ongoing improvement, fact-based decision-making, and mutually favorable supplier relationships.
Each and every PROSHRED® Tampa Bay representative is responsible for implementing the business and document destruction procedures, necessary to maintain ISO 9001 certification. All staff are provided with ISO 9001 standards training in combination with training in the principles that allow them to offer one of the most secure, document shredding solutions in the business.
Trusted Customer Service Representatives
The representatives that are most crucial to this process are our frontline security specialists. These Customer Service Professionals, who pick up and shred our customers' most sensitive documents, are entirely screened and background checked.
Each representative is mandated to complete a rigorous training program, resulting in their own Customer Service Professional certification. When your confidential material is securely shred by PROSHRED® Tampa Bay, you are receiving certified quality and security, each and every time.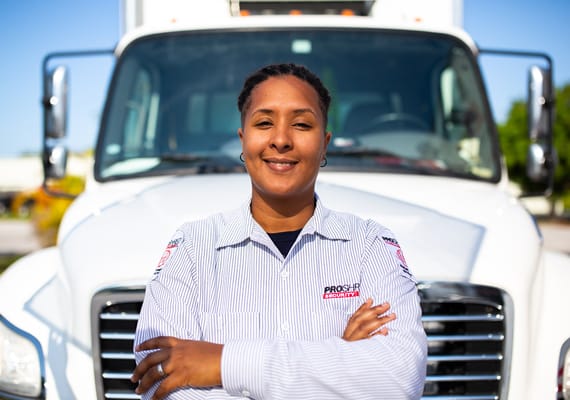 PROSHRED® NAID AAA Certification
As a PROSHRED® Tampa Bay customer,  you can rest assured in knowing that we place the protection of your security above all else, and do so at all times. Your confidentiality is our biggest concern, and you can have peace of mind in knowing that you are receiving industry leading security procedures and customer service.
PROSHRED® is a secure on-site document shredding company. We are a certified member and meet the rigorous standards set forth by NAID (National Association of Information Destruction). This certification for quality management and customer satisfaction is the industry benchmark for excellence in performance and security.
How It Works
NAID sets the standards needed in place for the information destruction industry. NAID AAA Certification confirms the qualifications of certified information destruction specialists, through a thorough scheduled and unannounced audit program. This detailed process supports the needs of companies around the world by assisting them meet numerous laws and regulations requiring the security of sensitive, customer information (FACTA, HIPPA GLBA, etc.).
NAID's certification program was designed by information security professionals and is recognized by thousands of private and governmental organizations all over the world.
All regional, third party NAID auditors have received the Certified Protection Professional accreditation from ASIS International, and are thoroughly trained on all certification audit processes and requirements.
NAID certification auditors confirm that certain protocols are present to ensure the security of confidential content throughout all stages of the shredding process such as handling, transporting, storing documents prior to shredding, and destroying and disposing of materials responsibly. This also refers to any transfer of custody scenarios.
An elaborate, three-level background screening process confirms that no individual with a known history of related crimes will be looking after confidential content.
A regimented, comprehensive unannounced audit program means that certified organizations operate knowing there is a chance they could receive an unannounced audit on any given day, at any hour, providing a significant motivator for ensuring ongoing compliance.
The Certification Review Board records reports of non-compliance and takes remedial action immediately, to bring certified organizations back into compliance. Repeat or serious infractions will lead to fines and could even result in elimination of certification.