Business Shredding Services
Today, all companies must consider the importance of privacy law and take measures to protect against unauthorized access to sensitive information. PROSHRED®'s on-site shredding and recycling service supply businesses with a secure, easy, and cost-effective way to destroy confidential documents. In fact, our shredding process successfully protects private information. As a result, you may avoid breach-of-security situations that could lead to negative publicity.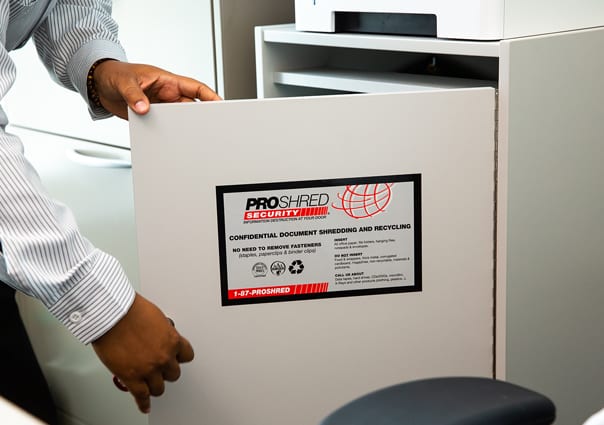 Secure
At the end of the day, PROSHRED® is a security company. On-site corporate document shredding is the most secure process for the destruction of sensitive materials. It is our sole business and also our passion.
We bring over two decades of trusted in-field experience as well as ISO certification to provide the highest level of quality and service. We supply the most secure and professional shredding solutions offered in the United States.
Our business document shredding process follows a strict "chain-of-custody" therefore protecting your documents from slipping through the cracks. Unlike off-site document shredding or recycling options, we destroy all material right on-site at your location. This reduces security risks considerably. Following the completion of each shred job, you will receive a Certificate of Destruction. This confirms the disposal and elimination of your materials was carried out securely. We won't leave your property until every last document is permanently destroyed.
Our kind and friendly team is highly trained, bonded and uniformed and carries picture identification at all times. In addition, our professionals are dedicated to providing you with the most secure and efficient customer experience possible.
Convenient
Our handy security consoles are conveniently installed at your facility. As a result, your staff can easily discard confidential information without having to use messy, time-consuming office shred machines. Forget having to remove staples or paperclips – simply insert the document into the console. PROSHRED® Tampa Bay will ensure your information is securely shred and recycled.
Depending on your specific needs, PROSHRED® can empty your consoles on a weekly, bi-weekly or monthly routine; in some cases, even right on-call. If your needs change, we will gladly adjust our services to fit your schedule.
If you have a one-time need to shred documents that you have accumulated in storage, PROSHRED® Tampa Bay's purge shredding option can be used either in addition to scheduled services or for special one-time shreds only.
We provide an array of options when it comes to our locking security containers and consoles. Each meet all your logistical needs and make the disposal and collection process as easy to use as possible for your employees. We shred more than just paper. Should you have any proprietary products, electronic media or other material that needs secure destruction, we handle it all.
PROSHRED® conveniently shreds all your sensitive content on-site and provides guaranteed security to all of our clients because of our state-of-the-art shredding trucks and highly-trained professional staff.
Cost-effective
Our studies show that on-site shredding costs at least 25% less than in-house shredding methods. Choosing outsourced shredding services means your employees are free to focus on core business activities, contributing to overall productivity.
PROSHRED® Tampa Bay's pricing reflects an agreed-upon service frequency, instead of on weight or time, which allows your business to budget properly in advance.
With consoles provided to your facility at no cost and our shredding service performed at your location, PROSHRED® Tampa Bay truly offers total document destruction security, and thus provides you with an economical, security insurance policy. Compared to other shredding solutions, PROSHRED®'s professional on-site shredding service offers the best value and most secure shredding option available in America.
In an effort to assist you in selecting the most secure shredding service and schedule for your situation, we happily provide free consultative estimates. These estimates mean you sign any contracts. If a contract with you is preferred to help meet legal or corporate requirements, we can arrange that but we will never expect our customers to do so. We believe that if we are not truly serving and meeting your needs, you shouldn't be bound to us through a contract.
Environmentally Conscious
At PROSHRED® Tampa Bay, we believe that everyone has a role in protecting our environment. Therefore, as part of our environmental commitment, we recycle 100% of the paper we shred. Security is not the only aspect we take seriously. As your trusted partner in corporate responsibility, together we are making a positive difference to the well-being of our nation's environment.
Each invoice we send will provide the cumulative tally of mature trees you have saved by using shredding services. At the end of each year, we present you with a TreeSaver Environmental Certificate showing the total number of trees your company saved throughout the given year.
PROSHRED® Tampa Bay's shredding service provides you with the most secure document destruction and recycling program in the U.S.