Bradenton Shredding Services
For secure and convenient Bradenton shredding services, choose PROSHRED®. We offer a variety of shredding services, from paper shredding to product destruction to disposal of end-of-life hard disk drives. From drop-off services to mobile shredding options, we can customize your services to whatever is most convenient and cost-efficient for you and your business.
Bradenton Secure Shredding
When you have a stockpile of documents you no longer need but can't simply put in the recycling bin, you need secure document shredding services. By hiring a professional Bradenton shredding company to properly dispose of your sensitive files, you are protecting your business, employees, and customers from fraud and identity theft.
One-Time Shredding: If you have accumulated a large amount of outdated documents and need a fast solution for disposing of them in an environmentally-friendly manner, look no further than a one-time purge shredding service. Our mobile shredding trucks are equipped with fast and advanced shredding equipment that can turn boxes and boxes of papers into tiny shredded material in a matter of minutes. To save time and money that would otherwise be lost by having to load up and transport your documents to an off-site shredding facility, call on us for an on-site shredding service.
Ongoing Shredding: Our ongoing shredding service is best for companies that go through a lot of documents on a regular basis. When you decide to schedule our Bradenton regular shredding services, we will develop a security program based on your specific needs. Whether you decide on a daily, weekly, or monthly schedule, we will always provide consistent service and ensure your private documents are disposed of securely and with minimal disruption to your day. We also provide you with shredding bins to keep on-site so you can securely store sensitive documents between pickups.
Drop-Off Shredding: For small businesses and residential clients who have smaller amounts of documents to shred, we offer convenient drop-off shredding services near Bradenton. There, you will receive the same great service experienced by our larger clients. We try to shred all drop-off documents the same day, and recycle 100% of the paper we shred with the help of a local recycling company.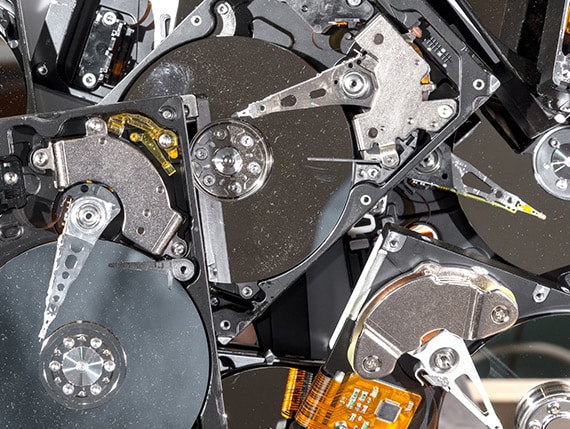 Bradenton Hard Drive Shredding
Companies today store an unprecedented amount of data on hard drives. While this modern convenience makes it easy for workers to access important data instantly, the technology also comes with its own security concerns. That's because erasing data from a hard drive is simply not enough to protect it from theft. But the fact is, files can still be accessed on a wiped hard drive by a skilled individual intent on obtaining private information. The only way to ensure that your end-of-life hard drives are disposed of properly is with a hard drive destruction service, such as the one provided by PROSHRED®. Our Bradenton on-site mobile hard drive shredding will ensure that your hard drives are completely destroyed. We will document the serial numbers of each disk drive we destroy and will provide you with a Certificate of Destruction at the end of service that contains the date and time of the hard drive shredding service, so you can have legal proof that your data was securely destroyed.
Protect Your Brand with Bradenton Product Destruction
Worn out security badges, old uniforms, recalled products, and defective items that contain your company logo are all assets that you should handle carefully when you are ready to dispose of them. Disposing of these items improperly can expose your company to identity theft or fraud, which can in turn ruin your reputation or even result in legal action. To protect yourself from these risks, take advantage of the Bradenton product destruction services like those provided by PROSHRED®. With our product destruction service, we will pull right up to your door to collect your items, and you can even watch them be shredded through a closed-circuit monitor on the side of the truck.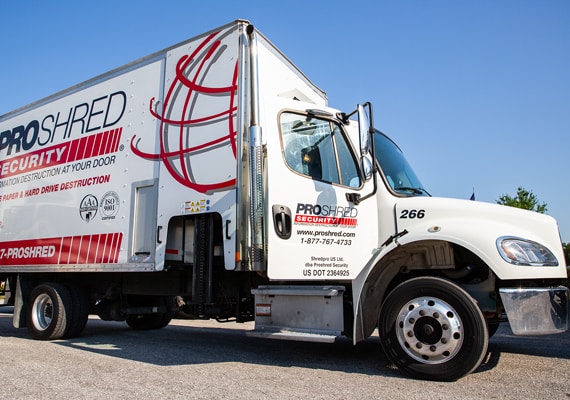 Bradenton Shredding Services Keep Information Secure
At PROSHRED® Tampa, we are dedicated to providing you with the best services to help prevent data breaches. Whether you need to destroy a large quantity of documents quickly or need a steady, ongoing shredding service to keep up with the destruction of sensitive documents, our Customer Service Professionals can help. As part of a nationally-recognized brand, we are locally owned and operated and will always pick up the phone to assist you. For more information or to get a free quote, give us a call today!
Bradenton, FL Shredding Services
On-Site Shredding Bradenton, FL
Scheduled Shredding Service Bradenton, FL
One-Time Shredding Bradenton, FL
Hard Drive Destruction Bradenton, FL
Legislative Compliance
HIPAA Compliant
HITECH Compliant
GLBA Compliant
FACTA Compliant