Land O' Lakes Paper Shredding
As the premier on-site shredding service in Land O' Lakes, PROSHRED® provides a secure solution for businesses and individuals to eliminate documents, hard drives, or products that contain sensitive information. We ensure your peace of mind by properly disposing of confidential data while protecting against fraud and identity theft. It may be tempting to discard confidential information with a few speedy tosses into the trash, but this can lead to your data being compromised and used against you or your business. The only way to securely safeguard private information, remain compliant with legislative regulations, and protect public records is through professional shredding services in Land O' Lakes provided by PROSHRED®.
Paper Shredding in Land O' Lakes
Companies often overlook the security of their physical documents, which can be one of the most vulnerable sources for important company, client, and employee information. Though emphasis has been placed on safeguarding digital information from cyber-attackers in recent years, paper documents remain especially at risk. If you're still relying on slow and outdated office shredders to get rid of sensitive information, it's time for a better solution. These machines not only take forever but also make straight-cut pieces that can be easily pieced back together. Instead, choose the best in Land O' Lakes paper shredding for secure document destruction!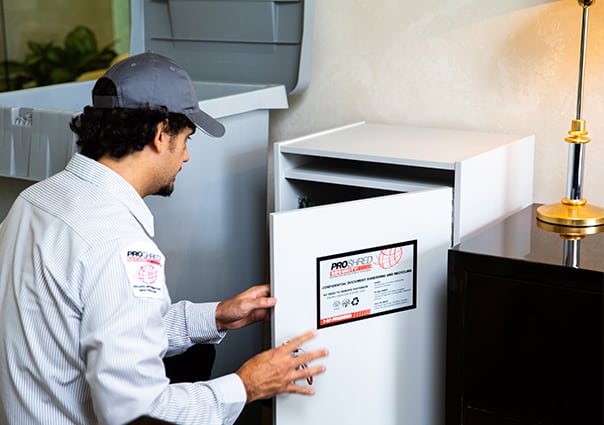 Land O' Lakes Scheduled Shredding
Our ongoing shredding service is one of our most sought-after services. After taking the time to assess your unique needs, we will provide you with secure consoles and bins for document disposal that are monitored by yourself and your employees. Furthermore, an appointed date and recurring time will be set up so that shredding can take place on location at a time convenient for everyone involved! This Land O' Lakes onsite shredding process is completely secure, and you can witness the entire process from start to finish.
Land O' Lakes Purge Shredding
Purge shredding is a great option for companies that require bulk shredding less frequently, such as every few months or even annually. Incorporating PROSHRED®'s purge shredding into your business practices can be extraordinarily advantageous - not only will it bring you peace of mind when handling confidential documents but also help keep you legally compliant. In order to remain compliant with state and federal laws regarding information privacy, companies may require the assistance of a certified shredding service in order to appropriately destroy confidential documents. This ensures that they are adhering to their legal obligations while also keeping sensitive data safe from any potential misuse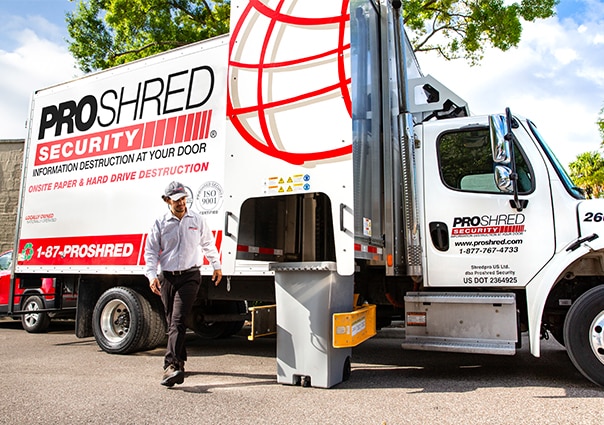 Get Secure Shredding Services from PROSHRED®
The advantage of PROSHRED®'s Land O' Lakes shredding services is that they allow businesses and individuals to securely destroy their confidential information while protecting against fraud or identity theft. The combination of our state-of-the-art mobile shredders and certified, highly trained staff provides the most secure document destruction available in the region. Contact us today for more information about our professional paper shredding services. We look forward to helping you keep your sensitive data safe!
Land O' Lakes Shredding Services
Scheduled Shredding Land O' Lakes, FL
Onsite Shredding Land O' Lakes, FL
Hard Drive Shredding Land O' Lakes, FL
Product Shredding Land O' Lakes, FL
Legislative Compliance
HIPAA Compliant
HITECH Compliant
GLBA Compliant
FACTA Compliant