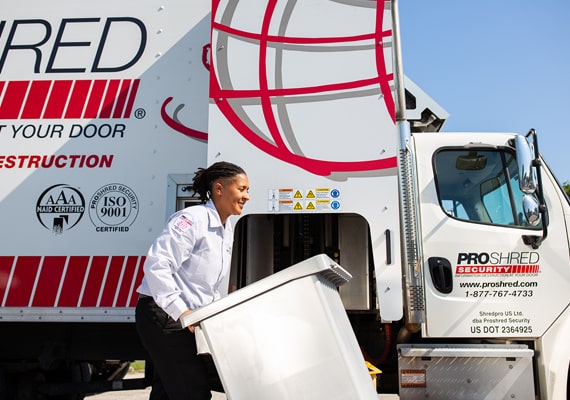 When you have a surfeit of recalled products, old company uniforms, worn out security badges, or any other item that contains company logos or information, the best way to protect yourself or your business is with a product destruction service.
What is product destruction? Product destruction is a lot like paper shredding, only instead of documents and files, we're shredding items that contain branded materials or proprietary information. This is important so that your important assets don't become vulnerable to identity theft or fraud, which can ruin your business's reputation and make it harder for you to get customers.
What Items Can Be Shred: Tampa Bay Product Destruction
Just as papers that are haphazardly disposed of in the trash or recycling bin can be stolen or misused, so can outdated, back stock, or defective products. If you run a law enforcement agency for example, you know that impersonation of an officer is a crime, but that doesn't stop people from trying. When you have an officer leave your ranks, make sure you collect their uniform. Using a uniform destruction service is the best way to protect your organization and your reputation. This is true for many other types of agencies and businesses that also use uniforms or badges to help distinguish their employees. 
Uniforms are a good example of the type of items that can be shredded, but they're not the only kind. At PROSHRED® Tampa Bay, we shred items such as: 
Outdated products

Trading Cards

Playing Cards

Casino Chips

Sporting Goods

Packaging

Recalled Items

Defective Items that Contain Logos

Used Protective Equipment

Apparel

Footwear

ID and Security Badges

Prescription Pill Bottles

Driver's Licenses and Bank Cards

And More! 
Benefits of Product Destruction Services
The biggest benefit of product destruction is that it protects your business reputation and helps you maintain your competitive edge. Identity theft and employee impersonation is just one of the negative scenarios that can occur when company products get into the wrong hands. If you're worried about your product being knocked off or your products re-sold by unauthorized representatives, product destruction services would be a great fit.
Another great benefit of product destruction services is that they can take place on-site for your ultimate peace of mind. When you have items to get rid of, we will dispatch our mobile destruction units, which will pull right up to your door to retrieve the items. You can watch the items go from your facility straight into an industrial shredding machine located inside our PROSHRED® branded truck. From a closed-circuit monitor on the side of the truck, you can watch the items be turned into shreds that can't be put back together.
#1 Choice to Securely Shred Old Uniforms, Destroy ID Badges
PROSHRED® Tampa Bay is the state's most trusted source of certified product destruction services, whether you need to shred old uniforms, destroy ID badges, or get rid of defective products. Protecting your business is what we do best: We handle your items with care from start to finish, and with our trusted mobile shredding trucks, we will destroy your products so they can never be counterfeited by other manufacturers. Give us a call to get a quote and say goodbye to your unwanted products for good.
Frequently Asked Questions About Product Destruction
To protect your brand and the security of your business or organization, dispose of old uniforms with a product destruction service. PROSHRED® Tampa Bay offers this convenient, cost-effective service to those looking to protect their reputation and confidential information.
For product destruction services near you, call PROSHRED® Tampa Bay at 813-864-6433. We shred branded apparel, recalled or outdated products, items with company logos, and more.
Similarly to paper shredding, product destruction will destroy items that contain sensitive or confidential company information such as prescription pill bottles, commercial packaging, and old uniforms. Contact PROSHRED® for more information!