Staying on top of information security is one of the most important tasks for any individual, business, or organization. Most people are familiar with paper shredding, which tears sensitive documents into tiny pieces that can't be put back together by potential data thieves. You may even be familiar with hard drive shredding, which helps to ensure the information held on your old computer hard drives is completely destroyed, something that simply wiping the hard drive of its data won't solve. But physical documents and hard drives aren't the only items that contain sensitive information that could be dangerous to your identity, finances, or reputation if placed in the wrong hands. That's why PROSHRED® Tampa Bay offers mixed media shredding services to help you dispose of all types of physical storage media when those items have reached their end of life.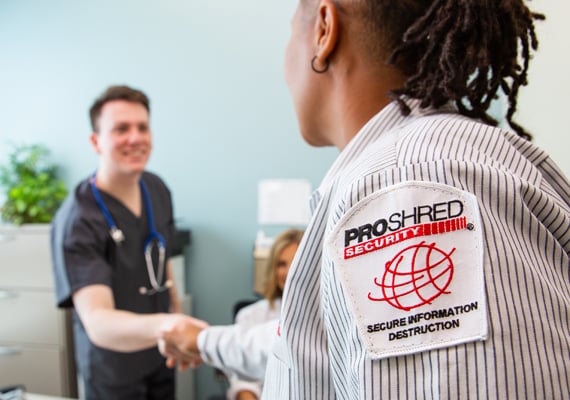 Mixed Media Destruction Services
Digital media shredding is the only way to make sure your confidential information isn't left exposed. No matter the format, we can help you achieve peace of mind by securely destroying digital and electronic media with our mixed media destruction services.
Storage media we shred with our mixed media shredding services include:
DVDs
CDs
Video tapes
Cassette tapes
Floppy disks
Zip drives
Film
X-Rays
We also offer other data destruction services, including:
Hard Drive Shredding- Specifically for hard disk drives, our Tampa hard drive destruction services ensure that your data can't be recovered from old or irrelevant hard drives.
Product Destruction- Our product destruction service destroys items including prescription bottles, old credit cards, recalled products, apparel and uniforms, and any other items that contain sensitive information about your business or organization.
E-Waste Recycling- For electronic waste recycling near Tampa, we partner with an electronics recycling company to ensure your unwanted items are disposed of properly, with less damage to the environment and less waste in landfills.
Document Destruction- Our paper shredding services include mobile on-site shredding, drop-off shredding, and one-time cleanout shredding.
With no hidden fees or surcharges and a friendly staff who understand the importance of data security, you are ensured secure information destruction with PROSHRED® Tampa Bay.
Tampa Mixed Media Shredding Benefits
Because the only 100% effective method to protect digital information is through physical destruction, we offer this service to any individual or organization looking to protect their data. We use the same protocols for our mixed media shredding as we do for our document shredding, product destruction, and hard drive shredding services. This means we can offer scheduled on-site service with one of our mobile shredding trucks, or come to you on-demand for a one-time bulk shredding service. Our customer service professionals are trained to ensure that we maintain a secure chain of custody throughout the shredding process, with locked containers for transporting your digital media as well as barcode scanning to keep track of each and every one of your items. We provide a certificate of destruction following every service, which serves as your proof of which items were destroyed and when. This is especially important not only so that you can be assured your information is no longer at risk, but that you are compliant with any privacy or information security requirements set by law.
Get Data Destruction at Your Door with PROSHRED® Tampa Bay
Data thieves are no match for our mixed media shredding services. From floppy disks to CDs to zip drives, our state-of-the-art shredding equipment can handle any digital media storage device with ease. For data destruction that can come to your door and take the stress of secure document destruction and information security off your shoulders, choose PROSHRED® Tampa Bay!
Frequently Asked Questions about Tampa Mixed Media Shredding
The shredding machines at PROSHRED® Tampa Bay are more than equipped to handle electronic media including CDs, DVDs, floppy disks, and flash drives. Call today to schedule a mixed media shredding service: 813-864-6433
The best and most effective way to destroy DVD data is to physically destroy the DVD so that it cannot be used to access information. Shredding services like those from PROSHRED® can make quick work of DVD destruction with high-powered shredders.
Any time you have an item that stores information, whether that be a hard drive, CD, or piece of paper, data destruction will ensure that item cannot be accessed by people who wish to do you harm. Any time you are looking to sell, recycle, or otherwise dispose of old equipment or files, data destruction is crucial to maintaining the security of your confidential information.